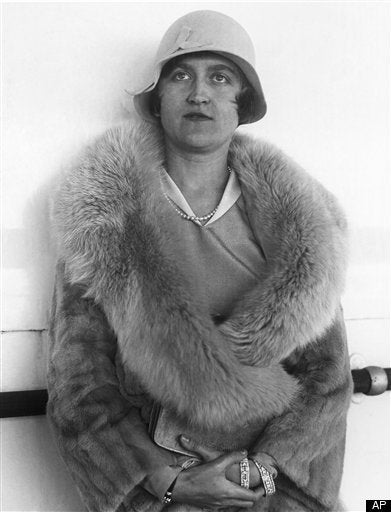 NEW YORK — Huguette Clark, the Montana copper mining heiress who died in New York last month at 104, has left most of her $400 million fortune to the arts – wealth from the Gilded Age that produced the Rockefellers, Astors and Vanderbilts.
According to her will, obtained by The Associated Press on Wednesday, Clark gave to Washington's Corcoran Gallery of Art a prized Claude Monet water-lily painting not seen by the public since 1925.
The Manhattan district attorney's office is looking into how Clark's affairs were managed while she spent the last two decades of her life in a hospital, a virtual recluse, people familiar with the probe have said. Before that, she lived in the largest residence on Fifth Avenue – 42 rooms.
The people spoke on condition of anonymity because they are not authorized to speak publicly about the probe.
The daughter of one-time U.S. Sen. William A. Clark left instructions for the creation of a foundation "for the primary purpose of fostering and promoting the arts," according to the will prepared and signed in 2005, when she was 98.
About $300 million will go for the arts, including the 1907 Monet from his famed "Water Lilies" series, which is worth tens of millions of dollars, said attorney John Dadakis, of the firm Holland & Knight.
He filed the seven-page document Wednesday in New York's Surrogate Court on behalf of the co-executors of Clark's estate, her longtime attorney, Wallace Bock, and accountant Irving H. Kamsler.
Artworks by Renoir, John Singer Sargent and other greats that graced Clark's New York home will be moved to her 24-acre oceanfront estate in Santa Barbara, Calif., which will be converted into a museum under the new Bellosguardo Foundation.
Clark named the foundation after her property overlooking the Pacific, called Bellosguardo, which means "beautiful view" in Italian. It's where she spent her youth, but has not been back since 1963, when her mother died. Clark was married briefly in her 20s to a poor bank clerk studying law. They parted ways after only nine months, and had no children.
After her mother's death, her once lively life amid New York's cultured world – with forays to Europe – became more solitary. She rarely ventured from her Fifth Avenue home, relying on fewer and fewer people to care for her and her affairs.
Another property she hadn't visited in decades was a castle-like, 52-acre estate in New Canaan, Conn., that is currently on the market for $24 million.
Bock and Kamsler helped her manage her fortune and properties for decades.
No criminal charges have been filed against either, and both have denied any wrongdoing in their dealings with Clark. The district attorney's office declined to comment Wednesday.
In her will, she was generous to the two men; each is to get $500,000.
But the biggest individual beneficiary is her longtime private nurse, Hadassah Peri, who is to receive about 60 percent of what's left of about $100 million not going to the foundation, after estate taxes take away at least 10 percent of the fortune, Dadakis said.
Another 20 percent or so goes to Clark's goddaughter, Wanda Styka, whose father was a Polish artist, Tade Styka, close to the Clarks.
She left nothing to distant relatives that she had not seen for years.
In September, three of them asked a Manhattan judge to appoint a guardian for her. Citing news reports and other information, they accused Bock and Kamsler of exercising "improper influence" over her and limiting family members' contact with her. But state Supreme Court Justice Laura Visitacion-Lewis rebuffed the request for a guardian, saying the relatives relied on hearsay and "speculative assertions" that she was incapacitated.
Clark died on May 24 at a Manhattan hospital, more than a century after she was born in Paris to a 67-year-old U.S. senator representing Montana and a 28-year-old Michigan woman. Their daughter inherited riches amassed by her father in Montana's mining industry.
William Clark became one of America's wealthiest men, building railroads across the country and founding Las Vegas in the process. Nevada's Clark County is named for him.
Despite her wealth, "Huguette Clark lived a remarkably quiet and understated life," said Dadakis. Her will "reflects that modesty, as well as her great generosity and empathy for those who took care of her in her later decades."
The will could still be legally challenged, but the attorney said he believes the document represents "Huguette Clark's true voice; she knew the extent of her assets and that she was signing the will."
Associated Press writer Jennifer Peltz contributed to this report.
Calling all HuffPost superfans!
Sign up for membership to become a founding member and help shape HuffPost's next chapter