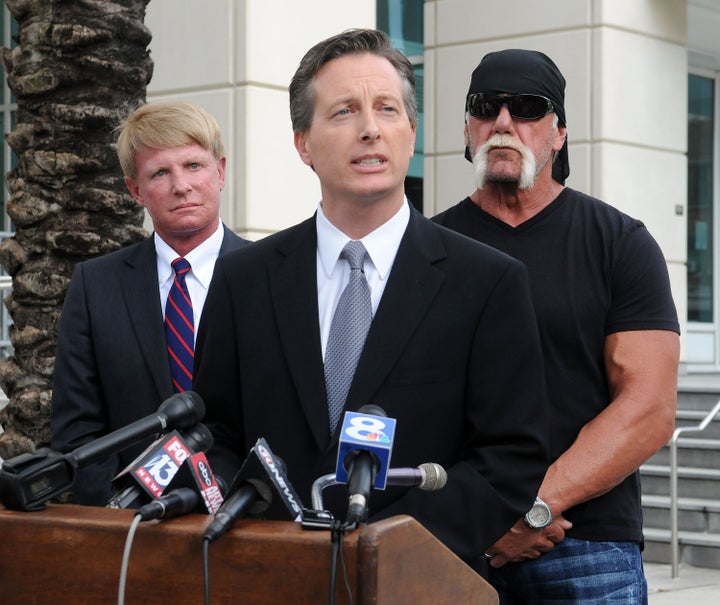 The lawyer who represented Hulk Hogan and took down Gawker.com last year is now targeting its sister site, Jezebel, on behalf of a life coach, the New York Post reports.
In the 26-page lawsuit filed in New York Supreme Court, Gregory "International" Scherick alleges he's lost 70 percent of his clientele since an article about his therapy group, Superstar Machine, was published on Jezebel in September 2016.
Scherick has hired attorney Charles J. Harder to help him sue the site. The lawsuit also names article author Anna Merlan, former Jezebel editor-in-chief Emma Carmichael and the Gizmodo Media Group, which owns Jezebel and several other sites that were formerly part of Gawker Media.
Interviewees claimed that Scherick believed "having anal sex was a marker of being a true, fierce powerful woman" and that he "cultivated a group of women who served as his seconds-in-command, and whose role is to praise him, back up his decisions, and remind everyone coming into the group that they needed to give him 'a good experience.'"
Scherick's complaint asserts that his program is "not a cult by any stretch of the imagination."
"Among other things, there is no religious component to the group. It encourages its members to become stronger individuals through certain guidance and advice," the complaint said, as per the Post. "It does not attempt to instill Mr. Scherick's opinions on its members nor does it use rewards or punishments to force members to act in a certain manner." 
Many people feared that the Gawker marked the beginning of a sea change in regard to how courts handle the First Amendment. The case against Gawker was funded by entrepreneur Peter Thiel ― who had his own complaints with the site ― on behalf of Hogan. In other words, an entire website was taken down by a billionaire who was able to bankroll a legal bigwig like Harder.
As Jeffrey Toobin wrote in the New Yorker last year: "In an age when Internet publishers can, with a few clicks, distribute revenge porn, medical records, and sex tapes—all of it truthful and accurate—courts are having second thoughts about guaranteeing First Amendment protection."
Toobin added that in Trump's America we've welcomed a "legal environment that is less forgiving of media organizations."
"Trump's victory, along with Hulk Hogan's, suggests that the public may well take their side, too," he wrote. 
In a statement sent to HuffPost, a Gizmodo Media Group spokesperson called the suit an attempt to intimidate the media:
This case is nothing more than another obvious attempt by Charles Harder to intimidate journalists.​ ​The story in question was published on May 10, 2016—months before our acquisition of certain Gawker Media assets, including Jezebel. Any litigation over the story should have been brought against Gawker Media in bankruptcy court—not against Gizmodo Media Group or the individual writers. We believe this suit is meritless and we plan to contest it vigorously.
Anna Merlan told HuffPost she has no comment and Emma Carmichael could not be reached for comment.
This piece has been updated to include Gizmodo's statement.
Calling all HuffPost superfans!
Sign up for membership to become a founding member and help shape HuffPost's next chapter
BEFORE YOU GO
PHOTO GALLERY
Fake News Spread By Social Media During The 2016 Election