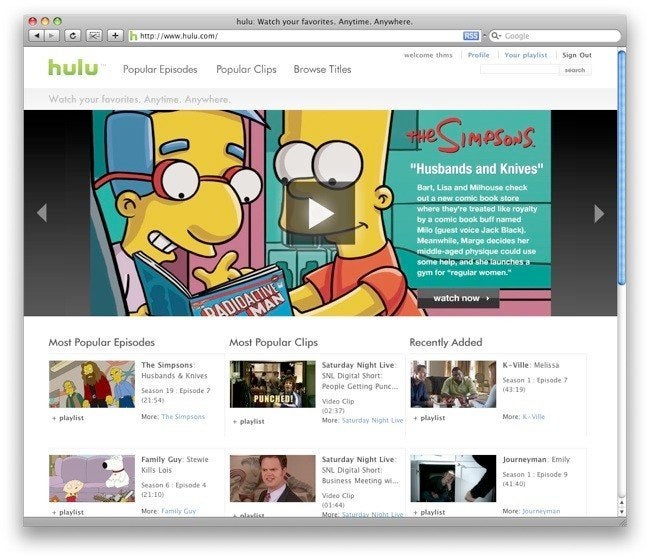 This post has been updated.
The Wall Street Journal reports that video streaming website Hulu may be weighing a sale offer.
According to "people familiar with the matter," WSJ writes that a potential buyer has approached Hulu, though the buyer's identity was not revealed.
"The offer has spurred Hulu's board to study its options, including soliciting other potential interest in the company, including from larger companies and private-equity firms, according to these people," writes the Journal.
Reps for Hulu declined to comment, as did spokespeople for the site's parent companies News Corp., NBCUniversal and Disney.
The Los Angeles Times reports that Yahoo is the mystery company that "approached Hulu to discuss a possible acquisition."
But TechCrunch's Michael Arrington spoke to a source claiming that the rumors of a Hulu purchase by Yahoo are untrue. According to Arrington, "Yahoo hasn't had any meaningful conversations with Hulu about a buyout, says this source. The source added that Hulu is actively looking for a buyer and has hired Morgan Stanley to represent them."
CNBC's Julia Boorstin tweeted that the mystery shopper is "not Google."
Gigaom offers some insight about who else might be interested in Hulu, with News Corp. and Amazon being two of the most likely prospects.
"News Corp. already holds 27 percent of Hulu, which means that [Rupert] Murdoch could get Hulu cheaper than many others on this list," writes Gigaom. "Amazon has been using its own video subscription service to get people to buy more stuff with Prime Shipping, and it could do the same thing much more effectively with Hulu Plus. Also, combining Hulu's and Amazon's assets may just be the only way to challenge Netflix in the near term."
Hulu.com lets users access ad-supported television, movie and web content for free. A monthly subscription service called Hulu Plus is also available for use on multiple platforms.
Though its faces stiff competition from Netflix, Hulu has grown by leaps and bounds and expects revenue for 2011 to approach $500 million, compared with the site's $260 million in revenue from 2010.
Last year, Hulu was reportedly considering an IPO that would have valued the company at over $2 billion, but the idea was put on hold in December and the company focused its efforts on for-pay service instead.
This is a developing story.
Related
Popular in the Community