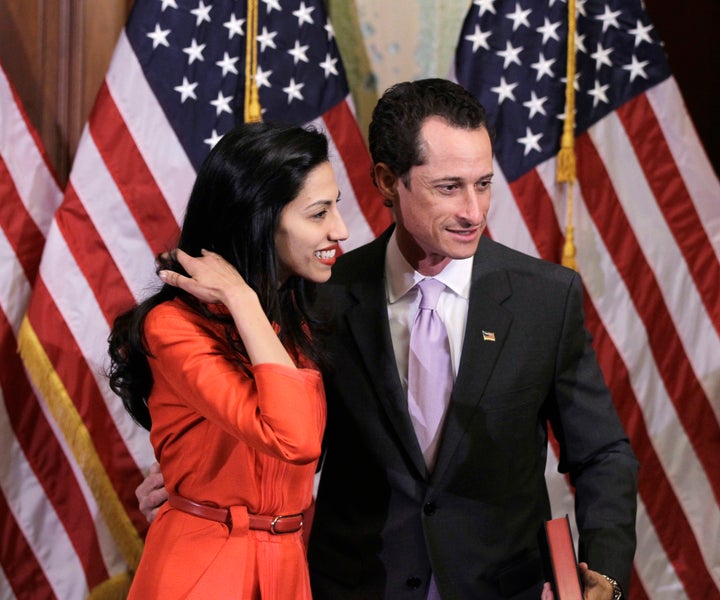 Huma Abedin, the wife of embattled Rep. Anthony Weiner (D-N.Y.), is pregnant, the New York Times reports.
ABC News confirms that the pair are expecting a child.
According to the Times, Abedin is in the early stages of pregnancy. Abedin, a close adviser to Secretary of State Hillary Clinton, married the Democratic congressman last summer in a ceremony officiated by former president Bill Clinton.
News of the pregnancy comes on the heels of the congressman's admission that he engaged in "inappropriate" conservations online with six women in recent years. He has said that he "never met any of these women or had physical relations with them at any time."
The New York lawmaker signaled at a press conference on Monday that he has no intention of splitting with his wife in the wake of the scandal.
"My wife has known about some of these online relationships since before we were married," he said in addressing the matter. "But she did not know until this morning that I had not been truthful about the Twitter posting last week. I'm here primarily to express my apologies to my wife and family."
The Wall Street Journal reported earlier in the day:
Ms. Abedin has resolved to remain married to her husband, according to people familiar with the matter.

...

"I think people have been very deferential to her in terms of being a political spouse," said a person close to the couple. "She's not Mrs. Anthony Weiner. She's Huma Abedin. She's been known to many people for a very long time, and they've continued to respect her boundaries...This has been the first time she has encountered anything otherwise."
According to the Journal, Abedin turned to Secretary of State Clinton for advice following her husband's admission. She did not stand by the congressman's side at the press conference when he addressed the matter.
ForestHills Patch reports that the constituents in Weiner's New York district are offering their sympathy to Abedin following news of her pregnancy.
"I can only imagine what she must be going through! She must be devastated," said Ellen Weiss, a Weiner constituent from Forest Hills. "You know when you get married, you think 'here's the man I'm going to spend the rest of my life with,' then to find out and in such a public way that your husband is at the very least looking at other women, it's terrible, believe me I know ... and now she's pregnant, it's very sad."
Weiner has received calls to resign from office from both sides of the aisle amid the controversy.
The AP reports on the political implications of the fallout:
Weiner's confession this week came just four months after an upstate New York lawmaker, Republican Rep. Chris Lee, stepped down after shirtless photos he sent to a woman he met on Craigslist were published online. A Democrat, Kathy Hochul, won a special election to replace Lee, and Democrats hailed the victory as a turning point for the party following its drubbing in the 2010 midterm elections.

But since the photo of a man's bulging underpants was sent on Weiner's Twitter account nearly two weeks ago, the "Weinergate" controversy has dominated the news and distracted attention from Democrats' efforts to slam Republicans for proposing deep cuts to Medicare. Democratic leader Nancy Pelosi formally requested an ethics probe to determine whether Weiner broke House rules, while other Democrats have stayed largely silent on his plight.
This is a developing story... More information to come...
Popular in the Community