The Ukrainian model whose doll-like features and unlikely proportions have earned her the nickname of Human Barbie admitted that at least some of her recent photos have been Photoshopped to "correct defects."
The self-styled human doll posed in super-short jean shorts, high heels and a midriff-baring blue top.
"The pictures are Photoshopped to achieve smoothness and color correction. The pictures were taken in the botanical garden on the phone. They were not high quality. I had to edit them in order to correct the defects of the phone picture," Lukyanova told Cosmo.
"Everyone wants a slim figure. Everyone gets breasts done. Everyone fixes up their face if it's not ideal, you know? Everyone strives for the golden mean. It's global now," Lukyanova told GQ last year.
GQ editor Michael Ivov suggested that the "impossibly blonde" and "impossibly shaped" social media sensation's look is as much a product of "Loretta Lux-style postproduction" as it is clever makeup.
"I do find her beautiful," Jedlica said in an email to HuffPost. "[But] it appears to me that much of her look is added makeup, fake hair and 'slimming' corsets. ... Drag queens have put on the same illusions with makeup and costumes for years."
Lukyanova told Cosmo that anyone who hates on her is just jealous.
"Those who are unsatisfied with what I do and critique me and offend me clearly don't have the same figure as I do. Otherwise they would not be so negative," she told Cosmo. "They are openly jealous."
While the self-branded Human Barbie has been criticized for her pursuit of what others consider to be an unnatural body shape, it's not the only thing she's drawn fire for.
Before You Go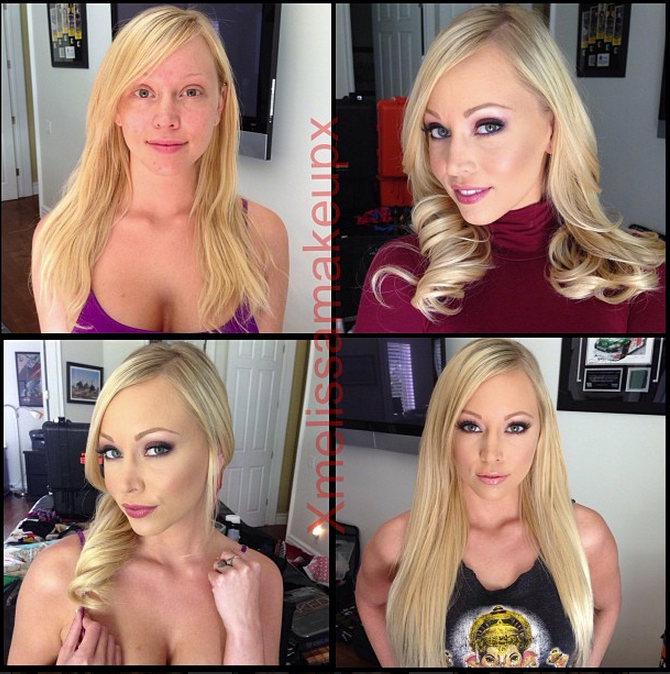 Porn Stars Without Makeup
Popular in the Community