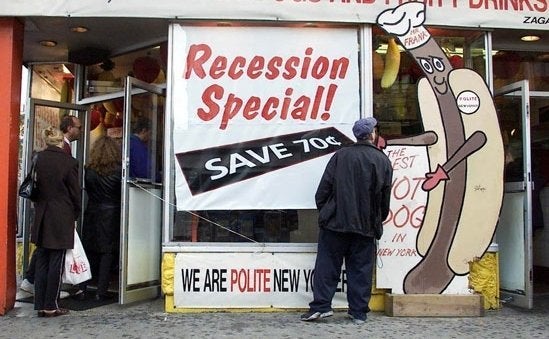 Most Sunday mornings I have the pleasure of joining the Reverend Jesse Jackson Sr., his daughter Santita Jackson, and various guests on Keep Hope Alive Radio. The show melds experts, academics, politicians and listener calls. With each passing week the listeners' calls reflect deepening pain. The past Sundays, March 1st and 8th, the lines were jammed with people straining under the growing weight of the housing crisis. Over the past weeks the show featured lengthy discussion with Representatives Maxine Waters (D CA) and Marcy Kaptur (D OH), with Reverend Jackson and Marc Lamont Hill focusing the conversation.
Congresswoman Kaptur's recent suggestion on WBAI radio's "Democracy Now" that "homeowners" fight foreclosure and stay in their homes even if foreclosure has been initiated was the show's theme, and Representative Waters agreed.
On February 03, 2009, in a Democracy Now Interview with Amy Goodman, Representative Kaptur said:
Well, if it's a sheriff's eviction, if it's reached that point, that is almost impossible. But we find that most of the foreclosures that haven't reached that point, families are not getting the proper legal representation, and that's why I'm saying that possession is nine-tenths of the law; therefore, stay in your property. Get proper legal representation. If you believe that Wall Street has been deceptive, could have been fraudulent or tried to dupe the public, and with these subprime loans and with the kind of circuitous financing that's been done, Wall Street cannot produce the deed nor the mortgage audit trail, you need a lawyer. And you should stay in your home. It is your castle. It's more than a piece of property. It's your home.
The lines are flooded with calls for the full two hours. Many of you read my work and know that I usually focus on macroeconomics and statistics. I have been focused on this crisis on the macro level since 2005, since the summer of 2007 on this site. The present article is an attempt to ground the numbers and statistics in the real struggles of real people. These are the stories of our neighbors, friends, relatives and communities.

Consider: Sakena and Corey, a family of 7 in Maplewood New Jersey.

Sakena and Corey contribute to their northern New Jersey community in many ways. They have been struggling to keep their home, family, and sanity since the spring of 2007. It has been nearly 2 years since their housing saga began. The strain was evident in their voices as we spoke on Sunday. Their story includes so much of what afflicts families today. Sakena and Corey took in two children, now 16 and 17 years old, four years ago. The children are relatives and were in need. Two new arrivals and their three children required a larger home. In August of 2006 Corey and Sakena purchased a single family home in need of repair. They had saved $19,000 to make the home comfortable and livable. The seven member extended family planed their new lives and move with excitement and anticipation.
The trouble began when their contractor ran off with their hard saved monies. This sent the couple back for more borrowed funds from National City Bank. The theft, addition of young children and difficulty making ends meet would have been surmountable. But after being rear ended early in 2007 Sakena sustained serious injury. Her injuries required surgery and she was unable to work for many months. Her contract provided for half pay. Losing half her income made it impossible to sustain home payments, rising food and energy costs. Just as medical conditions halved her pay, Sakena and Corey watched food prices push their $500 monthly food budget to $700. More painfully, gas and heating oil costs rose from $500 every 3 months to $2000 every 3 months.
The family knew the mortgage payments of $3350 per month ($40,200 per year) would be too much to handle. They contacted National City Bank and tried to negotiate their situation. They hoped to stretch out repayment or lower the interest rate below its 7.5% rate. Their attempts were refused because they had not missed any payments. Ironically, those who have been paying are rarely including in approaches to keeping people in their homes. They struggled and made one partial payment and one complete payment over the next 2 months. The partial payment was returned. Only complete payments are allowed. This punishes the struggling and increases the chance of disaster for many families. Three times they attempted to refinance. They were told their reduced income disqualified them from refinancing.
Missed payments mounted while National City Bank lost paperwork and took months to respond to refinancing applications. By the time their third rejection arrived, they were officially delinquent and heading toward foreclosure. By early 2008, mounting costs and limited income pushed them into Chapter 7 bankruptcy. The bankruptcy was discharged by the court in August 2008. Taking their attorney's advice, the couple did not reaffirm the mortgage in the bankruptcy proceeding. The family had gotten no assistance and little accommodation from National City. The only offer made was to drop the monthly payment to $3150 and extend the loan. Help came too little and too late to this family.
Struggling to honor debts and stay in their home, the couple contacted the FHA, ACORN, Citizen's Action Group and Hope Now. Again and again, they waited longer then they could for help. Many were searching for help and groups were overwhelmed. The FHA did contact National City and open a case. FHA and National City told Corey and Sakena that they could not re-organize their mortgage debt. The refusals came because they did not reaffirm the mortgage debt in their Chapter 7 bankruptcy. After dealing with Hope Now they were told that National City had contacted the investor in their mortgage.
The investor rejected any reduction in the total value of the outstanding loan. The investor was only willing to make the offer that originally sent them into bankruptcy. This offer involved a new mortgage that moved all outstanding payment to the tail end of the mortgage- including fees and charges. The final offer dropped the monthly payment from $3350 per month to $3150 per month as the interest rate was dropped from 7.5% to 5.5%. This proved beyond the reach of the weary family.
When I spoke with Corey and Sakena they were deeply upset and frustrated. It is clear that they have struggled beyond the point of exhaustion. A few years ago they were a young family living in a solid suburban home and making very solid middle class salaries. They stepped up and assumed the responsibility of relatives in need. They saved and bought a home in need of repair. They were robbed by a contractor, rear-ended in their car and left to sort out the ramifications. They are now waiting to lose the home that is the center of their lives and the lives of 5 children. They feel alone and overwhelmed. They are not alone. In 2008 there were 3.18million foreclosure and default filings in America. As this goes to press we await a new mortgage principle reduction ruling from congress. As of 05 March 2009, 5.4 million American homes are delinquent or in foreclosure. That means 12% of American homes are in this situation.

Maplewood New Jersey mirrors much of the nation. It is a pleasant suburban town. Home sales and median home price are plunging. A glance at the local data suggests that the average home price has fallen nearly 30% since 2006 (from $500,000 to $350,000). The struggling National City Bank that made the home loan was bought out by a rival bank with TARP money. The bank sold their mortgage and this separated interests and slowed down attempts to help. The investors, banks, community and family are suffering. The family's generosity, food costs, energy costs, injury and income reduction led them down a treacherous path. Their story is echoed in millions of homes and thousands of communities.

Saving this and millions of other families from disaster is the challenge of our era. We can and must do better. Morality, community and economic future demand dramatic response. Creative, enabling, new opportunities must come fast and must reach the base of our society. So far we have not seen this. Perhaps waiting for outside help is part of the problem? We need to begin setting up a commission to review the viability of mortgages. Those who are hopelessly unable to make the lowest possible payment should remain as renters in the property where possible. Many folks don't make enough to own. Solving this problem must be done through education, retraining and efforts to increase jobs and incomes first. Those who can pay with a 10-15% reduction in loan and 4.5% mortgage rates should be refinanced. Write downs on mortgages should fall 2/3 on banks and 1/3 on tax payers. The government should share in future capital gains by attaching a higher tax rate to these homes. Where fraud occurred in mortgages, localities should seize homes from responsible parties. These should become affordable housing maintained by tenants under strict rules. For 2 years, households making less than 2 times their mortgage costs should be allowed to deduct principle -- not interest rate -- payments from their taxes. This should be done with an income cap that varies by census track. The idea is to encourage rising equity in housing with the tax code.

In closing I leave you with Reverend Jackson's reflections on this question. I believe his perspective is powerful and unique. March 07, 1965 -- almost 44 years ago to the day -- was Bloody Sunday. On that Sunday morning over 600 people met in Selma Alabama for a march to Montgomery Alabama. The peaceful marchers were violently attacked and scattered by opponents of voting rights. With the help of Dr. King and against the urging of many in congress, the protest was regrouped for 21 March. The subsequent action was larger and much more broadly covered by world media. Five months after the Selma March the Federal Voting Rights Act was passed into law. Nearly 5 decades latter it may still take mass action to force leaders toward dramatic change. Reverend Jackson suggested that the process of winning economic influence may well follow the painful route used by African Americans to gain voting rights. Change will not come from up high. It must be driven by peaceful mass action from below.

Related
Popular in the Community