Human Fruit Bowl, written by Andrea Kuchlewska, is part of a long lineage of plays about visual artists and the art world. Recent Broadway seasons have included Impressionism about a gallery owner; Red, starring Alfred Molina as Mark Rothko and The Pitman Painters based on the Ashington Group of painters. Human Fruit Bowl opened 40 blocks from Broadway on June 8th at the New Ohio Theatre as part of terraNOVA Collective's ninth annual soloNOVA Arts Festival.
The one-person play delves into the relationship between French painter Pierre Bonnard and his model and lover Renee Monchaty. Rumor has it that when Bonnard married another woman, Monchaty killed herself in a bathtub. But, is that what really happened? Human Fruit Bowl is presented as part mystery, part modeling session and part lecture-demonstration as it unravels the connection between artist and model.
The production has cast a spell over audiences and critics in Amsterdam, Prague and Hong Kong, winning the Creative Award for best production at the Prague Fringe Festival 2011 and being named #1 in Time Out Hong Kong's "Hot Five." Read on as playwright Andrea Kuchlewska discusses the play's genesis, why she's thrilled to be part of the soloNOVA Arts Festival and how she's juggling two simultaneous productions.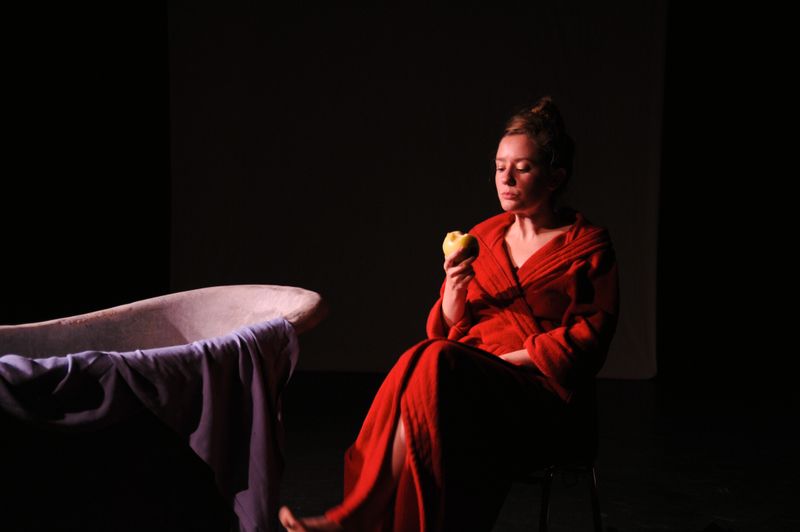 Harmony Stempel in Human Fruit Bowl, photo credit: Andrea Kuchlewska
LANIE: What sparked the idea for Human Fruit Bowl? Are you a fan of Pierre Bonnard's work?
ANDREA KUCHLEWSKA: The show's actress, Harmony Stempel, had worked as an artists' model in college and at the New York Studio School. She approached me with an idea to create a solo show that was in some way about art modeling. She told me about [Pierre] Bonnard, whose work I didn't know, and the oft-told story that a model of his, Renee Monchaty, had killed herself in a bathtub. This was an intriguing place to start. We talked about a lot of things related to fine art modeling, but the bathtub and Monchaty kept coming back for both of us. Research on Monchaty, however, turned up nothing conclusive.
What it revealed instead was that there is no reliable source for the bathtub story. Art critics and curators retell this story, reliably getting the tub detail the same, but varying the year of the death and the reasons for it in each telling. The probability that this story is apocryphal coupled with the ease with which it's repeated became the initial way into the play's story. The main character attempts to unravel an unsolvable mystery and ends up someplace she never expected.
LANIE: What's it like being part of the prestigious soloNOVA Arts Festival?
ANDREA: KUCHLEWSKA: I saw a show I loved in soloNOVA three years ago -- Micia Mosely's Where My Girls At -- and I knew this festival was something I'd want to be a part of if I ever wrote a solo show. soloNOVA showcases wildly original, genre-bending solo performances -- never a typical confessional piece. terraNOVA Collective, the festival's producer, is known for its adventurous programming, and it's been a blast seeing up close just how the company lives up to its reputation.

LANIE: You also have We Play for the Gods on stage in New York City in June. What's it like having two productions running at the same time?
ANDREA KUCHLEWSKA: In a very practical sense it's busy having two productions opening within three days of each other. Luckily the shows are also playing about three blocks from each other. Our producer on Human Fruit Bowl, Liz English, is also a producer on We Play for the Gods, so the two of us are running back and forth between the New Ohio and Cherry Lane Theatre. The two projects, however, couldn't be more different. At Cherry Lane, We Play for the Gods is a play and a collaboration of epic proportions. Women's Project gave a coveted season slot to seven playwrights, four directors, and three producers to collectively create a show from first impulse to full production within just one year -- a most adventurous undertaking for Off-Broadway. The creative process and the show itself represent a wild, larger-than-life experiment. At the New Ohio, Human Fruit Bowl is a stripped-down solo show with only a tub, a scarf, a chair and a naked woman on stage. Epic in its simplicity.
Popular in the Community