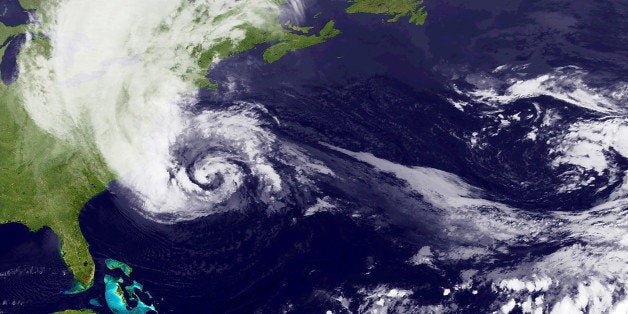 BARCELONA (Thomson Reuters Foundation) - Climate scientists hope to be able to tell the world almost in real-time whether global warming has a hand in extreme weather thanks to an initiative they plan to launch by the end of 2015.
In recent years, scientists have become more adept at working out whether climate change caused by greenhouse gas emissions is exacerbating wild weather and its impacts around the world, but the task usually takes months.
"In the media, we are seeing this notion that you cannot attribute any individual events to climate change, but in fact the science has really evolved over the past decade," said Heidi Cullen, chief scientist with Climate Central.
The U.S.-based non-profit science journalism organization is leading the initiative to speed up that analysis alongside the Red Cross Red Crescent Climate Centre, scientists at Oxford University, the Royal Netherlands Meteorological Institute (KNMI) and others.
A review of 16 major weather events in 2013, released on Monday, found that human-caused climate change clearly increased the severity and likelihood of five heatwaves studied - including in Australia, Japan and China.
For other events like droughts, heavy rain and storms, pinning down the influence of human activity was more challenging, the researchers said. Human-caused climate change sometimes played a role, but its effect was often less clear, suggesting natural factors were far more dominant.
Back in 2004, a team of British scientists made a splash with a paper estimating that human influence had at least doubled the risk of a heatwave like the one that caused tens of thousands of deaths in continental Europe in the summer of 2003.
Since then, the demand to know whether emissions from burning fossil fuels are exacerbating climate and weather extremes has risen, and climate scientists are responding.
This week's review from the Bulletin of the American Meteorological Society was the third such annual study. And in 2011, the Intergovernmental Panel on Climate Change (IPCC) issued a report saying it was "likely" - a two-thirds chance or more - that maximum and minimum daily temperatures around the globe had already increased because of human influences, as had sea levels and coastal high waters.
Maarten van Aalst, director of the Red Cross Red Crescent Climate Centre, said that 10 years ago the Red Cross would not have mentioned climate change in its statements to the media about weather-related disasters. But that is different today "because people recognize that the science is so much stronger".
"There's a bigger perception that it's important to know about changing risks - also in the context of recovery and reconstruction (after disasters)," van Aalst said.
The scientists involved in the new attribution initiative are developing a faster system using sophisticated climate models, combined with evidence from historical observations and previous research, that should enable them to say publicly within a couple of days of an extreme weather event happening whether it was made more likely by climate change.
In some cases, there may be no link, and in others, the connection may be weak or uncertain - and that will be clearly stated, van Aalst said.
So far, scientists have found it easier to establish climate change links with natural hazards directly driven by temperature and rising seas, like heatwaves or the storm surge responsible for most of the deaths and destruction when super typhoon Haiyan smashed into the Philippines last November.
But with floods and droughts, which are driven by rainfall, skills are still "emerging", Climate Central's Cullen said.
The goal of the new initiative will be to come up with a "first, best answer to the question when (it) is really on the top of people's minds" - whether they are journalists, emergency responders, policy makers or affected people. "We really want to make sure we get the answer right," she emphasized.
To that end, transparency will be key, and tools will be available so users of the information can understand how it was produced. The events analyzed will be selected according to clear criteria to rule out "cherry picking", Cullen added.
The aim is to cover developing countries, as well as industrialized nations where climate science is better resourced.
Both scientists stressed that the new system must be accepted as scientifically sound and politically neutral. That will be especially important in countries like the United States and Australia, where the issue of climate change is divisive and large political and business lobbies oppose curbs on emissions.
"What we propose is not an activist campaign to convince people that climate change is the worst problem in the world," said van Aalst. "It's about providing honest information that some risks are changing significantly and we need to do something about that."
(Reporting by Megan Rowling; editing by Tim Pearce)
Calling all HuffPost superfans!
Sign up for membership to become a founding member and help shape HuffPost's next chapter
BEFORE YOU GO
PHOTO GALLERY
15 Ways You Contribute To Climate Change