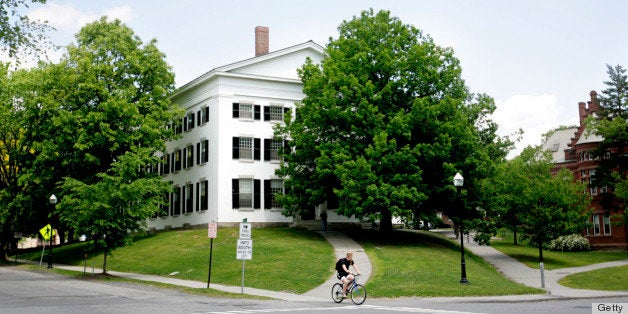 At the United Nation's launch of its gay-rights program last Friday, Desmond Tutu made some of the most far-reaching condemnations of religions that discriminate against LGBT people, going so far as to say that he'd choose hell over a "homophobic heaven." My college has appointed an often-compared peer of his to a leadership position as "the moral spokesperson of the College." However, it is clear that gay rights, or the welfare of LGBT people, is not a view that he shares with Bishop Tutu.
James Tengatenga, the diocesan bishop of southern Malawi, was appointed July 16 to lead the Tucker Foundation, which "educates Dartmouth students for lives of purpose and ethical leadership." The issue is that he has championed the church's official position against homosexuality. A faculty member who works closely with the Tucker Foundation confided in me that this appointment is "a travesty when related to the leadership of the College's Center for Service, Spirituality and Social Justice." The tendency to discriminate against LGBT people is so diametrically opposed to how I understand faith and religion that selecting a "social conservative" to this post baffles me. The Tucker Foundation was created to lead on issues of social justice, which should be fundamental to faiths around the world. The dean must accept that his moral responsibility includes educating our campus to endorse the right of people to choose their sexual orientation and for them to be valued for it.
LGBT students on college campuses in the United States do not struggle with anti-LGBT animosity in the same way as gay people in Tengatenga's community. However, homophobia at Dartmouth is a nontrivial issue. Dartmouth Professor Michael Bronski, who has taught LGBT studies for over a decade at the school and served as a counsel for students struggling with this pervasive issue, estimated that 60 percent of his gay male students over the last five years have been called "fag" in public or physically abused in fraternity basements at some point. During this time he has known five LGBT students who have committed suicide as undergraduates or soon after graduation. This situation demands nothing less than unequivocal leadership from this office.
Before getting into the nuance of this issue, I will lay out Tengatenga's LGBT track record in no uncertain terms.
1. His previous statements and actions against LGBT equality are nontrivial.
The Malawi Council of Churches, a governing body that Tengatenga chaired from 1998 to 2001, upheld a resolution that "homosexuality and therefore sodomy cannot be a part and parcel of the acceptable norms of society" and "minority rights must not be priorities over all other rights," an assertion that is antithetical to the United States Constitution. This group also successfully lobbied the Malawian government to enforce draconian anti-gay laws that carry penalties of up to 14 years in prison for committing homosexual acts after President Joyce Banda suspended these laws in 2012. In light of his active or tacit support of these laws, which have been condemned by the UN Human Rights Commission, the motivations of this individual deserve very careful scrutiny.
He also opposed the ordination of Gene Robinson, who is openly gay, as Bishop of New Hampshire, a position that directly serves Dartmouth. Tengatenga has stated that the Anglican dioceses in Malawi are "totally against homosexuality" and do "not approve of the consecration of gay bishops." Finally, two years ago, Tengatenga supported excommunication, the most severe punishment that churches can deliver, as punishment for bishops who supported same-sex marriage. His views should be clear by now.
2. Tengatenga's alleged private leadership does not make up for his track record on LGBT issues.
Two well-known African LGBT activists, Rev. Dr. Kapya Kaoma, a Zambian Anglican priest, and Rev. MacDonald Sembereka, a Malawian priest and advisor to President Banda, wrote a letter in support of Tengatenga's appointment after this controversy started. They both cited instances (but gave no concrete evidence beyond their own words) in which the bishop allegedly pushed back on the efforts of the Church of the Province of Central Africa, which Tengatenga led, to cut links with the Western churches because of their support for LGBT equality. In the ensuing battle, Tengatenga acquiesced to the demands of the dioceses most hostile to LGBT people and made homophobic statements denying that the African Anglican Church had become tolerant of gay people. Such context, if true, may help us understand the complexity of Malawian politics and the African Anglican Church and casts his virulently anti-LGBT statements in an even worse light.
Even if he had privately supported LGBT organizations or championed LGBT rights behind closed doors, he never once made a public statement of any sort condemning the persecution of LGBT people -- considered by the United Nations to be human rights abuses -- indicating an absence of any public moral leadership. The laws he supported hurt a powerless minority who are arrested, beaten, and terrorized, and the absence of his personal condemnation is nothing other than tacit approval.
As a bishop "heavily involved in public life" and the chair of the Public Affairs Committee of the Anglican Church, Tengatenga has had plenty of opportunities to change the discourse surrounding LGBT people in Malawi. He instead chose to strengthen the religious, social and legal discrimination against LGBT people according to his church's views. What is the difference between a faithful servant of the church and a genuinely homophobic person? If he cannot provide leadership on human rights abuses at home, he certainly cannot do so as the "moral spokesperson" of Dartmouth.
3. His recent "clarification" does not embrace LGBT equality or apologize for former transgressions.
Having gone to Catholic school, I know that the first rule of forgiveness is contrition. Since the controversy over his commitment to LGBT rights began, Tengatenga wrote a vague statement endorsing gay rights. He did not recognize the issues that his constituents face or apologize for harm that his past statement and actions have caused. Adrienne Clay, the program coordinator of the African and African-American studies department, deemed his statement "too ambiguous" and noted the struggle in determining whether this letter was aimed at securing a job at Dartmouth or addressing previous transgressions. Furthermore, his statement applies to legal issues of anti-discrimination only in the U.S. context, such as marriage, but not the life-and-death struggle that LGBT people face in his community and elsewhere.
In addressing the controversy over Gene Robinson's ordination, Tengatenga merely called it a chance to "think carefully and critically about the issue of homosexuality." He did not reverse his opinion or even explain how it impacted his religious views. While I recognize that religious views can be complicated, vague, and sometimes contradictory, the "moral spokesperson" of Dartmouth must be able to speak to all students' experiences and identities. Touching on "human dignity" and the right to live "free from discrimination," while laudable, does not get at the heart of embracing all people.
We can still respect religious rights and cultures much different from our own while rejecting this candidate. Obstacles that LGBT people face in Malawi and other nations stem from deeply held political, cultural, and religious beliefs. However, to paraphrase Hillary Clinton in her Human Rights Day address, violence stemming from cultural or religious traditions "isn't cultural; it's criminal." She went on to define human rights leadership as "being out in front of your people when it is called for." Tengatenga has alarmingly taken the opposite approach: leading the persecution both directly and not standing up for this population publicly.
Tengatenga's appointment is deeply disrespectful to the Dartmouth LGBT community and its allies, who need leaders whom they can trust and learn from. I have no doubt that a man with Tengatenga's experiences would have a lot to share, but absolutely not in this capacity.
Smart people, when presented with a morally dubious situation, will often find a way to rationalize and accept a situation that amounts to less than social equality. This is a clear instance in which legitimizing the status quo devalues other students. It sends the message that LGBT equality is an afterthought. Dartmouth deserves a dean who can challenge and develop our understanding of spirituality and service, not suppress it. We have a moral obligation to ensure that this position remains open for a candidate who can provide strong, principled position for our entire community.
Related
Popular in the Community