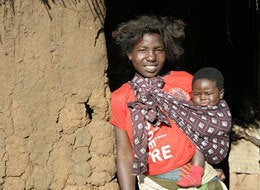 In 1988, I stayed for a week with a married couple, both physicians, who ran what was then recognized as one of the best rural clinics in the state of Maharashtra, India. Even so, they could not work miracles in a setting in which reaching the clinic itself represented a problem. While there, one woman died of haemorrhage due to the combination of a complicated labor and delivery and her inability to get to the clinic in time to be saved. Another was dying of metastatic breast cancer, which had gone undiagnosed for months during her fourth pregnancy.
A couple of years later, attending a maternal mortality conference in Zimbabwe, I visited with a doctor who spoke about the number of women he'd watched die due to infection, haemorrhage and complications of unsafe abortion. While I had long worked from a policy perspective on and had passion for these issues, seeing them close-hand had a profound effect on me. I could not fathom why we were not doing more to address these problems... Except of course for the fact that governments did not make women's health a priority and that conservative forces continued to lobby against investments in basic sexual and primary reproductive health care.
Yesterday (June 17th 2009), 21 years after that first trip to India, the United Nations Human Rights Council adopted a landmark resolution recognizing maternal death and illness as a pressing human rights concern. Over 70 UN member states co-sponsored this resolution, led by Colombia and New Zealand.
The US was a co-sponsor from "almost the start of this," according to one advocate, "participating in the discussions quite constructively."
By passing this resolution, according to a statement released by a coalition of advocacy organizations involved, "governments express grave concern for the unacceptably high rates of maternal mortality and morbidity [throughout the developing world], acknowledge that [maternal health] is a human rights issue and commit to enhance their efforts at the national and international level to protect the lives of women and girls worldwide." The coalition includes includes Action Canada for Population and Development (ACPD), a humanrights advocacy organisation; the Center for Reproductive Rights, anon-governmental legal advocacy organization; the Sexual RightsInitiative, a South-North collaborative advocacy project focused onadvancing a full range of sexual rights issues; and the Youth Coalitionfor Sexual and Reproductive Rights, an international network of youth advocates for sexual and reproductive health and rights.
I want to celebrate and I also want to say "its about time."
Complications of pregnancy and childbirth are now and have for decades been among the leading causes of illness and death among women ages 15 to 49 in many countries in Asia, Africa, and Latin America. More than 1500 women and girls worldwide die every day from maternal causes according to conservative estimates, totalling roughly 550,000 annually. Many times that number of women suffers illness and disability associated with these same causes. While it is difficult to measure pregnancy-related injuries and disabilities, estimates of maternal morbidity vary from 16 to 50 million annually and include such profoundly disabling conditions as vesico-vaginal fistulae, a condition many consider a fate akin to living death.
Add to this deaths among women due to other causes such as AIDS-related illnesses (women represent 60 percent of those infected with HIV in sub-Saharan Africa for example), cervical cancer (rampant in many parts of the global south), and sexual violence (an epidemic in itself), and you can see why sexual and reproductive health concerns loom large in the lives -- and deaths -- of women worldwide.
The death of a woman while pregnant or within 42 days of termination of pregnancy, irrespective of the duration and site of the pregnancy, from any cause related to or aggravated by the pregnancy or its management but not from accidental or incidental causes.
Leading causes of maternal death are divided into two categories. "Direct" causes include conditions such as pre-eclampsia or eclampsia, obstructed labor (especially prevalent among adolescent girls whose pelvises are not fully formed), and infection and haemorrhage (which may result from complications of unsafe abortion or unsafe delivery practices). "Indirect causes" include conditions (renal, heart or other conditions) exacerbated by pregnancy and left untreated.
Complications of unsafe abortion are responsible for at least one-fourth or roughly 75,000 maternal deaths annually worldwide, according to WHO.
Ninety-nine percent of maternal deaths worldwide occur in developing countries where women often cannot control whether, when, and whom they marry; may be subject to early marriage; and may be forced to bear children "too early and too often." These conditions, paired with lack of access to the basic family planning methods needed to delay, space, or limit childbearing, lack of access to safe abortion services, and lack of access to emergency obstetric care in cases of obstructed labor (just one example) contribute to the ongoing toll in women's lives and health.
Despite one public campaign after another, relatively little progress has been made in reducing maternal illness and death over the past two decades.
"It has taken fifteen years since the adoption of the International Conference on Population and Development Programme of Action, fourteen since the Fourth World Conference on Women Platform for Action, and nine since the adoption of the Millennium Development Goals - all significant United Nations' consensus documents recognising the need to increase efforts promoting the health and rights of women and girls - for the UN's main political human rights body to take this important step," stated the coalition of groups working at the HRC.
The main reason? Few governments have put their money where their proverbial mouths are. "Globally, governments have failed to meet the commitments made and targets set in these documents," said the coalition statement. Lack of investment in primary sexual and reproductive health care (in the United States and abroad) is a persistent and pervasive problem compounded by the fact that conservative forces (again, in the United States and abroad) have fought tooth and nail since the eighties to create obstacles to the policies and funding needed to save women's lives.
The term "pro-life" apparently was never meant to apply to the woman dying of obstructed labor, haemorrhage, or infection.
Now, however, states the coalition, through the Human Rights Council resolution,
"Governments recognise that the elimination of maternal mortality and morbidity requires the effective promotion and protection of women and girls' human rights, including their rights to life; to be equal in dignity; to education; to be free to seek, receive and impart information; to enjoy the benefits of scientific progress; to freedom from discrimination; and to enjoy the highest attainable standard of physical and mental health, including sexual and reproductive health."
"The resolution is critically important, said Sandeep Prasad, of ACPD, in an interview with RH Reality Check, because
"First of all, it brings [maternal mortality and health] into the realm of human rights and very importantly legitimizes [the fact] that the rights of women and girls are violated when they experience maternal deaths injuries or disabilities. And [these are] governments legitimizing it by saying that this is very clearly a human rights issue."
Second, he notes that bringing the issue into a human rights framework..."automatically [obligates] governments to take steps to ensure these preventable deaths are prevented through the provision of all necessary services."
"To me, the Council's message is clear: governments, whether developing or developed countries, have not done enough to eliminate maternal mortality and morbidity, so how are they going to renew and step up their efforts? This problem is a global failure to respect, promote and protect the rights of women and girls. How are governments going to respond to this call?"
One response is to increase access to basic services, especially among young women.
"Adolescent girls and young women need greater access to information, education, services and resources that will empower them to make decisions about their sexual and reproductive health, including contraceptive use, safe abortion, birth spacing, pre- and post- natal care, and management of pregnancy and childbirth related complications," said Neha Sood, Youth Coalition for Sexual and Reproductive Rights' member from India."
"This resolution highlights the need for governments to promote and protect women and girls' rights to seek and receive such information, education and services and have access to resources."
While the issues of safe abortion, contraception and family planning are not specifically mentioned in the document adopted by the HRC, "the references to various existing government declarations (such as ICPD, Beijing) and to treaties imply these obligations," said Prasad.
"The ICPD and its reviews are clear on the matter that where abortion is legal it must be safe and accessible. The resolution clearly implies that renewed attention to ensuring accessibility of safe abortion services, at least where legal, is part of what states have been asked to do and also implies an obligation to minimize recourse to unsafe abortion through a variety of means, including greater access to contraception, access to safe abortion, and so on."
Moreover, he underscores:
"The work of the Human Rights Committee, just as an example, is clear: Where women are forced to risk their lives and health because safe abortion services are not available, governments are in violation of their international treaty obligations."
The adoption of this resolution "is a groundbreaking step towards ensuring every woman's basic human right to a safe and healthy pregnancy and childbirth," said Ximena Andion, the International Advocacy Director at the Center for Reproductive Rights.
"Governments should heed the call of the Human Rights Council and take urgent action to prevent women from dying needlessly in pregnancy and childbirth."
HRC resolutions are in and of themselves non-binding, according to Prasad, however:
"The consensus nature of this resolution signals agreement on the part of governments with the various acknowledgments, requests and calls that the Council makes in it. Moreover, the resolution reinforces the legally binding obligations that states have already assumed upon themselves as interpreted by treaty-monitoring bodies and long-standing commitments that governments have made."
Ensuring that governments in fact live up to their obligations will now fall to civil society.
"It is clear," said Prasad,
"That what governments are currently doing has been inadequate, so the first question for civil society organizations to their government is what steps will [the government] be taking to ensure that this Council request and other relevant parts of this resolution are implemented."
In other words, the resolution is only as good as civil society makes it through concerted action, accountability work, and attention to what our own leaders will do to implement it domestically and globally.
Support HuffPost
The Stakes Have Never Been Higher
Related
Popular in the Community