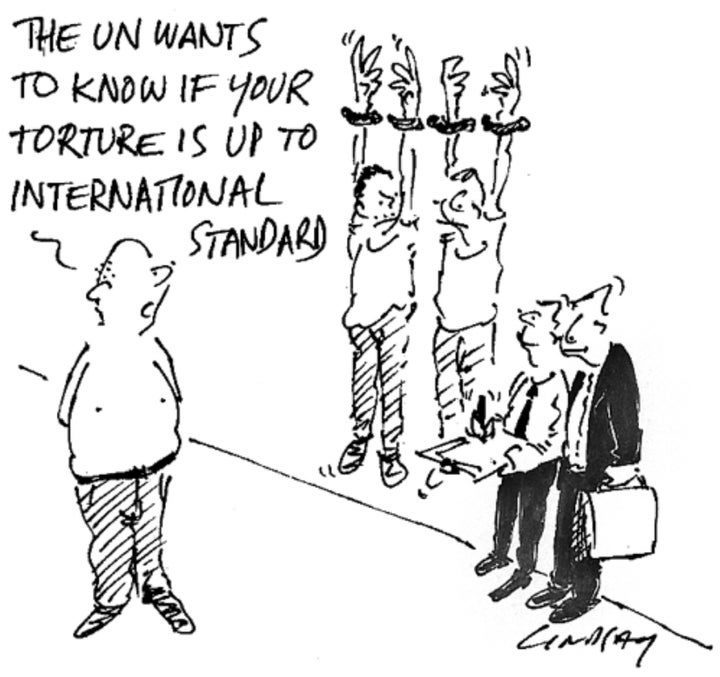 The United Nations likes ritualistic celebrations. On 10 December, it will celebrate the quintessential Universal Declaration of Human Rights, drafted by the UN Human Rights Commission under the chairmanship of the First Lady of the United States, Eleanor Roosevelt. It was proclaimed by the General Assembly on 10 December 1948 in Paris, four years after Nazi Germany surrendered the city. Paris became anew the capital of France. Symbols matter, and this one is powerful.
Almost 70 years on, the UN High Commissioner for Human Rights, Zeid Ra'ad Al Hussein, is feeling anxious about the way the world is heading. His Office has issued a call to counter the 'toxic tide of hatred rising all around us'. Uncharacteristically for a senior UN official, the High Commissioner does not mince his words. He has chastised leading political figures in the West, whereas in the past, public rebukes had been reserved for leaders from the Third World.
At a security conference in The Hague last September, he issued a stern warning to the right-wing Dutch politician 'Geert Wilders, his acolytes, indeed to all those like him, the populists, demagogues and political fantasists', saying that 'what Mr. Wilders shares in common with Mr. Trump' and other populist leaders in Europe, 'he also shares with Da'esh', the Arabic name for ISIS. He likened them to 'clever cheats' who, through the use of half-truths and oversimplification, use similar tactics and propaganda, seeking 'to recover a past, halcyon and so pure in form, where sunlit fields are settled by peoples united by ethnicity or religion'
Then in October, the High Commissioner took on the US Republican candidate, in a frontal attack: 'If Donald Trump is elected, on the basis of what he has said already, and unless that changes, I think it's without a doubt that he would be dangerous from an international point of view.' Trump's campaign statements on water boarding and the use of torture were 'deeply unsettling and disturbing'. And they indeed are, for the US and the world at large. In a way, Ra'ad Al Hussein is heeding Eleanor Roosevelt's warning when she said 'I know that we will be the sufferers if we let great wrongs occur without exerting ourselves to correct them'.
What is new here, is not the UN 'meddling' in an electoral campaign or the domestic affairs of sovereign nations. It does that routinely, berating less powerful nations and their leaders. The novelty is that a senior UN official has taken on the President-elect of the United States, and is not backing down. In fact, his Office is gearing up, reportedly, for a potential confrontation with the incoming American administration if it reneges on the United States' human rights obligations and undermines peremptory international law. And it is working assiduously to counter the messages of intolerance and hatred that 'prey on our fears'.
There is the obvious rise of violent, unhinged fascistic fanaticisms, epitomized by the ISIS phenomenon in Syria, Iraq and farther afield. And, as a counter reaction (or pretext) to the massive influx of refugees and migrants from the Middle East and Africa, the increasingly nationalistic, xenophobic rhetoric of the far-right movement in Europe, or its more subtle populist discourses.
Faced with this new political reality, the international community is reacting tepidly. With the new 'leader of the free world' taking office on 20 January, it remains to be seen how the UN will react to any brazen positions he may take, this time not on the stump, but from the Oval Office. Ra'ad Al Hussein set the scene for a possible collision with Washington when he rebuked candidate Trump's campaign statements on torture, deportations of illegal immigrants and ban on Muslims entering the US. Will his new boss, the incoming Secretary-General of the UN, Antonio Guterres, support his bold advocacy, or ask him to tone it down? Guterres will have to perform a delicate balancing act to keep the US and other veto-wielding powers quietly content, while breathing new life into a discredited and demoralized organization. Already, Russia has formally complained about the High Commissioner's remarks about Trump and the European populist leaders he labeled as demagogues, accusing him of 'overstepping his limits.'
For now, as he prepares to mark Human Rights Day, the High Commissioner is fighting his fight, and using the megaphone his Office provides, to speak out. He is willing to call out powerful political leaders in exercising dutifully what he considers to be his mandate. To that end, he is resorting to social media to amplify his message and connect with the Facebook and Twitter generations in an effort to mobilize citizen action and galvanize human rights activism around the world. Whether he will be supported in his tribulations to avert 'great wrongs' remains to be seen. But Mrs. Roosevelt is surely on his side.
Ghida Fakhry will be moderating a Facebook Live discussion with the UN High Commissioner for Human Rights on Saturday 10 December at 1400 GMT. Join the discussion and send your questions/comments to @ghida_fakhry