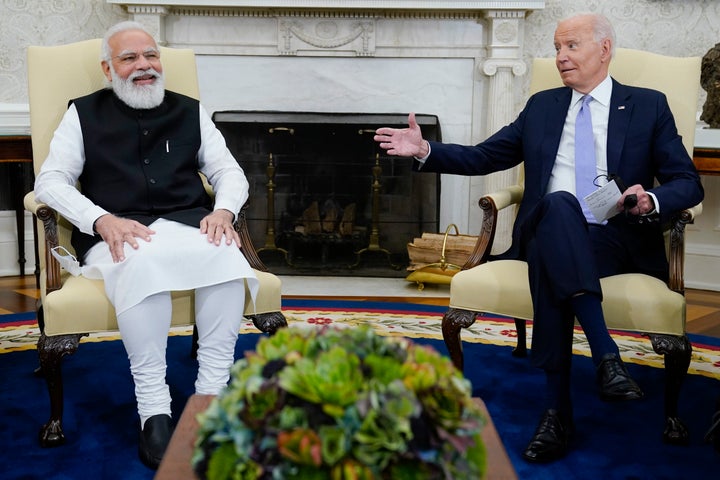 Human rights groups are blasting the White House for rolling out the red carpet for Indian Prime Minister Narendra Modi, who is set to meet with President Joe Biden and address Congress during his visit to Washington, D.C., next week.
The Indian government called the trip "historic," and the White House noted that "the visit will strengthen our two countries' shared commitment to a free, open, prosperous, and secure Indo-Pacific."
But critics want Biden to press Modi about human rights violations in India related to the steep rise of Hindu nationalism — a political and extremist ideology that seeks to transform a secular and diverse India into an ethnoreligious Hindu state that targets minorities. Religious minorities in India are at risk of continued state-sanctioned violence and harassment if the U.S. continues to overlook Modi's role in it, they say.
"For almost a decade now, human rights activists and others have regularly brought to the White House — Democrats or Republicans — that Modi's regime is authoritarian, it's right-wing, it's anti-Muslim and it's anti-minority," said Suchitra Vijayan, the author of "Midnight's Borders: A People's History of Modern India."
"The fact that they continue to whitewash him by giving them a platform is very worrying," she added.
Modi was banned from the U.S. in 2005, before he became prime minister, for supporting Hindu extremist groups who rioted and targeted Muslims. But this will be Modi's third White House visit at least, and the second time he addresses a joint session of Congress. He first did so in 2016 under former President Barack Obama.
This will be the third official state dinner Biden has hosted. The White House previously hosted the president and first lady of South Korea for a state dinner in April and the president and first lady of France last December.
When pressed about human rights concerns in India, White House press secretary Karine Jean-Pierre defended the visit, adding that the president believes "this is an important relationship that we need to continue and build on as it relates to human rights."
The White House did not respond to HuffPost's request for comment.
"Despite who is in the White House, the U.S. has a long history of propping up authoritarian regimes for its own personal ends."
India continues to be a powerful ally to the U.S. as the world's most populous country and largest democracy. But inviting Modi to the White House sends a dangerous message to religious minorities across the globe, critics argued.
"What happens in a country of a billion people will have global ramifications," said Vijayan.
Human Rights Watch and Amnesty International have scheduled a private screening next week of a BBC documentary on Modi and his role in the 2002 Gujarat riots where at least 1,000 people were killed, most of them Muslim. During the pogrom, Hindu mobs torched Muslim homes and businesses, killed Muslim women and children, and demolished mosques and graves. The Indian government has since blocked the documentary on social media, including Twitter.
"The screening of the film provides an opportunity to demonstrate what, in practice, freedom of expression and what dissent looks like and also educate the public and remind people of the horrific acts of violence and killings against Muslims in Gujarat," said Amanda Klasing, the national director of advocacy at Amnesty International USA.
Biden is hoping to secure a package for India to buy dozens of U.S.-made armed drones worth billions of dollars in an effort to strengthen U.S.-India ties amid China's growing influence.
"Despite who is in the White House, the U.S. has a long history of propping up authoritarian regimes for its own personal ends," said Vijayan.
Critics of Modi's Bharatiya Janata Party-led government in India, including journalists and activists, have faced targeted harassment and prosecutions. The rights of religious minorities, especially Muslims, continue to deteriorate. BJP supporters and Hindu nationalist groups commit violent attacks against Muslims and government critics with impunity. At least 50 anti-Muslim hate rallies took place in the span of four months last year starting in November 2022.
In fact, a 2022 religious freedom report by the U.S. State Department recorded a rise in violence against religious minorities in India, including incidents of the government bulldozing Muslim-owned homes and shops and reports of Christians being attacked, arrested and detained by police. Christian groups said police sometimes aided crowds in disrupting their worship services, according to the report.
"Biden should be listening in to his own State Department and articulating all this publicly and clearly on the record about human rights abuses," said Klasing. "The failure to do that doesn't reflect well on what the strength of the relationship is. This is a crucial test."
John Prabhudoss, the chairman of the Federation of Indian American Christian Organizations, told HuffPost that he has been communicating with dozens of Indian pastors and that most of them are terrified for their families back in India.
"Their family could be jailed or even the worst, killed. The fear is real," said Prabhudoss.
Prabhudoss, who visited India alongside lawmakers in 2002 after the Gujarat riots and saw the impact of the violence firsthand, called Modi's visit "unforgivable."
"For the president to bring him to the White House … is shameful," said Prabhudoss. "Mr. Biden, shame on you."
Support HuffPost
The Stakes Have Never Been Higher
Popular in the Community