Individuals, organizations, and governments around the world are developing creative ways to promote and uphold the 30 articles of the Universal Declaration of Human Rights. Initiatives from Nairobi, Jakarta, Dhaka, and Mumbai provide solutions to issues ranging from discrimination against refugees to lack of access to sanitation. These solutions -- which include online monitoring systems, a thriller feature film, in-home toilets, and activist photography -- raise awareness and provide much-needed services for vulnerable communities.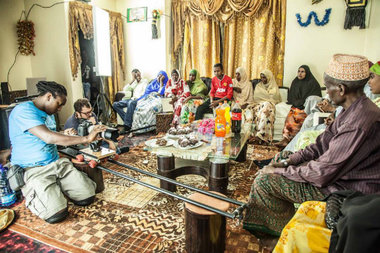 Somalis living as urban refugees in Nairobi are invariably affected by discrimination, corruption, and terrorism. In an attempt to address these challenges, a Kenya Somali thriller movie is currently being produced by Cultural Video Foundation (CVF), a Nairobi-based film production company. The film, named Wazi FM, aims to speak out about discrimination against Somali refugees at the hands of police and the connection with the rise in terrorist attacks. It also highlights how it is corruption that allows terrorists to cross the border into the Kenya in the first place. The aim of the production is to show both Kenyans and Somalis that corruption -- not immigration -- is the main cause of insecurity in the country.
In response to increasing discrimination and violence against minority religions in Indonesia, two technology initiatives have been developed to monitor various acts of violence related to religion and pluralistic issues. The "Monitoring the Freedom of Religion and Beliefs" software, developed by the Wahid Institute, not only reports acts of religious violence, but also notes community initiatives that seek to protect the freedoms of the public to practice their religions and beliefs. A similar device, named the Case Tracking System (CTS), was developed by the Setara Institute to monitor violations of religious freedoms. All community reports are compiled and processed into data that can be accessed by the public. The Setara Institute updates the data annually, which is then used as material for the Report on Freedom of Religion and Belief issued every year, as well as for the preparation of the Human Rights Enforcement Performance Index.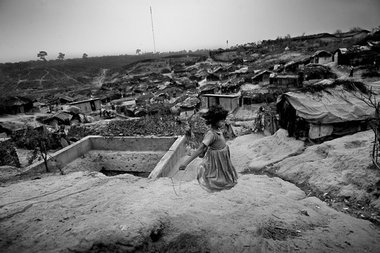 In Bangladesh, the Rohingya refugees who escaped from Myanmar are facing dramatic human rights violations with growing Bangladeshi hostility and government antagonism. Creative awareness-raising initiatives have emerged, including photography, which has been marshaled to create wide-reaching campaigns aimed at showing citizens in Dhaka, throughout Bangladesh, and in other regions of the world, who the Rohingya are and what can be done to promote their rights. Documentary photographer Saiful Huq Omi uses his photos from Bangladesh refugee camps to capture the stories of people who have been deemed "voiceless," and to share these stories. Such urban-based, creative awareness campaigns can be vital for emphasizing urgency and fostering change.
In 2010, the UN declared access to sanitation a human right. But Mumbai suffers from a low ratio of public toilets to population and poor toilet conditions. In many slums where the toilets are simply unusable, women and young girls become most vulnerable as they are forced to venture out for their daily ablutions, looking for secluded spots in the neighborhood under the cover of darkness. One important example of a toilet's power of transformation is the community toilet run by Triratna Prerana Mandal. The community-based organization runs a self-help group for women, offers vocational training to the youth of the slum, runs computer training classes on the terrace of the toilet, which also has a community kitchen preparing midday meals for 3,000 school children. The toilet gets all its water from a rainwater harvesting system and is powered entirely by solar energy.
Promoting human rights is an indispensable part of creating just and inclusive cities, as vulnerable communities must be protected and empowered. Visit URB.im to learn more and join the discussion.
Photo credits: Lorenzo Misselari and Saiful Huq Omi
REAL LIFE. REAL NEWS. REAL VOICES.
Help us tell more of the stories that matter from voices that too often remain unheard.