Today is Human Rights Day which is observed every year on December 10 in recognition of the December 10, 1948 adoption of the Universal Declaration for Human Rights in Paris. Fittingly, COP21 brings the human rights issue right back to Paris linking climate change to the fundamental issue of human rights.
At a COP21 press briefing this morning, the UN High Commissioner for Human Rights declared that all people have the right to life, food, clean water, sanitation, and health. Protecting human rights protects the environment and addresses climate change. John Knox, Special Rapporteur on Human Rights and the Environment, stated, "It is a simple message. Climate change interferes with a wide range of human rights."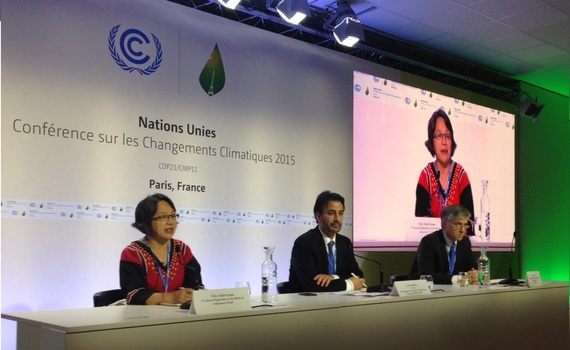 [(From left) Vicky Tauli-Corpuz , UN special Rapporteur on the Rights on Indigenous Peoples; Craig Mokhiber, Chief, Development & Economic & Social Issues Branch; John Knox, Special Rapporteur on Human Rights and the Environment]
Knox said, "The Human Rights Declaration was adopted in 1948. In 2080, how will people look back to the actions taken here in 2015 at COP21 in Paris?"
Craig Mokhiber, Chief, Development & Economic & Social Issues Branch of the UN, pointed to the need to lower the target from +2 degrees to +1.5 degrees. He also said the lower target and "strong language for human rights" must be included in the text of the COP21 Paris agreement in order to avoid human rights violations.
Vicky Tauli-Corpuz, UN special Rapporteur on the Rights on Indigenous Peoples, stated, "Human rights must not be traded away here in Paris... We hardly see any references to human rights in the text." She lamented that Indigenous Peoples have been marginalized because they are not member parties. Yet, "We have contributed a lot to limiting climate change impacts. We have saved our forests. We consume little. We respect the earth and the environment." She emphasized, "If climate change is human produced, there is a direct link to protecting human rights."
Mokhiber re-emphasized this point stating, "We know now that climate change is not an act of nature. It is the result of human actions and directly impacts human rights." Knox affirmed, "Every country has ratified at least one human rights treaty. Therefore, The Declaration for Human Rights applies to all countries."
Yesterday, I spent much of the day interacting with Indigenous Peoples trying to educate myself on at least some of the multiple issues they confront. I sat down for an interview with Negendra Kumar Kumal who represents the Nepal Federation of Indigenous Nationalities.
With translation help from Prakriti Shrestha--a student ambassador representing the American Chemical Society who is a Nepali citizen--Kumal told me, "We have a close relationship with nature. Even before [human induced] climate change, we have been involved with sustainable practices... We are not the main contributor to emissions, but we are experiencing unpredictable weather [including] changing snowfall and rain patterns." He discussed how lack of water affects cultural practices--water is an important part of rituals in many communities--and how changes in rainfall patterns are adversely affecting livelihoods.
Kumal talked of Mount Everest. "It is the tallest mountain in the world. Changes on the mountain are not only important for Nepal. Changes on the mountain will affect all people." Kumal talked of species migration. Nepal has multiple ecological zones ranging from plains to hills to mountains. He asked the US and other major greenhouse gas emitters to stop producing emissions.
I attended presentations by a number of individuals representing Indigenous Peoples. From the highest point on our planet to the lowland coastal regions, climate change is adversely impacting the most vulnerable. During the first half of 2015, Taiwan experienced its worst drought in 50 years. And, typhoons are increasing in severity. Indigenous Peoples implored government authorities and negotiators here at COP21, "Allow us to apply our traditional knowledge."
Most Indigenous Peoples in Thailand live in forested areas. Deforestation from commercial logging and uncontrolled forest fires is severely impacting their lives. They seek to expand protected forest areas and reclaim land. Penalizing Indigenous Peoples when they use the forest in their traditional ways is a great concern to those who are fight to protect human rights.
From Myanmar--which is only beginning to open up to the world--to the circumpolar arctic regions, Indigenous Peoples are seeking greater human rights for Indigenous Peoples. They seek a voice for the voiceless here in Paris.
The direct link between human rights and climate change is clearly understood. Whether this understanding will appear in the text of the Paris climate agreement remains to be seen.
[photo credits Keith Peterman]
Support HuffPost
The Stakes Have Never Been Higher
Related
Popular in the Community