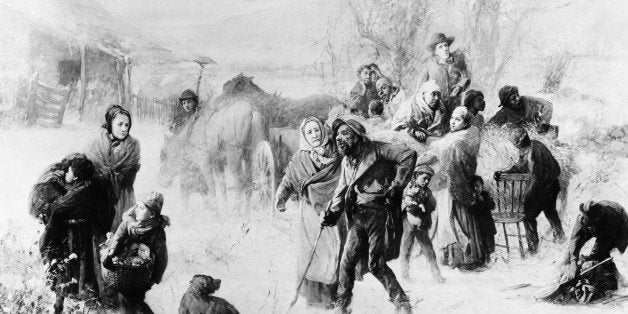 The election of Donald Trump and celebration by racist and anti-immigrant alt-right groups has sent waves of fear through many American communities. Jose Antonio Vargas, an immigrant's rights activist and an openly undocumented immigrant to the United States, writing in the New York Times Sunday Review, demanded to know "What will you do when they start rounding us up?"
This is my response to Jose's challenge.
Americans who oppose racial, ethnic, religious, homophobic, and gender bias, bigotry, and hate should take a lesson from the country's past. From the 1830s through the Civil War, Black and White abolitionists formed a network of "vigilance committees" in northern communities to stop slavecatchers from dragging south into slavery kidnapped free Blacks and freedom-seekers who had earlier escaped from bondage. Vigilance Committees mobilized to ensure legal procedures were followed and at times actively intervened to help imprisoned Blacks escape. The vigilance committees also provided freedom-seekers and their families with food, clothing, shelter, money, and work.
It is time for progressive Americans to help the newest generation of freedom-seekers, whether they are immigrants, Muslims, gays, or anyone else exposed to bias and hate. Vigilance Committees must protest, organize, report, demand, intervene, observe, provide legal aid, create sanctuaries, and when necessary, engage in passive resistance. Protest marches and vigils are powerful tools for rallying support, but they are insufficient unless they translate into permanent organization to challenge injustice. Bernie Sanders supporters are now in a battle to take control of the Democratic Party away from Wall Street brokers and technocrats who lose election after election because they are not interested in building a mass progressive movement. Vigilance Committees can be part of the organizational structure of that movement.
Vigilance Committees would report incidences of injustice to school and local authorities and demand that they respond. Student committees can be a presence in schools by wearing "I support human rights" t-shirts and "safe space" safety pins, by reporting incidents to school officials, and by shouting "STOP" when they see acts of bullying and injustice.
The Southern Poverty Law Center (SPLC) has documented more than 700 incidents of active bigotry since Donald Trump's election; 40 percent of all the incidents occurred in schools. Of these documented incidents, 206 were anti-immigrant, 151 were anti-Black, 80 were anti-gay, 60 were vandalism that involved swastikas, 51 were anti-Muslim, and 36 were attacks on women. SPLC is also keeping track of intolerance directed against Trump supporters; 27 since Election Day or about 4% of the cases. You can report bias incidents on the SPLC website.
There have already been several positive steps to protest injustice and hate. Since the election of Donald Trump there have been waves of protest marches and vigils across the nation.
Over one hundred college and university presidents issued a joint letter to President-elect Donald Trump urging him to forcefully "condemn and work to prevent the harassment, hate and acts of violence that are being perpetrated across our nation, sometimes in your name, which is now synonymous with our nation's highest office."
New York State has a hotline for reporting bias, discrimination, and hate crimes. According to Governor Andrew Cuomo, "We cherish our diversity . . . Whether you are gay or straight, Muslim or Christian or Jewish or Buddhist, rich or poor, black or white or Latino or Asian, man or woman, cisgender or transgender, we respect all people in the State of New York." To report an incident, call (888) 392-3644 from 9 AM to 5 PM Monday - Friday.
The ACLU Immigrants' Rights Project fights to expand and enforce the civil liberties and civil rights of immigrants and combats public and private discrimination. It has been instrumental in insisting on full legal rights for immigrants regardless of their status. MALDEF is the leading Latino legal civil rights organization. It was instrumental in the landmark U.S. Supreme Court case, Plyler v. Doe that struck down a Texas law allowing school districts to charge tuition to children of undocumented immigrants.
In an August campaign speech, Trump promised to "end" sanctuary cities by blocking federal funding. But elected officials in New York City, Chicago, Seattle, Boston, San Francisco, Los Angeles, Oakland, Providence, Santa Fe, Denver, and Washington, D.C., say they will maintain sanctuary status. Churches and schools have historically been sanctuaries providing safe-haven and refusing to surrender political and religious dissidents and refugees to police authorities. Newly appointed Newark, New Jersey Archbishop Joseph Tobin openly defied Vice-President-Elect Michael Pence when as Governor of Indiana Pence attempted to prevent the settlement of Syrian refugees in the state.
Documenting, reporting, and protesting will almost certainly not be enough to defend undocumented immigrants and other people victimized by forces unleashed by the election of Donald Trump. Abolitionist vigilance committees were prepared for passive and active resistance. They surrounded courts and jails so that people could not be led into slavery and at times helped them to escape.
In 1860, Harriet Tubman of Underground railroad fame was instrumental in helping Charles Nalle escape from authorities in Troy, New York. In April 1860 Nalle was arrested under the Fugitive Slave Law. Tubman was in Troy visiting a relative when she heard about Nalle's arrest. Ultimately Nalle escaped from custody. There is a marker in Troy at the scene of his rescue.
Tubman's role in securing freedom for Nalle was described in a local newspaper account. According to a local newspaper:
"An excited crowd of some one thousand persons had gathered about the Commissioner's office threatening a rescue. When the fugitive was brought down to be taken before [the judge], the crowd surrounded the office and endeavored to take him from them . . . Harriet, who had kept her position at the door of the commissioner's office, shouted: 'Here he comes! Take him!' and led the assault . . . A policeman hit her on the head with his club and freeing one hand she knocked him back into the crowd. Another jumped for her, but she caught him about the neck, throttled him and threw him over her shoulder. She was dragged down but kept her hold on the slave. Aroused to fighting pitch by her splendid courage, the crowd massed around her and dragged her and the slave to the river."
If progressive Americans are going to respond to Jose Vargas' challenge, we need to be prepared and organized.