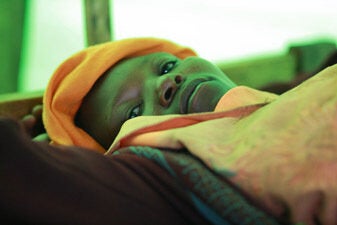 **WARNING** Graphic Photos Included
Human Rights Watch issued a press release today which accuses the Congolese Army (FARDC) of war crimes against the citizens of Congo.
"The Congolese army is responsible for widespread and vicious abuses against its own people that amount to war crimes," said Anneke Van Woudenberg, senior researcher in the Africa division at Human Rights Watch. "The government should take urgent action to end these abuses. A military operation that targets the very people the government claims to be protecting can only lead to disaster."
Human Rights Watch is demanding the UN Security Council Hold the Congolese government of Joseph Kabila accountable for untold atrocities. Why the Obama administration is not using its considerable influence in the region to stop this humanitarian disaster is beyond comprehension.
Since late January 2009, soldiers from the Congolese armed forces, the FARDC (Congolese Army), on military operations in eastern Congo, have attacked villages and killed at least 19 civilians in North Kivu province, including two women and two elderly men. Army soldiers have also raped more than 143 women and girls in the same period, more than half of the 250 cases of rape documented by Human Rights Watch. Some women were taken as sex slaves by soldiers and held within military positions.
I spoke with Anneke Van Woudenberg last week by phone for another report I was preparing. I wanted some advice on how I could make the Congo conflict more immediate in the minds of people who might read what I was about to write. Anneke told me of the latest attack on civilians in a remote village and spoke of a "culture of impunity." She apologetically used public relations imagery in our conversation.
Lubero is a hot area, if I can call it that, and there are a range of human rights abuses committed by the FDLR, the FARDC and the Mai Mai which are nominally under the Congolese army but who operate independently. We have criticized all sides and demanded protection for all civilians regardless of their ethnicity. The FDLR have been deliberately attacking civilian, especially near Lubero, Walikale and Masisi. We have not had specific attacks against Tutsi; all ethnic groups are being targeted.
She also responded to local, unsubstantiated complaints I received that a "Colonel Yav" of the FARDC has committed atrocities in the Lubero area. "The last I heard Yav was in Masisi. It might not be the same Colonel Yav," she said. However Anneke did confirm that a "Yav" was a colonel in the Congolese Army, even though she had not received the following local report that has not yet surfaced in any "news" sources.
It is hard to believe that Congolese are reduced to writing to a writer for the Huffington Post to get information to HRW, but HRW cannot be everywhere.
From CNDP (National Congress for the Defense of the People) sources: On Wednesday 29 April, early morning, this Senior Officer of the government army (Yav) whose repeated barbaric acts against civilian population has made famous, unleashed against the inhabitants of Bunagana his anger accumulated during the months of inactivity. Inhabitants of this part of Rutshuru territory in North Kivu have experienced a real ordeal. The military operation was essentially a punitive expedition that aligned a battalion of FARDC led by the Colonel himself! On the menu: rape of women, beatings, verbal abuse, arbitrary arrests, looting of properties (pets, household appliances, mobile phones, bedding, cooking utensils, money, generators, etc..) Those poor people experienced an unprecedented nightmare that early morning.
Readers may raise eyebrows that "Yav" report is from the splintered faction of Laurent Nkunda's CNDP, but as a writer who has worked in the region and encountered all factions along the way, I would tend to believe those close to General Nkunda, who is being held illegally in Rwanda with no formal charges against him or international arrest warrants. It was sweet deal President Paul Kagame made with Joseph Kabila of Congo, and sources tell me that Kagame is a victim of his own military whose officers are making a fortune from their illegal connections in eastern Congo.
Writing this might get me banned from Rwanda altogether, but I love the Rwandan and Congolese people and the search for the truth is worth it.
I was in Rwanda in January of this year and can tell you that many of the new mansions on Kigali's hillsides belong to officers in the Rwandan army. In 2001 the United Nations issued a report which documented the involvement of the Rwandan government and military in the illegal smuggling of minerals from Congo. What is "news" is that many have come to believe that it is the military and not Kagame who calls the shots in Rwanda. The gravy train was about to end if the rebel Nkunda gained too much power.
By January 2009, Nkunda was getting too independent, too popular with both the Rwandan and Congolese people. Nkunda had the audacity to claim Congo's riches for the Congolese. He had also spectacularly gained so much territory in such a short time that there was a real danger he would extend his march to the capitol of Kinshasa. For smuggling and exploitation to continue in the Kivus, the curtain of violence and instability must remain.
Why is Obama also turning a blind eye? Perhaps it is the new $80 million US embassy in Rwanda with an antenna array of sophisticated communications that helps the US keep an eye on mineral-rich Congo--rich with minerals we need for our defense industry.
Anneke and I talked some more about the lack of global outrage and about how the cycle of violence is continually repeating since the 2004 attack on the Congolese refugee camp of Gatumba. The politics is complicated, but the crimes against the innocent must stop. I decided I would offer photos of that atrocity that are heinous, but which also clearly show what is happening today. These photos are not sanitized. Whether you incinerate villagers in 2004 or in 2009, the results look exactly the same. I am hoping they provoke outrage. It does no good to have them sitting on my hard drive.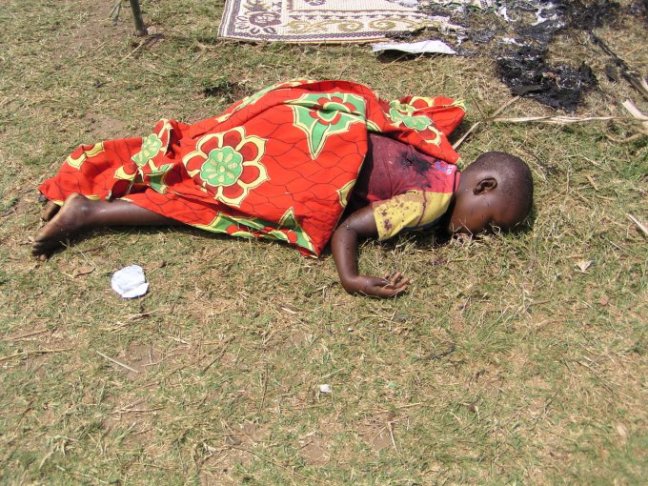 Image: Gatumba (2004) Source: CNDP and www.kivupeace.org
Why Gatumba? Is this just old news? Hardly. It is just that you are not seeing the graphic photos today of children being burned alive in the world press. You should.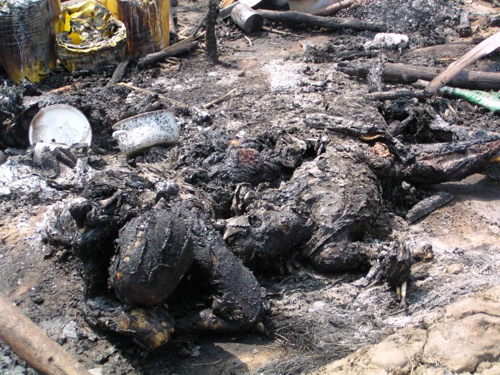 Image: Gatumba (2004) Source: CNDP and www.kivupeace.org
A force of armed combatants massacred at least 152 Congolese civilians and wounded another 106 at Gatumba refugee camp in 2004. The victims were largely Banyamulenge, a group often categorized with Tutsi. At the intersection of two faltering peace processes, the attack underlined the continuing political conflicts. Most victims were women and children. Loosely called "Interahamwe," some of these Rwandan combatants may have participated in the 1994 genocide in Rwanda as members of the Interahamwe militia (FDLR).
Sound familiar? Most readers will be surprised that this (truncated) account, prepared by Human Rights Watch, is almost five years old. The perpetrators have never been brought to justice, but some of the same players have continued to wreak havoc and hell in the DRC today.
There is argument in the historical record as to whether the attack was motivated solely by ethnic hatred or was part of a more complicated regional conflict. What is known for certain is that the group principally responsible, the Burundian Forces for National Liberation (FNL) was a Hutu extremest group led by Agathon Rwasa. Getty Images has a current photo of Rwasa getting a medical check up in April 2009. Alive and well, he has yet to be brought to justice and operates with impunity in neighboring Burundi. In 2007, Rwasa demanded $12 million to stop killing people. This was widely reported in the world press.
The incident at Gatumba is also noteworthy because it was the impetus behind Tutsi General Laurent Nkunda's break in 2004 with the government of Kinshasa and his declared rationale for defending ethnic Tutsi's (Banyamulenge) until his detention by Rwandan authorities in January 2009. Rwanda's betrayal of its former ally marked the beginning of what has now become a faltering peace process in which the integrated "peacekeeping" forces are led by an internationally wanted war criminal, Bosco Ntaganda. Here is the fruit of Ntaganda's "leadership" today from HRW:
In at least 12 villages in North Kivu province, including Miriki, Bushalingwa, and Kishonja in Lubero and Walikale territories, soldiers burned to the ground hundreds of homes and numerous schools and health centers. They pillaged and looted homes, and arbitrarily arrested at least 85 persons whom they accused of supporting rebel forces. Many of these people have been held without charge, subjected to beatings, and often released only after significant sums were paid. Civilians told Human Rights Watch researchers that they feared army soldiers as much as the Rwandan militias the army is supposed to be neutralizing.
Here is what you are "seeing" today. These children were burned to death in the village of Luofo within the last month by the same forces (FDLR) that burned children and adults at Gatumba in 2004. The Congolese army is committing the same atrocities in other villages.
Father of three young boys (ages 3, 4, and 6) burned to death in their home:The FDLR came and circled my house. When we tried to leave, they said, "You can't leave or we'll kill you." I was able to move out a bit and get some distance from the house, but my three young boys were still inside, sleeping on a single bed. Then I saw the FDLR combatants light a fire directly on my house and my three boys burned to death. © 2009 Human Rights Watch
Ntaganda is in charge of these troops. General Laurent Nkunda was offered up as sacrifice when he stated he was the only man defending the Congolese. I was there. I talked with villagers under his protection. Anneke disagrees with me on this one, telling me "there are no good guys in eastern Congo," but we respectfully disagree. I value her work and the work of HRW. Nkunda is an enigmna.
There is no doubt, however, that an additional 250,000 refugees are fleeing the violence since the beginning of this "peace process" that ousted Nkunda.
Human Rights Watch again raised concerns about the role played by known human rights abusers in the military operations supported by UN peacekeepers, including Bosco Ntaganda, who has been given a leadership role in the Congolese army despite an arrest warrant from the International Criminal Court (ICC), and Jean-Pierre Biyoyo, appointed a colonel in the Congolese army despite being found guilty by a Congolese military court of recruiting children into a militia group in March 2006.

Human Rights Watch also urged the council to ensure that Ntaganda is immediately removed from military duties, and to condition future MONUC operational support on his arrest.

"MONUC and the Security Council cannot turn a blind eye when known human rights abusers are in senior positions in military operations they support," said Van Woudenberg. "Congolese civilians urgently need protection from militia groups and abusers in their own army. If the council fails to act, it too will be complicit in putting civilians at risk."
Even Kagame is backtracking on the Nkunda arrest now. From Reuters:
Kagame played down the problem of rebel general Laurent Nkunda, ex-leader of the Tutsi-dominated National Congress for the Defense of the People, who was arrested in January in Rwanda and is wanted in Congo.

"I do not understand Nkunda to be the cause of the problem," the Rwandan president said. "The problem is much bigger than one individual." Rwanda says it has hesitated to extradite Nkunda to Congo because he could face the death penalty there, and that legal experts from the two countries are examining the problem.
U.S. Ambassador to the United Nations Susan Rice is in the region and told reporters (speaking of the genocide memorial): "What it reminds me of is less the past than the present and what more we could be doing in the present circumstances".
Ambassador Rice: Look at the photos here. The past is repeating on a daily basis. Talk to Kagame about his "problem."
It is a "problem" for the innocents being burned alive in Congo. A problem for the Congolese women who are raped on a daily basis. A problem for the children born in refugee camps who do not even have a piece of cloth to cover their naked bodies. A problem for the toddlers who root through garbage not fit for pigs. A problem for the mothers whose breasts have dried to shriveled pouches because of lack of good nutrition, and who have no milk to feed their naked infants who will die with a few days of their entrance into the hell which is eastern Congo.
For God's sake do something!
Related
Popular in the Community