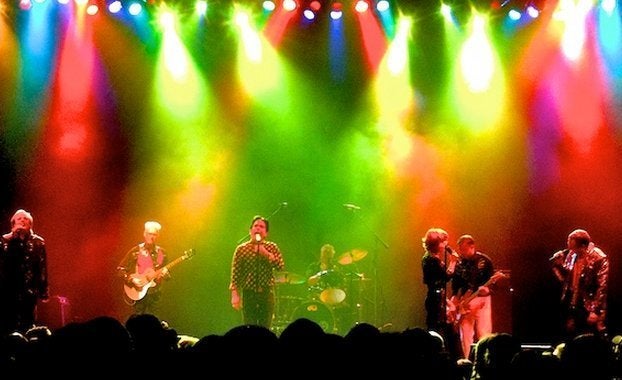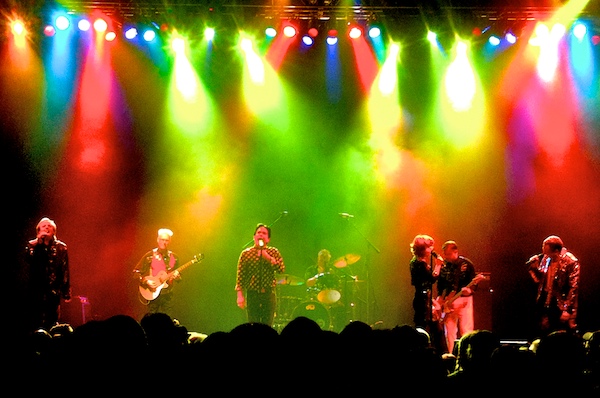 Dini Lamot stepped to the microphone early in Saturday night's Human Sexual Response reunion show and declared that he had met his husband, fellow Humans singer Windle Davis, at that very location 38 years ago. He shouted thanks to New York and Massachusetts for their right to marry as the crowd roared approval. Thirty years after disbanding, the Humans played to a joyful, affectionate Boston crowd that must have doubled or tripled their previous largest audience. In the same week an election further solidified acceptance of gay life and marriage equality, this audacious band from the fertile Boston punk era found the right cultural moment to re-emerge. The reunion was a celebration of their singular musical catalogue and the release of Unba Unba a DVD documenting a 1982 performance that reminded of their once-shocking presence on the Boston music scene. Bitingly funny, literate and theatrical, musically challenging and shout-along rocking -- sometimes all in the same song -- Human Sexual Response was always entertaining. And they brought down the house one more time.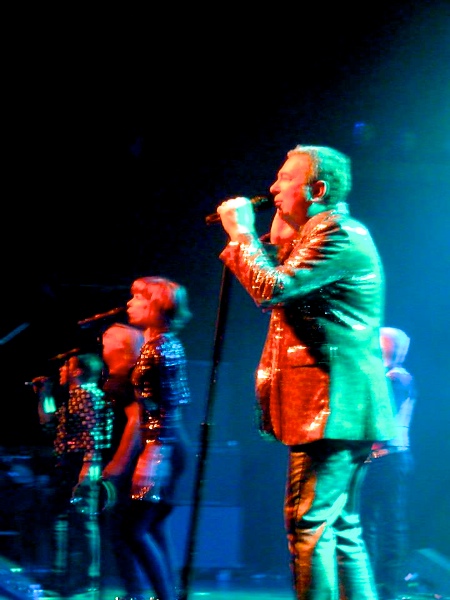 There was never a doubt that the show would be exuberant fun, but the Humans exceeded all expectations. There are a lot of moving parts in a group that fuses a power trio to four vocalists performing often-intricate lyrics in harmony. No one would have noticed a few dropped beats or wandering keys after a few decades. No excuses were needed. The instrumentalists (Rich Gilbert, Malcolm Travis, Chris Maclachlan) were known to be among Boston's best players. All lived up to reputation: Gilbert had several high points, grinning through slashing solos, wielding his beer-bottle slide. What surprised even longtime fans was how perfectly on singers Larry Bangor, Casey Cameron, Lamot, and Davis were, not just vocally but in jubilant performance. They emoted, cracked wise, placed an onstage call to a friend, and danced with abandon, the years between shows be damned. They radiated light from sparkly sequins and, to the crowd's delight, donned nurses' uniforms for the first encore. The musicians in the band have remained active musically, but the singers have mostly not (Bangor's post-Humans time with Gilbert, Travis and McLaughlin in the Zulus, and Lamot's incarnation as Musty Chiffon notwithstanding). It made no apparent difference.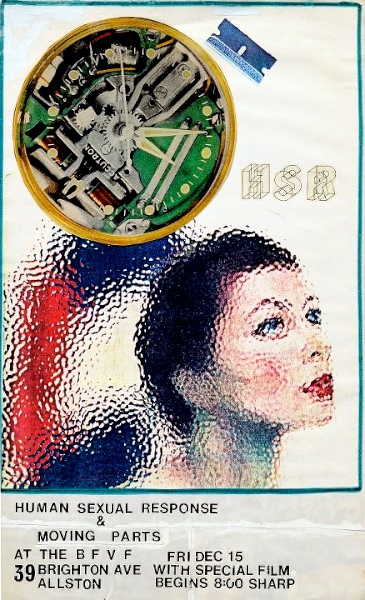 While they poked at the raw edge of 1970's gender and sexual-identity upheavals, the Humans' catalogue isn't specifically "gay," or as overt as, for example, their contemporary Tom Robinson's "Glad to be Gay." Most of the band was not, in fact, gay, and they were embraced equally in punk clubs, gay bars, and art outposts like Boston Film/Video Foundation, which hosted some early Humans shows at "Red Alert" nights. But from the band's name to bratty punk provocations like "Buttf*ck" (which they deployed to notorious effect on a Boston late-night tv show and which appeared twice on Saturday, first as a clever instrumental intro that tickled those in the know and as an encore when the crowd wouldn't let them leave), they upset convention.
"What Does Sex Mean to Me?" is perhaps the signature Humans song. Not an ode to getting satisfaction, the song catalogues sexual confusion in all its media profusion, leaps to China on Betty Ford's boots (documenting a sly bit of political performance art, and, as the back-up chorus cheerily pipes, "It's true!"), translates a Chinese Communist Party slogan to the effect that "making love is a mental disease that wastes time and depletes our energies" before returning to the anxious bed where the singer initiates a spiritual/physical release via the third eye. All set to a bouncy, finger-snapping rhythm with a rockabilly guitar break and show-band rave-up that invariably occasioned wild onstage cool jerking. If you can't be entertained by thought-provoking analysis of sexual politics while helplessly shimmying like a fool, then you simply can't be entertained. (Here's a live performance of the song from 1982.
Humans' songs never lose sight of the fact that all politics, especially sexual politics, are personal, and the battles can be as bitter in the bedroom as on Capital Hill. "Marone Moan" observes a relationship slowly depleted of meaning and comfort: "Like two hands of a clock/that cross, don't stop/the time is wasted between us/Minute by minute/with less and less in it/till there is nothing between us." Even "Jackie Onassis," the send up of celebrity culture that is their best-known song, manages to invert the power dynamic with a triumphant imagined Jackie sending Ari to his knees. "1, 2, 3, 4, 5, 6, 7, 8, 9, 10," from the woefully unavailable In a Roman Mood LP, depicts an intimate encounter that triggers more fight-or-flight than lust, the singer frozen between repulsion and attraction. The whole travesty ends in a resigned plea to "Let's just this once leave well enough alone."
Human Sexual Response occupy their own mirror-ball and black-leather space in Boston music memory. The Humans stood out in their heyday's chiming guitar strum, jagged art punk, and bloody-nose hardcore for their insistence on putting on a show, for being as much Bowie and Motown as Gang of Four or Talking Heads. The Humans toured the country in their Checker cab, wearing their wearable dots and body paint. Their songs were college-radio staples. They should have been big. They were big to us. They were again.
[Go here for Unba Unba director Jan Crocker's collection of images, video and audio selected from the 1982 show.]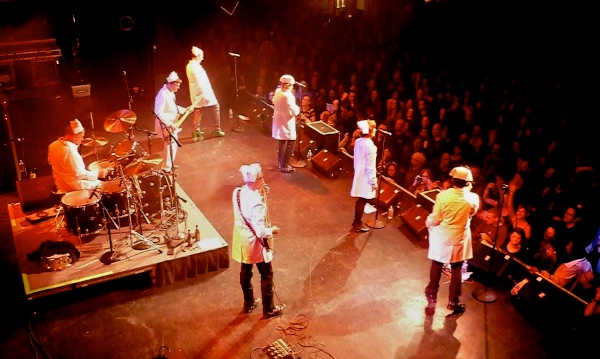 Nurses and Larry Bangor images courtesy of Mark Kates.
Popular in the Community