On Memorial Day, the country will honor those who served and continue to serve in the military. In that spirit, the documentary 'Honor Flight' follows four World War II veterans on their journey to see the memorial constructed to honor them in Washington, D.C. One of the film's stars, Joe Demler, joined HuffPost Live to discuss his time in service and the story behind 'Human Skeleton', the iconic image taken of Demler in a Nazi prison camp in 1945.
Demler was captured during the Battle of the Bulge and spent months in captivity. When a Life magazine photographer took the famous photo, Demler weighed less than 70 pounds. "When a little 100-pound nurse lifted me off a gurney and placed me in bed, that's how--then I began to wonder," Demler said.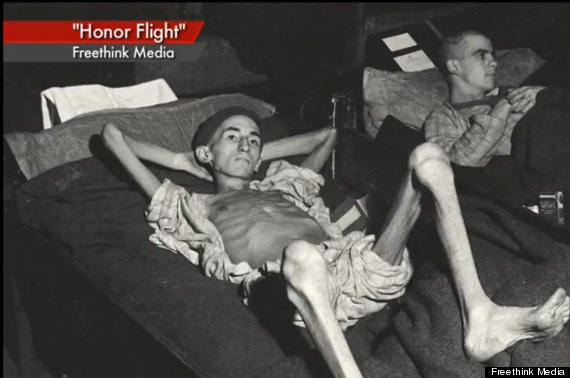 "You never forget. From day to day, you never forget," he explained to host Abby Huntsman. "You just thank the lord how lucky--you know, there was eight of us together in the bunks section, and three of us survived. You know, that's some poor odds."
Remembering his fallen comrades, he added, "they made the honor sacrifice for all of us -- for everybody -- and that's what 'Honor Flight' brings up. [Visiting the WWII memorial in Washington, D.C.] really, really brings back memories to you."
Joining Demler and Huntsman in the conversation were Dan Hayes, the director of 'Honor Flight', David Lucier, a Vietnam War veteran, and Jose Alvarado, an Iraq War veteran.
CORRECTION: An earlier version of this article misspelled Joe Demler's last name.
Related
Popular in the Community