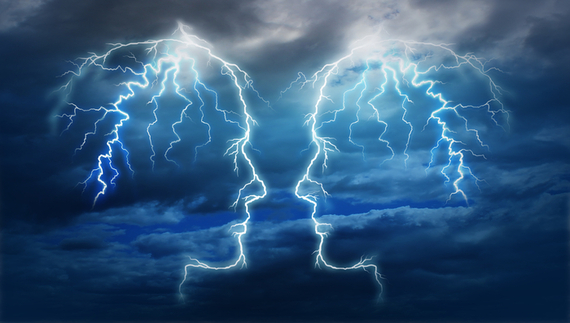 Every day we're bombarded with evidence of our inability to solve issues from a collaborative standpoint. Nowhere is this more evident than within our political system. But the emergence and rapid growth of individuals and organizations who understand the benefits of collaboration over competition (and the results of a collective impact) are building a new business and societal infrastructure. This trend could bring about some promising solutions in more ways than one. And it isn't just about internal collaboration, which is important in itself, but of external collaboration between businesses.
Streamlined systems, increased revenue opportunities, increased customer awareness and improved creativity and innovation are just a few of the benefits collaboration can offer. This is perhaps one of the reasons why people are touting H2H over B2B and B2C. As Bryan Kramer said in a recent article for Social Media Today, "Human beings are innately complex yet strive for simplicity. Our challenge as humans is to find, understand and explain the complex in its most simplistic form."
Is there anything easier to understand than the simple concepts of cooperation and collaboration? Apparently not. Coca-Cola and Heinz, Nasa and Lego, Corning and Sharp, Corning and Volkswagon, Biotherm and Renault, Microsoft and Toyota, Repsol and Burger King are just a few of the organizations jumping on this bandwagon. But it's not only big corporations that see the benefit.
In Cleveland, long-time rival universities and hospitals banded together to harness their collective billions to buy, hire and research in order to reshape the economic future of the region and help those who have been hardest hit by the economic downturn.
In Atlanta -- despite local customs -- ten counties and the business community came together to promote an historic8 billion bond issuance and regional tax increase to address the fact that people who need jobs can't get them.
The Michigan Corporate Relations Network issued requests for proposals from tech entrepreneurs looking to speed up their commercialization efforts. Under the Small Company Innovation Program (SCIP), small- to medium-sized companies can receive matching funds for research projects at participating universities.
Let's face it -- our best individual efforts don't stack up against today's complex and interconnected problems. Wise leaders are putting aside self-interests and collaborating to build a collective impact that feeds their shared objectives...
In the book The Collaboration Economy, Eric Lowett provides examples of corporations who are taking wise advantage of what many feel is the most important human behavior for a beneficial common future: collaboration. This growing trend across America was partly the inspiration for Jay Bernstein, CEO and founder of WinWinUSA, to develop his business model -- a technology-driven, Facebook-styled community wherein businesses can collaborate with each other and grow.
"Technology is such a huge asset which many businesses aren't taking advantage of. I also feel it's very important for businesses to operate in a collaborative, cooperative way that benefits everyone."
Bernstein's concept makes total sense. Given the fact that there's so much competition out there, very often areas become over-saturated with similar businesses. Sooner or later, someone has to fail. But a collaborative mentality can and usually does lead to greater success. This is the kind of thinking that can help to reduce over-saturation and increase intelligent businesses development in the areas where it's most needed.
Bernstein also believes its incumbent upon leaders of all kinds to make a strong effort to bring about positive change. As he suggests, businesses always wind up doing better through internal and external collaboration. "There's so much we can learn from each other through the collaborative process. Collaboration is the new "next phase" of the internet."
Can B2B Collaboration Equal Human To Human Improvement?
After a quick internet search and a few conversations, the answer to this question appears to be YES. For example:
Freelancer.com is an online crowdsourcing and networking marketplace, the global company has been connecting entrepreneurs, small business owners and corporations with freelancers and skilled professionals for years and, according their website, is the largest outsourcing marketplace in the world. Beyond the fact that it's cost effective, this type of platform provides income for people who are very much in need of work in areas where there isn't any. And it provides businesses with skilled individuals to achieve their needs.
Senix Creek Inn, a waterfront restaurant trying to recover from economic damage from Hurricane Sandy partnered with Fab Face Fun, a business developed and run by a child, for Kids Karaoke parties. Fab Face Fun provided face painting and other activities for the children at the venue. Results: Senix Creek gains added exposure and access to new patrons and Fab Face Fun obtained an elegant, known and trusted venue to gain market exposure and brand recognition -- both at no added expense.
Perspectives Charter Schools was able to simplify its E-Rate funding by shifting from an on-premises unified communications solution to Single Path Connect, a Cisco Powered cloud collaboration service based on the Cisco Hosted Collaboration Solution. Benefits included improved administrative efficiency and lower monthly costs by approximately 25 percent.
Trupart MFG, Inc., which makes parts for other companies' equipment, used green manufacturing techniques including waste reduction, reuse and recycling so successfully that in 2010, its sales doubled. The increase in work flow prompted them to seek collaborative assistance from SBDC Business Advisor Mary Anne Rooney. The results of this collaboration enabled Trupart to increase efficiency, lower production costs and prices. This enabled them to undercut some overseas manufacturers on pricing and bring back customers who had left for cheaper prices. It also made certain they could continue to onshore -- keeping jobs and parts from going overseas.
Collaboration is an experience that integrates people, technology and business through which extraordinary things can happen and businesses can increase profits. Sounds like a true win-win to me. Instead of the usual "urgency Zen" that's permeating so many business leader's minds, how about we take a breath and think in terms of cooperation as well as long term success? According to some high profile corporations, they're not mutually exclusive...
Image licensed through GL Stock Images
Related
Popular in the Community