Human trafficking and slavery. Given the realities of the trans-Atlantic slave trade, these are not words to be used lightly. Nonetheless, this is the only way to describe some of the horrific abuses that have been perpetrated in the Asia-Pacific region in recent times.
In June 2015, the world watched in horror as footage emerged of death camps deep in the Thai-Malaysian jungle. In these camps, hundreds of some of the world's most unwanted people, the Rohingya ethnic minority from Myanmar, have been held, tortured for ransom and sometimes murdered.
Photos of the camps reveal human sized bamboo cages and covered pits. These were likely used for confining migrants, while money was progressively extorted from their families back home.
The authorities have exhumed hundreds of bodies from these camps, including the body of a heavily pregnant woman. How she died is a mystery but her caved-in skull gives clues. Also discovered were the remains of a man tightly tied to a tree, below the high water mark.
This horrendous abuse was uncovered just a few months after news had emerged of another group of men, mostly from Myanmar, who were being kept on an Indonesian island in cages, beaten with stingray tails and paid little or nothing, to fish for a company that occupies the port on the island, Pusaka Benjina Resources. The fish they caught was transhipped to Thailand, and on to international markets.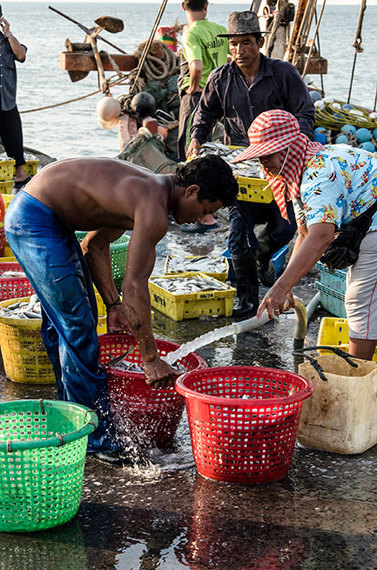 Global consumers are also involved whether they know it or not. The Thai fishing industry -- serviced by a fleet operating across the Asia Pacific -- is one of the largest producers of seafood globally, with major exports to the US, Japan, Australia and UK.
These are grim and current realities for which all Governments -- but particularly Governments in the Asia Pacific region -- hold responsibility. Rather than isolated instances, the Global Slavery Index estimates that more than 65% of the world's estimated 35.8 million people in modern slavery are in the Asia Pacific region
On 23 March 2016, the Bali Process -- a grouping of 45 Governments and 3 international organisations -- took a critical step by adopting its first ever Ministerial Declaration on Human Smuggling and Trafficking. Following strong leadership by Co-Chairs, Australia's Foreign Minister Julie Bishop and Indonesia's Foreign Minister Retno Marsudi, Governments signed onto a Declaration that includes a set of key principles for how they will respond to these issues.
Importantly, the Declaration recognises the important role that safe, legal migration pathways have, both in reducing people smuggling but also human trafficking. Given the realities of current global conflicts, displacement and globalization, accessible, low-cost safe migration is critical to breaking reliance on people smugglers.
It is also significant that the Declaration recognises the important role that private sector engagement can have in responding to human trafficking and slavery. Businesses can and must play a role in ensuring that seafood caught in our region is not tainted with slavery and other abuses. They can achieve this through risk assessment and targeted due diligence on their suppliers, processes explained in a free Guide for Business on Tackling Slavery in Supply Chains. Without due diligence, consumers have literally no way of knowing if their tinned tuna was produced by slave labour.
Governments can and must legislate to create the conditions that require businesses to act responsibly. In 2016, this must include a focus on both requiring corporate due diligence, and prohibiting the import and trade of goods known to be produced with forced or slave labour, a legislative step already taken in the United States.
The Bali Process Declaration is a step in the right direction, and engagement with the private sector must be part of the solution. The challenge now is to ensure that political commitment results in meaningful, measureable change: an outcome that must involve an element of independent oversight.
The corporate world is used to the methodical rigour and challenge of auditors. We should expect nothing less than independent oversight of the efforts of our elected officials, including through the Bali Process.
Related
Popular in the Community