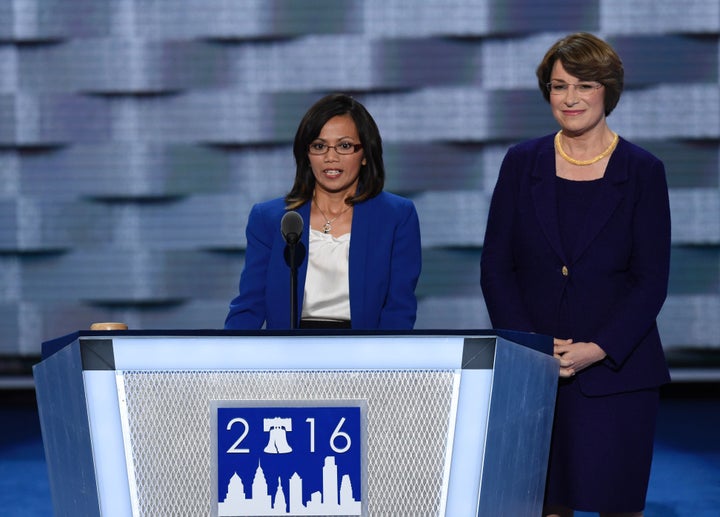 A devastating, but largely hidden issue, got center stage at the Democratic National Convention on Tuesday night.
Ima Matul opened up about the years of abuse she endured while she was trafficked as a domestic worker in Los Angeles. Her harrowing story underscored the fact that this isn't just a problem overseas. Rather, it's "happening right here in our backyard," Matul said.
Across the globe, there are about 21 million human trafficking victims who are being exploited for sex or forced labor, according to the International Labor Organization. Because it's a hidden crime that happens behind closed doors, identifying, and capturing, the perpetrators, remains a looming challenge.
Such was the case with Matul.
The vocal advocate grew up in a poor village in Indonesia. When she was 16, Matul's parents forced her to get married and the arrangement was so intolerable, that she would "scream" any time her husband approached her, Matul said in a 2013 interview.
So, when she was offered a job as a nanny at 17 to work with a family in Los Angeles, Matul ran away from home and embraced the opportunity.
The family paid for her airfare, passport and visa, but that's where the niceties started – and stopped.
Her trafficker confiscated her passport when she arrived. Matul was never paid the $150 a month salary she was promised. Her employer would often get violent and abuse her.
After three years, Matul mustered the courage to write a note to a nanny next door, asking for help. The woman took Matul to the Coalition to Abolish Slavery & Trafficking. After successfully escaping and undergoing rehabilitation, Matul became an advocate for fellow survivors, and began working to help other victims like her get help.
Part of what continues to give Matul hope is the fact that Hillary Clinton, the Democratic nominee, has been fighting for the rights of human trafficking victims since even before Matul fled her own imprisonment.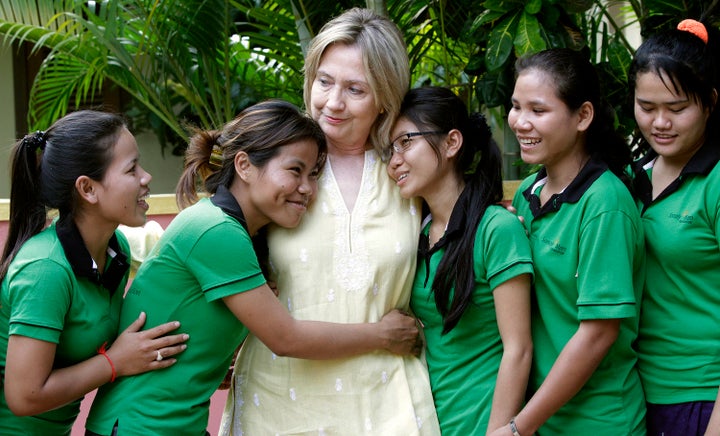 "Before human trafficking began to capture our attention, before there were laws to identify and protect victims, even before I escaped my trafficker, Hillary Clinton was fighting to end modern slavery," Matul said in her DNC address. "And throughout her career, Hillary kept up that fight."
When she was first lady, Clinton supported the Trafficking Victims Protection Act, which enhanced support for survivors and equipped prosecutors to go after traffickers. As Secretary of State, she oversaw about 170 anti-trafficking programs in 70 countries. She also "insisted" that the United States be included in the annual Trafficking in Persons Report, so that America would hold itself to the "same standard" as the rest of the world, Clinton wrote.
However, she admitted, there's still "much more to do."
Clinton said she plans on making fighting trafficking a priority and will combat it with a three-pronged approach.
Her goal is to give survivors the tools to heal and to help combat the issue. She plans on strengthening the U.S. government's efforts, which would involve a ban on goods created with forced labor. Clinton also plans on developing a global alliance so that governments will coordinate with the private sectors and civil societies to stop the cycle of human trafficking.
While Matul said she hears stories identical to hers every day, she said that Clinton's determination makes her believe she'll see an end to human trafficking.
"I have hope, especially now that Hillary Clinton is running for president," Matul said. "As a survivor and an advocate, I have hope that we can end human trafficking."
Popular in the Community