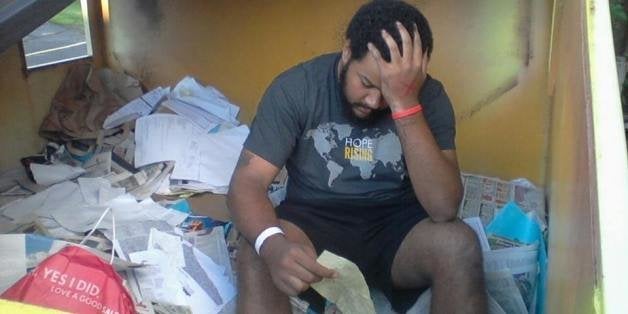 Shannon Sprowal and Jay Atlas will sleep just about anywhere for a good cause.
In their cross-country walk to raise awareness of human trafficking, the two found themselves in a recycling dumpster during a downpour in Rocky River, Ohio, on Sunday.
They've also spent the night on park benches and under a bridge. "It's been a cross between camping and homelessness," Atlas told The Huffington Post.
The hardships don't end there.
The African-American men were asked to leave one Pennsylvania town in what they say was perhaps a racially motivated request. So they had to walk an additional 17 miles on top of the 40 they covered that day, Atlas said.
Otherwise, "everyone else has been welcoming," Atlas said.
Their nearly no-budget journey began July 15 in Atlantic City, N.J. The two had $21 between them. They carry two homemade signs: One reads "End Human Trafficking" with a big red "X," and the other is a fact sheet. Those interested approach them.
They had planned to reach Los Angeles Oct. 28 but they've run into a welcomed delay. Imgur user Alex Sheen wrote a post about the duo a few days ago when they were passing through Cleveland, and it attracted a lot of attention. Now new supporters want Sprowal and Atlas to make detours to appear in their town.
The viral exposure also increased the funds they received personally for their "End It" trek to a few thousand dollars, Atlas told The Huffington Post. But the two are encouraging donors to contribute directly to the International Justice Mission, a group that rescues victims of slavery and sexual exploitation. So the total amount the duo has raised was hard to estimate, Atlas said.
As of Thursday, they had reached Defiance, Ohio. They've been eating a lot of apples on the road and relying on the kindness of strangers, Atlas said.
Atlas, 23, and Sprowal, 21, are childhood friends from Norristown, Pa. While they had no close contact with human trafficking, they got inspired to help while attending a Passion conference that focused on the subject, Atlas said.
According to enditmovement.com, 27 million men, women and children are being forced to work in brothels, factories and quarries.
Atlas figures roughing it across the United States is well worth it if it helps people who endure a lot more.
"We're just two regular guys," Atlas said. "We don't think what we're doing is especially great."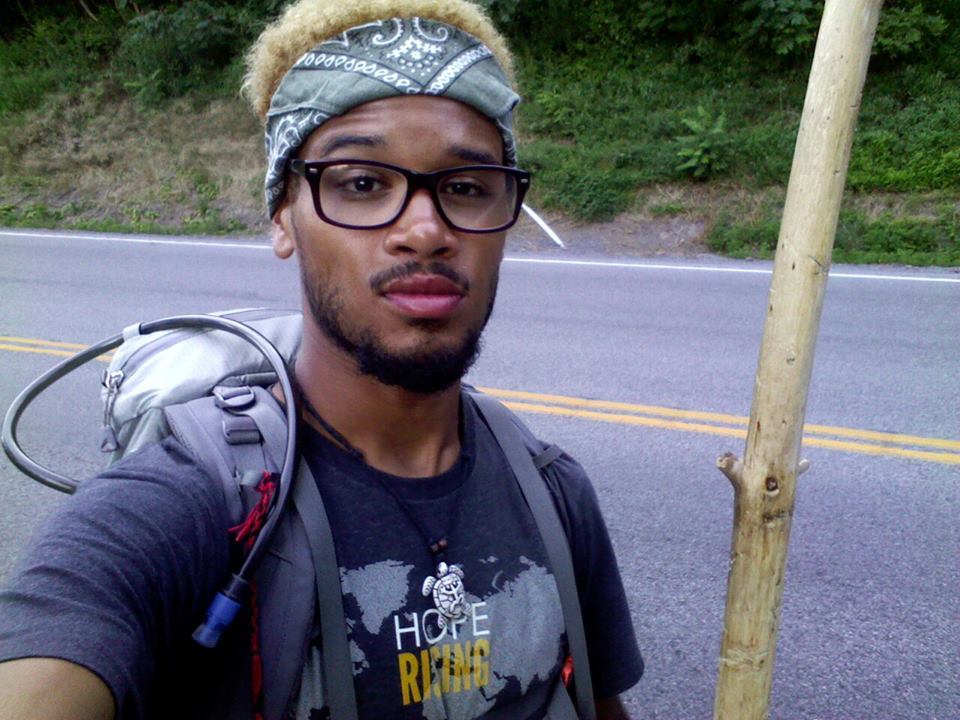 Credit: Facebook
Shannon Sprowal is walking cross-country with childhood pal Jay Atlas to raise awareness of human trafficking.
Calling all HuffPost superfans!
Sign up for membership to become a founding member and help shape HuffPost's next chapter