In October 2011, two young boys decided to have a bake sale to raise money for charity. Their Father, Chris Russell, who had worked his whole career in the food business and was a passionate chef, agreed to help. The family decided to make mini rice krispie treats and began to forage through the pantry looking for "fun" ingredients, and ended up making three kinds of treats: mint-chocolate cookie, butterscotch sprinkle, and cherry-dark chocolate. The kids set up shop on the corner of 86th Street and Central Park West in NYC and quickly made $300 dollars and saw repeat customers over the course of two hours. People kept asking where they could buy the treats and couldn't believe it when the boys said that they had made them. A business was born.
When Chris and his wife, Jennifer Russell finally set up their company, Treat House, it was very important to them that they stay true to their origin story and keep social impact at the heart of their business. After searching for the right fit, a number of friends were affected by cancer, so it felt natural to partner with the Leukemia & Lymphoma Society (LLS). Now Treat House provides illustrious rice krispie treats at LLS fundraisers as dessert, or in gift bags (which is also great marketing for the brand). But the most meaningful way they engage with the cause is that for every $15 dollars raised for LLS, they send out a box of goodies to a low income sufferer of blood cancer. "We are not curing cancer, but if someone is under so much stress they barely able to afford their co-pays, the treats put a smile on their face." Chris and Jennifer share the letters and feedback they receive with their staff, so everyone can appreciate the good deed, and its impact.
Companies are increasingly embracing the human need to make a difference. Think Toms, Warby Parker, Kind Bars--businesses that are changing the way we think about giving and receiving. Employees want to feel like they're making a difference, and be connected to a purpose larger than making a profit. And smart companies, like Treat House, are providing ways for those connections to thrive. Which--it turns out--is good for business.

Here are some stories from companies that I have recently spoken to who are throwing their hats into the social impact ring in three distinct ways: Top-down, bottom-up and inside-out. These are all ways people are bringing their human values to work.

Top Down: Jet Blue's values inspire giving back and community-wide.
On a recent visit to Jet Blue, I sat down with their "People Team" and talked about how their mission of Inspiring Humanity informs everything they do from who they hire, to how they engage employees, to their social impact work. At first, JetBlue came up with organizations to partner with in the community, but they realized they could make a bigger difference if they allowed crew members to volunteer where they are personally drawn. Rachel, a member of the People team, is an avid runner, so she chose an organization that helps young girls realize their full potential through running. And for every 50 hours of volunteering, crew members receive two tickets on JetBlue to donate to the charity of their choice. This is what JetBlue does on an ongoing basis, but they also respond to in-the-moment needs, as well.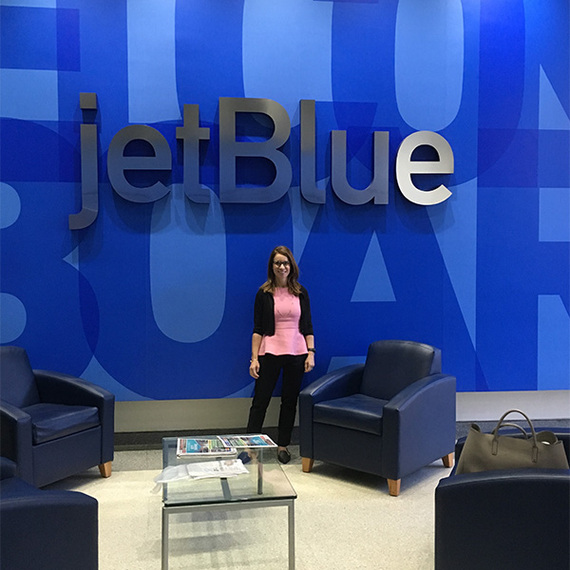 For instance, after Hurricane Sandy, JetBlue responded with its human values front and center. For the local communities, employees brought much needed food trucks to Far Rockaway and provided blankets and other supplies. Crew members who lived in affected areas were automatically sent money to keep them on their feet and were given a month off without worrying about job security. One crew member described standing in line at FEMA to get support. He shared that he allowed other people to jump ahead of him in line because he knew their time off was limited. Being treated as a human being during this stressful time made such a difference, this crew member said he will "bleed blue forever."
Bottom-Up: Business Talent Group's Leadership empowered its Associates to Design its Social Impact Program.

Business Talent Group is a global consulting marketplace that connects exceptional independent talent to the world's top companies to "get critical work done." It's a new way to work, and BTG is leading the charge. The firm has experienced tremendous growth and has hired many Millennials to support that growth. As folks may have heard, in addition to Millennials being concerned about purpose in the workplace, it is also important for this generation to feel like they are doing something for the greater good.
A few of BTG's Millennial associates wanted to do something in their own communities. They brought it to the attention of the leadership team, and were told to make "a business case" and design a program. After doing some searching, the associates chose Junior Achievement because as "business consultants what we are teaching the kids will impact them throughout their lives and careers," and indeed, they are now delivering workshops on entrepreneurship and personal finance to local youngsters. And instead of everyone volunteering on their own time, the BTG Employees decided they wanted to volunteer together. "It's definitely brought the employees in the offices closer together. We gather in one big group, and work toward one shared purpose. A lot of people work remotely so gathering was great for culture and morale."

Other interesting side benefits also came out of the new program. The women who got it off the ground felt that owning the experience was a great leadership development and growth opportunity for them, and they have also found that it is helpful in the recruitment of new talent. It is a win for these employees, a win for the company who needs engaged employees in a tough market, and a win for their local communities.

Inside-Out: Vynamic created a social impact role for a passionate employee
Dan Calista, the CEO of Vynamic, a healthcare consultancy based in Philadelphia wants to create the "healthiest company in the world." And he's on track to do just that, devoted as he is to the health of his employees and to investing in local communities in some fresh and powerful ways.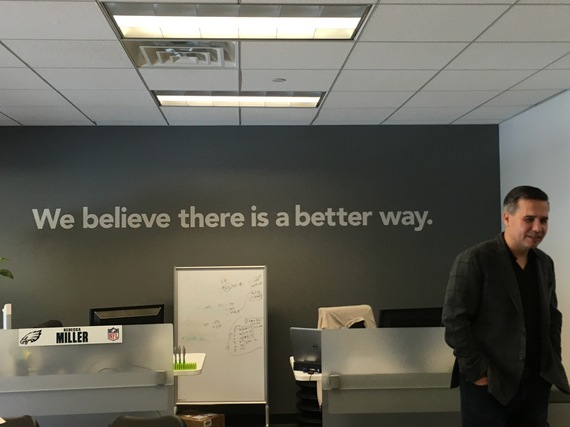 Laura Pappas joined the company in 2008 as a consultant. Over the years, Laura and Dan had many conversations about her career and interest in wellness. As the company got bigger, Laura approached Dan about turning her passion into a full-time position at Vynamic, which become known as the Health and Care Lead, which Dan agreed to. Dan even paid for her to go back to school to get certified in Nutrition. Now Laura runs Vynamic's CYOCA--Choose Your Own Community Adventure--Program. From Memorial Day to Labor Day, team members are encouraged to spend time with a local nonprofit of their choice in an effort to create new relationships between Vynamic and its community. In exchange for volunteering, Vynamic donates $100 to the cause. Dan's hope is that the program can "break the ice" for people who don't think they have time to volunteer and can lead them to taking on a larger social impact role. "This is one way how our company can round out our employees as people."
And here's the thing: In Fortune's List of 100 Best Companies to Work for, companies with social impact programs are increasingly highlighted. Now, will JetBlue's 150,000 volunteer hours in 2015 change the world? I can't say. But changing the way we think about profit and loss--giving and receiving--not to mention being human at work, certainly will. And you don't have to be a giant to begin to make an offering. Even small companies are getting into the game. The June edition of Inc. magazine profiled the Best Places to Work with up to 500 employees. Even in small businesses that are focusing on making payroll and staying afloat, 74% give time off for volunteering.
Let's face it. The days of accepting work as a soul-crushing Dilbert-esque nightmare are coming to a close. And while all the small acts of kindness and community-building are exciting, the best news is that this trend is seriously catching on, and has the potential to truly change the way we think about and take care of all of our human business.
Popular in the Community