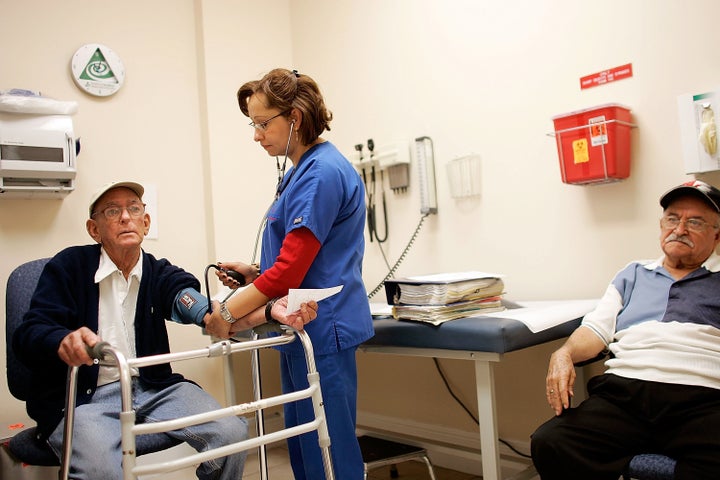 Many elderly Las Vegas residents were alarmed and confused Wednesday after receiving a mailer with an enclosed letter signed by the Chief Medical Officer of Humana Medicare, Philip Painter, claiming that Congress and the President are considering proposals to cut "important benefits and services" of Medicare.
The letter enclosed in the mailer tries to convince Medicare recipients that their benefits could be cut if the current health insurance reform plans are enacted (bold text same as original):
Leading health reform proposals being considered in Washington, D.C., this summer include billions in Medicare Advantage funding cuts, as well as spending reductions to original Medicare and Medicaid. While these programs need to be made more efficient, if the proposed funding cut levels become law, millions of seniors and disabled individuals could lose many of the important benefits and services that make Medicare Advantage health plans so valuable.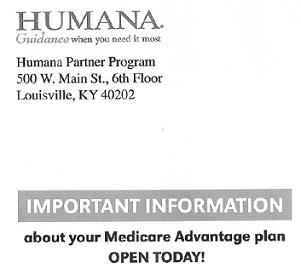 To ensure Humana customers read the packet, it arrives in an envelope claiming to contain "IMPORTANT INFORMATION about your Medicare Advantage plan" and imparts urgency upon the recipients to "OPEN TODAY!" But the mailer contains no information about the recipients' medicare plans. Rather, upon opening Humana's "Guidance when you need it most" envelope, recipients find a recruitment packet asking them to join Humana's Partner Program to "show Congress the importance of Medicare Advantage."
Humana's Partner Program is Humana's community corporate organizing arm. Using scare tactics (convincing Grandma that her Medicare benefits could be cut), an enclosed Humana Partner Program flyer asks Medicare recipients to sign up (and to sign up their friends and family) to:
receive

policy propaganda

Congressional updates
view member profiles of other Partner members
learn how to use your voice for

Humana profits

reform
receive quarterly

disinformation

newsletters
learn about local

tea bagger parties

Humana Partner opportunities
As an added bonus, Humana Partner also gives members "fun brain teasers, quizzes, and puzzles." (They probably include crossword puzzles with answers like "death panels" and "socialism")
An enclosed card says, "We want you to be informed," then asserts,
Some in Washington want to cut billions of dollars out of the Medicare Advantage program. If that happens, patients could lose many of the important benefits and services that make Medicare Advantage so valuable: Low premiums, Low deductibles and co-pays, Wellness and enhanced preventive benefits, Coordinated care and disease assistance programs.
The enclosed letter asks recipients to call their Congressional representatives, contending,
Congress is considering significant cuts to Medicare Advantage now, and your Members of Congress will want to know why this program is valuable to you because these cuts could mean higher costs and benefit reductions to many on Medicare Advantage.
Alyce from Las Vegas says she was furious after hearing from her distraught 90-year-old, wheel-chair-bound mother who, along with many of her fellow residents, received the mailer Wednesday. Alyce asks, "How do we counter these deceptive mass mailings to the elderly? They are organizing the elderly using a public relations firm to spread the lies." She says she was particularly troubled because Humana mailed this to her mother despite the fact that her mother has been diagnosed with Alzheimer's Disease.
The enclosed letter includes this disclaimer at the bottom, "Neither the Centers for Medicare and Medicaid Services nor the Medicare has reviewed these materials for accuracy or misrepresentation." (Now that's irony.)
The mailer also directs recipients to visit the Humana Partner Program website, which features an update on the front page in bold text, "Congressional Update: Medicare Advantage funding cuts proposed...again," along with the following text (bolding is original):
Now, to pay for health care reform, some in Washington have again proposed deep cuts to the Medicare Advantage program. This time, the proposed cuts could be as high as $177 billion from the Medicare Advantage program if people like you who appreciate the Medicare Advantage value don't stand up and have your voice heard. This means seniors and disabled individuals in the Medicare Advantage program, like you, may be asked to pay for nearly a third of the initial projected cost of health care reform through higher Medicare Advantage premiums and copays and lower benefits and choices.
Obama has repeatedly said that Medicare benefits will not be cut, and that Medicare funds will not be used to pay for health insurance reform. Last week, he told Minnesotans at a health care rally, "Not a dollar of the Medicare trust fund will be used to pay for this plan -- not one dollar. We will not be lowering benefits for senior citizens."
Other sources have confirmed the President's statement. The American Association for Retired Persons (AARP) recently told the Washington Post that currently proposed cuts to Medicare would not affect benefits. AARP also told the Wall Street Journal that these types of statements are "misleading and alarmist," and "the proposed Medicare savings do not limit benefits."
At the end of 2008, about 12.5 percent of Medicare Advantage subscribers were Humana clients, and Humana receives a just over half its revenue from Medicare Advantage.
Have you or someone you know been contacted by your insurance company with scare tactics against health insurance reform? Huffington Post would like to hear from you. Email us your stories at submissions+scaretactics@huffingtonpost.com and, if possible, include a picture of the mailer you received.
Popular in the Community