This week, Cruelty Free International applauded the introduction of the Humane Cosmetics Act along with beauty industry leaders Paul Mitchell® and The Body Shop®. The bill was introduced with strong bipartisan leadership from U.S. Representatives Martha McSally (R -AZ), Don Beyer (D-VA), Joe Heck (R -NV) and Tony Cardenas (D-CA).
The Humane Cosmetics Act would end animal testing for cosmetics after a 1 year phase in and would further phase out the sale of animal tested cosmetics in 3 years.
"Subjecting animals to painful and inhumane testing is not who we are as a country. There's no reason to continue this cruel practice when we have cost-effective alternatives that can bring about safe products for consumers. As an animal lover and volunteer, I'm pleased to be introducing this legislation with my colleagues to take a stand against the inhumane treatment of animals." Representative Martha McSally (R-AZ)
"Cosmetic animal testing is inhumane and unnecessary. It is our obligation to pass this bipartisan legislation and protect the welfare of helpless animals. Countries across the world began banning animal testing years ago and it's time for the United States to join them." Representative Joe Heck (R-NV)
"It is time for us to end the painful and completely unnecessary process of testing American cosmetics on animals. Safer, more cost effective, and completely humane alternatives already exist, and the United States is in no danger of losing its role as a competitive leader in the global cosmetics industry. Now we need to ensure our place as a moral leader." Representative Don Beyer (D-VA)
"Throughout my career in both the California State Legislature and in the Los Angeles City Council I have been a strong supporter of animal rights, and I will continue the fights I have been proud to lead during my time in Washington. I am honored to introduce the Humane Cosmetics Act to continue to strengthen requirements in the cosmetics industry that will keep us on a path to securing the proper and humane treatment of animals." Representative Tony Cárdenas (D-CA)
In addition to strong bipartisan support the Humane Cosmetics Act has already garnered key industry support.
John Paul DeJoria, Chief Executive and Co-Founder of Paul Mitchell® said, "Paul Mitchell is the first professional hair care brand to take a strong stance against animal testing...we just refused to do it. Since our beginning in 1980, we have been extremely proud to be cruelty free. We are honored to join Cruelty Free International in continuing to support the Humane Cosmetic Act to end cosmetic testing on animals in the United States. It's easy to see that our commitment to caring for all living souls as well as the remainder of the planet is a driving force in everything we do. Join us, in helping make our world a more beautiful and better place."
Chris Davis, International Director of Campaigns & Corporate Responsibility for The Body Shop said, "The Body Shop is proud to continue to support The Humane Cosmetics Act. For over 20 years, The Body Shop has been campaigning to ban animal testing in cosmetics and we're immensely proud of the impact we have made in changing the law in the EU. As a leader in the global beauty industry, we'd now like to see the U.S. end cosmetics testing on animals. The Humane Cosmetics Act would help harmonize international laws on this issue which is good for business and good for animals."
The European Union has been phasing out animal testing since 2003, and in 2013, a complete ban on the testing and marketing of new animal-tested cosmetics and ingredients went into effect. As well as Europe, Israel and India now have bans in place while New Zealand, Brazil, South Korea, and Vietnam are also making strides toward ending cosmetics testing on animals and China has lifted the animal testing requirement for certain cosmetics produced within China.
As the leading organization working around the globe to end cosmetics and product testing on animals, Cruelty Free International is pleased that our hard work is helping to move the United States in the right direction.
Cruelty Free International Chief Executive, Michelle Thew said, "We are delighted that this landmark bill has been introduced with strong bipartisan support. The European Union has proven it is possible to produce safe and humane cosmetics without using animals which has led to a global trend with countries around the world moving away from animal testing. This bill will help the United States keep up with this global progress."
The Humane Cosmetics Act provides a perfect opportunity for the US to catch up with the rest of the world and to ensure modern, humane alternative tests are at the heart of ensuring U.S. consumer safety.
As US residents you can do your part by encouraging your representatives to become a co-sponsor of the Humane Cosmetics Act. There are two simple ways to do this: 1) by signing the Cruelty Free International petition and 2) by taking just five minutes to write and send a more personalized message to your representative.
It's time to end cosmetics testing on animals in the US!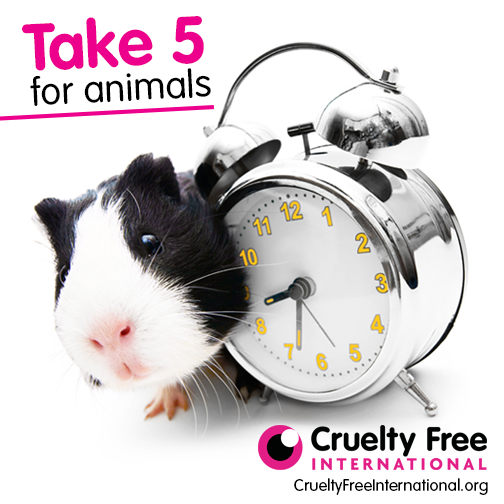 Popular in the Community