A senior UN official warned on Tuesday that the humanitarian situation in eastern Ukraine continues to worsen. UN humanitarian operations director John Ging told an emergency session of the UN Security Council that civilians in the rebel-controlled cities of Donetsk and Luhansk only have access to water for a few hours per day. He added that many homes are destroyed and medical supplies are running low. "Immediate action is therefore required," Ging said.
While Ukraine and its allies are holding Russia responsible for fueling the violence with fighters and weapons, Moscow is blaming the Ukrainian government in Kiev for the crisis. Ukraine stepped up its offensive against the rebel fighters in July and has closed in on rebel-held territory in recent weeks, raising fears that civilians will increasingly be caught in the crossfire.
While Ukraine and Russia trade accusations of responsibility, five shocking figures show how the crisis has rocked the daily lives of thousands of Ukrainian civilians.
The United Nations' agency for refugees (UNHCR) says 117,000 people are displaced inside Ukraine. According to Russian data, another 168,000 Ukrainians have applied to stay in Russia, whether as refugees, temporary residents or new citizens. The total number of Ukrainians who have entered Russia is hard to come by. As UNHCR explains, Ukrainians do not need visa to cross the border and most have not applied for refugee status. In total, Russia says some 730,000 more Ukrainians came to Russia than usual since the beginning of the year, a number UNHCR said it finds reliable. Ukraine's government has accused Russia of inflating the number.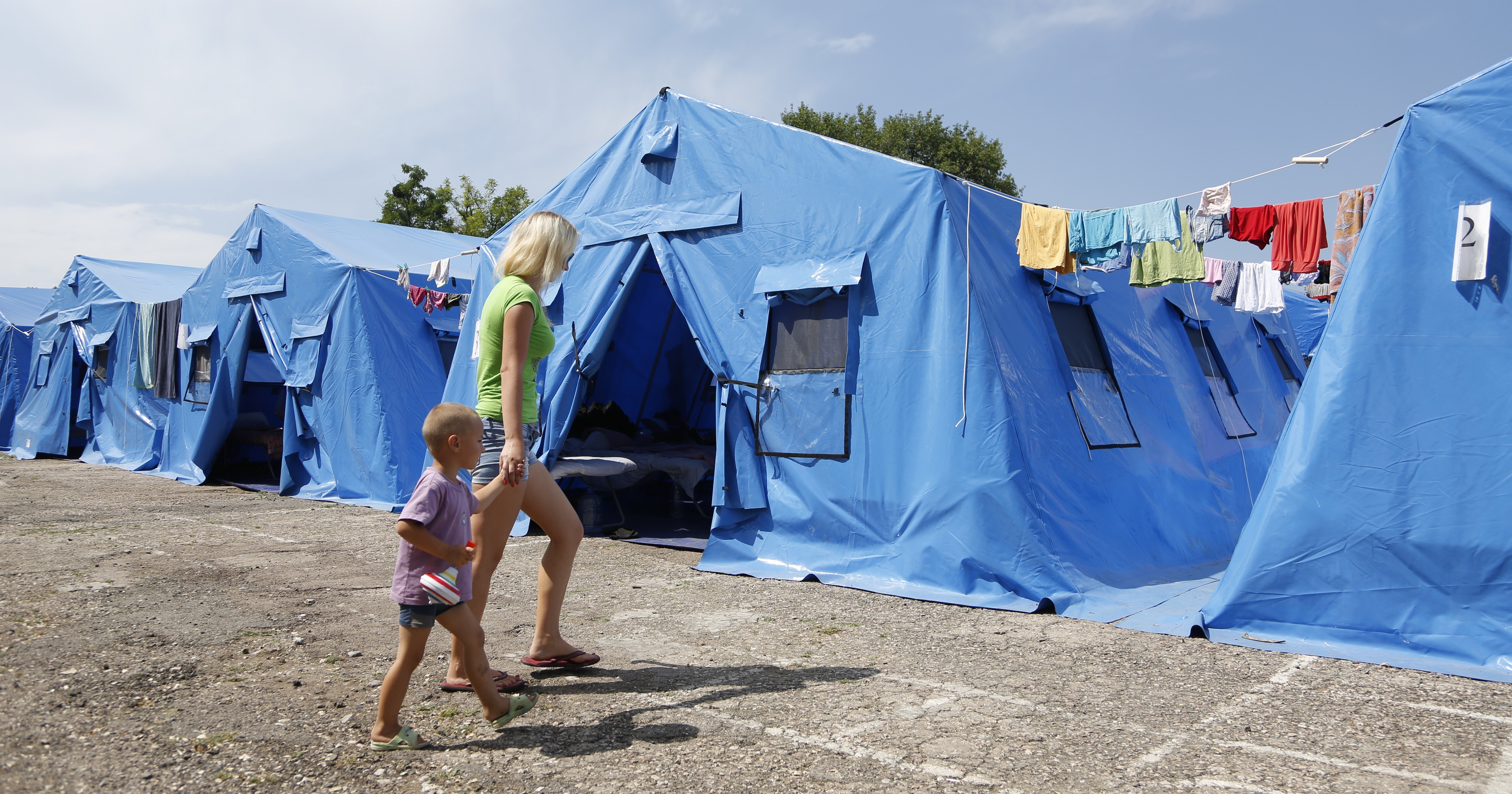 A woman and child walk at a temporary facility for refugees from Eastern Ukraine outside of the Crimean capital Simferopol, on July 17, 2014. (MAXV VETROV/AFP/Getty Images)
According to the UN, conservative estimates indicate at least 1,129 people have been killed and more than 3,000 wounded in four months of fighting. The Ukrainian government has said 258 of the casualties were members of the armed forces. It is unclear how many of the dead and injured were civilians. Igor Chernetsov, whose wife was killed in a building demolished by an airstrike, gestures near the collapsed structure in Snizhne, eastern Ukraine, July 15, 2014. (AP Photo/Dmitry Lovetsky)
The UN's human rights monitoring mission in Ukraine said it is following the cases of 400 people who were reported abducted in eastern Ukraine since April. Most of them are ordinary citizens, including teachers, journalists and students, the mission's report said, noting that some 211 are still being held, 185 were released and four found dead. "Many detainees who were held by armed groups report beatings, ill-treatment, sleep deprivation and very poor conditions while in detention, and forced labour, including digging trenches on the front lines," the monitors said.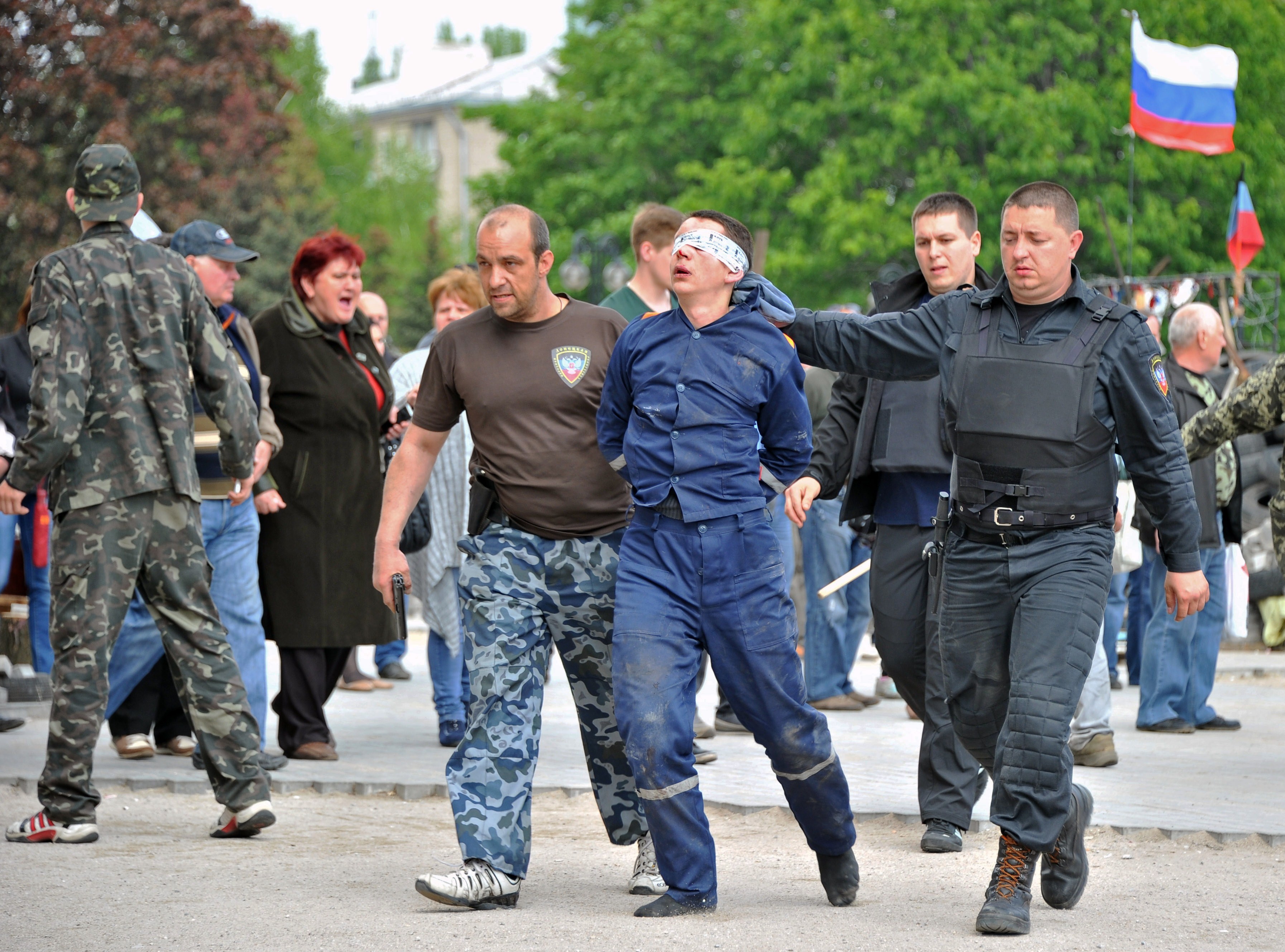 Pro-Russian militants carry an man with his eyes covered outside the regional state building they seized in the eastern Ukrainian city of Donetsk on May 5, 2014. (GENYA SAVILOV/AFP/Getty Images)
The UN warned on Tuesday that fighting has destroyed much of the basic infrastructure in the east. Drinking water is scarce and many of the displaced do not have adequate shelter for the coming winter. UNHCR has sent food and other supplies to civilians impacted by the fighting, including to 15,000 people in the war-torn city of Slovyansk, which government forces captured in July.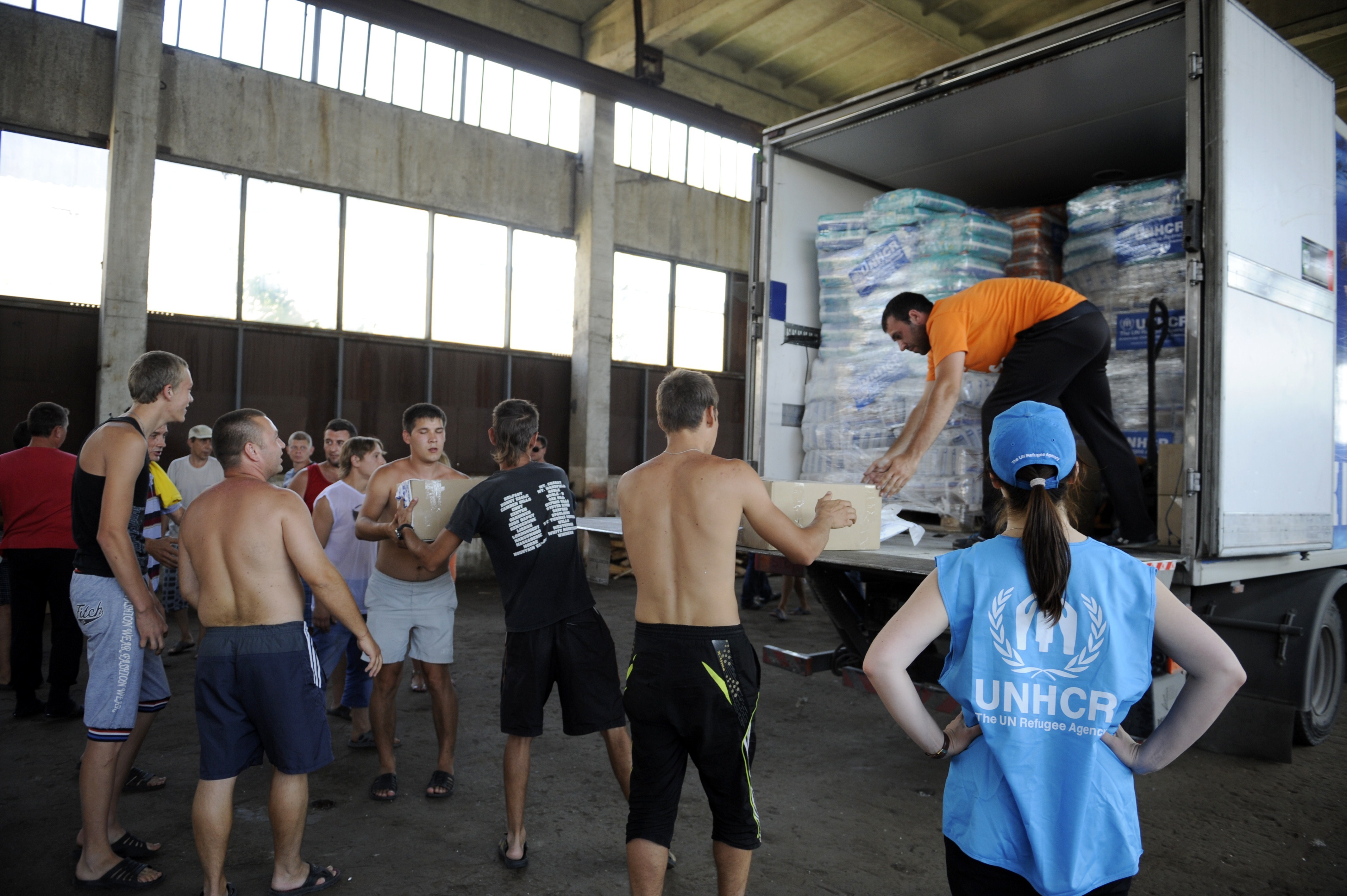 Refugees from Donetsk and Luhansk unload humanitarian aid distributed by the UN mission in Yalta, east Ukraine, on August 2, 2014. (Alexander KHUDOTEPLY/AFP/Getty Images)
Human Rights Watch says at least five hospitals in east Ukraine have been hit by rocket and artillery fire since June. While it is unclear who bears responsibility for the attacks, the international human rights group says circumstances suggest the Ukrainian army may have been involved in at least some of the assaults. Meanwhile, rebel forces have commandeered ambulances to move their fighters around, stolen and destroyed medical equipment and taken over several hospital wards.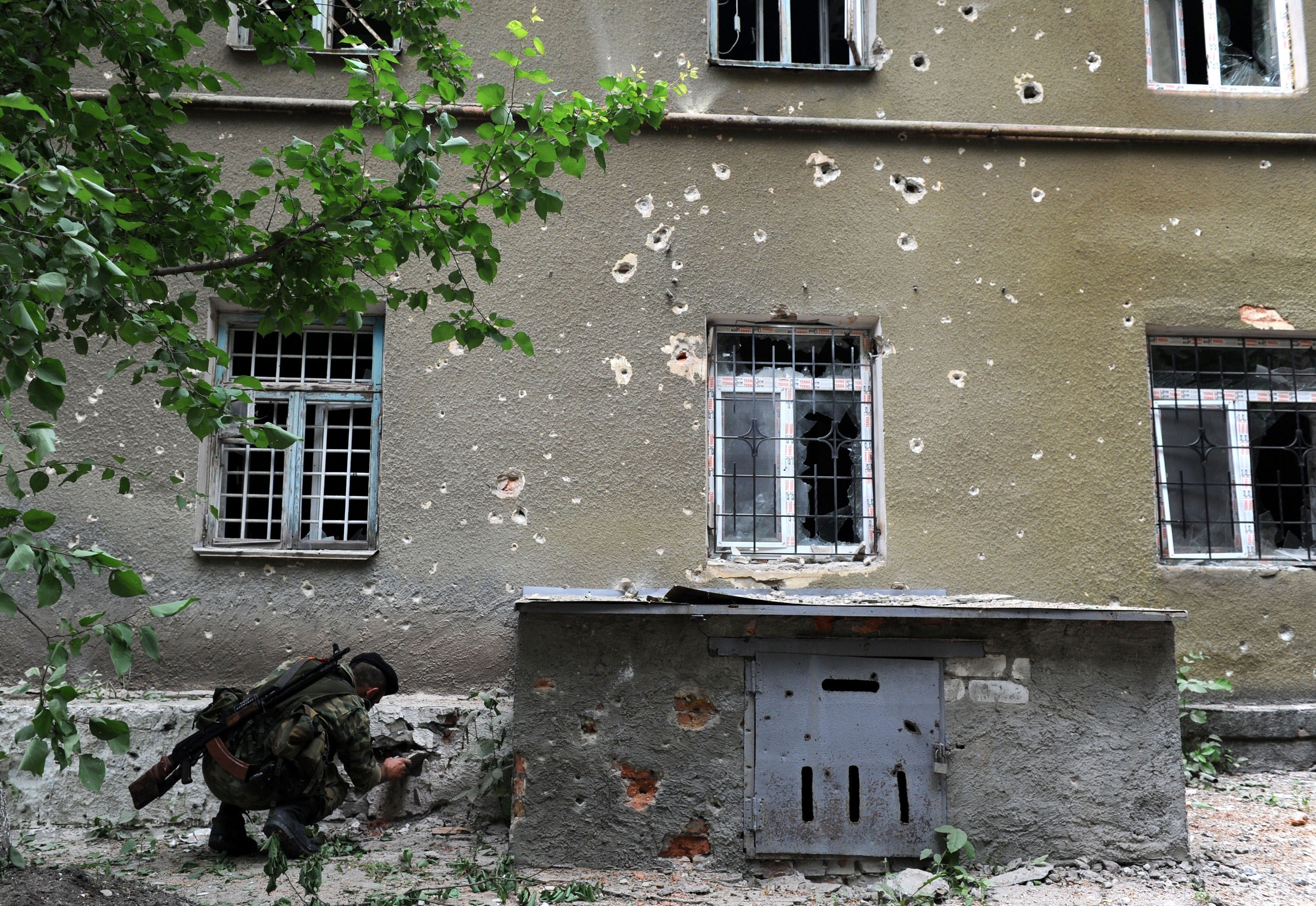 A pro-Russian militant kneels in front of the hospital in Semyonovka village, eastern Ukraine, on May 25, 2014. (VIKTOR DRACHEV/AFP/Getty Images)
Support HuffPost
The Stakes Have Never Been Higher
Related
Before You Go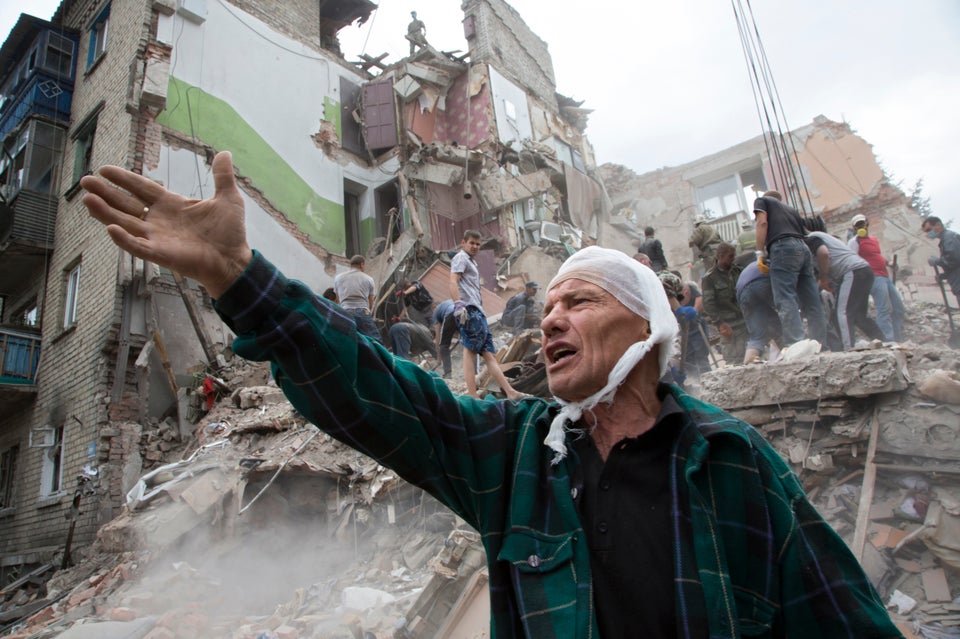 Ukraine Airstrike
Popular in the Community