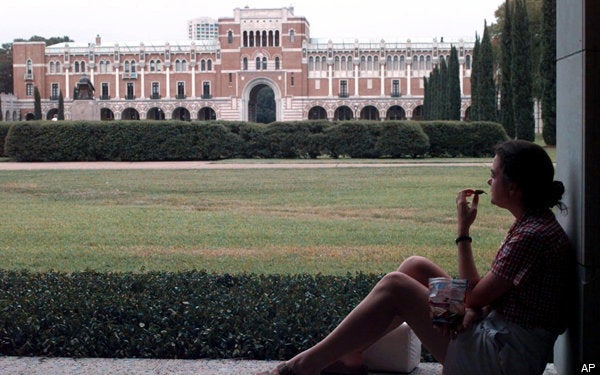 National security. Global political crises. The international economy. When we think about these perennial and pressing concerns, the word "humanities" probably doesn't spring to mind, but it should.
That was the take-away message from the briefing I was privileged to moderate last month before approximately 60 Congressional staffers and representatives of higher education. Entitled "Addressing National Security and Other Global Challenges through Cultural Understanding," the session was sponsored by the National Humanities Alliance and the Association of American Universities, in cooperation with the Congressional Humanities Caucus. The aim was to help us all better understand what is at stake -- and why support for the humanities is a wise investment in the future of the U.S.
In his opening remarks, National Endowment for the Humanities Chairman James Leach noted "The challenges of the day, the politics of the moment, are surface issues. Stewards of public policy need to understand immediate problems that pose threats to the security of our country and have the capacity to advance and defend the national interest. But to understand what's on the surface -- the reasons for discord -- it is necessary to know what is below the surface: the history and culture of a society or region."
Following Mr. Leach's observations, we heard from three distinguished faculty members from around the country.
Our panelists demonstrated that the humanities are vitally important to our national life and the security of our nation. A professor of Central Eurasian, Iranian, Indian, Islamic and international studies at Indiana University at Bloomington, Jamsheed Choksy studies a range of issues in Asian cultures. Debra Hess Norris is chair and professor in the Department of Art Conservation at the University of Delaware. Her research helps promote cultural understanding and heritage preservation globally. The work of Jacob Shapiro, a professor of politics and international affairs at Princeton University, has influenced U.S. military strategy in Afghanistan and Iraq.
They pointed to numerous projects, funded in part by the NEH, that help us to better understand our friends -- and those with whom we disagree -- around the world, from research on Arab demographic trends to a study of attempts by pariah regimes to procure uranium for nuclear programs.
Professor Shapiro said his research on the impact of reconstruction spending in Iraq and Afghanistan has documented initiatives that have reduced violence in those countries. Along with the findings of others, his work on the relationship between civilian casualties and insurgent violence in Afghanistan has informed the U.S. military's overall war effort.
Noting that "Iran has held the United States' attention and vexed our leaders since the Islamic Revolution there in 1979," Professor Choksy indicated that an ongoing, multi-year, NEH-funded project at Columbia University has produced a comprehensive collection of knowledge about Iran -- data that is now available online. At Cornell, one NEH grant funded an online preservation tutorial in Arabic; another funded a Southeast Asian literature microfilming project.
Professor Norris provided examples of projects to restore important cultural artifacts and to train those who will restore many more, making a compelling and convincing case that they have a powerful impact on cultural understanding and respect between people of widely divergent backgrounds.
As I've observed in earlier blogs, when our generals and diplomats speak of securing our future by "winning the hearts and minds of the people," they are talking about understanding the language, culture, religion, and values of people in Iraq, Afghanistan, Egypt, and elsewhere, endeavors supported by the NEH.
The Minerva Initiative is another example of the link between the humanities and social sciences and national security. It was launched by the Department of Defense to improve our knowledge of the social, cultural, behavioral and political forces that shape regions of the world that have strategic importance to the U.S. The current upheavals in the Middle East have brought the need for such understanding of critical languages and culture to the fore once again.
I believe that the study of literature, the arts, history, philosophy, law, linguistics, religion, and other humanistic disciplines, is indispensable if we are to grasp where we come from, and why, in order to lead us into the future.
Yet the funding we allocate to the humanities through our government has never come close to the value the humanities add to individual lives and to the life of our nation. It should be -- it must be -- unacceptable, to Democrats and Republicans alike, to further reduce that support. Even in times of austerity, especially in times of austerity, sound investments must be made.
In response to a bipartisan request from U.S. Senators Lamar Alexander (R-Tennessee) and Mark Warner (D-Virginia) and Representatives Tom Petri (R-Wisconsin) and David Price (D-North Carolina), the American Academy of Arts and Sciences has formed a special Commission on the Humanities and Social Sciences. Conceived by American Academy President Leslie Berlowitz, this commission had its first meeting recently, and we all await these deliberations and the way forward that it may indicate.
Most immediately, amidst uncertainty about how the FY12 budget debates will play out, where do we stand? At a minimum, let's not cut NEH any more.
Let's aim for funding of NEH at the FY10 level of $167.5 million. A push for funding at the FY10 level is a realistic approach, based on the level of cuts in the president's FY12 budget request and the overall fiscal situation, although it falls far short of the appropriate level of federal support for the humanities through NEH.
Despite -- and perhaps because of -- stark budget realities, we must have the political will and discipline to support the humanities. Never has this been more apparent, never has this been more important, never has this been something for which we need to fight more vigorously or successfully. I hope you'll join us.

REAL LIFE. REAL NEWS. REAL VOICES.
Help us tell more of the stories that matter from voices that too often remain unheard.