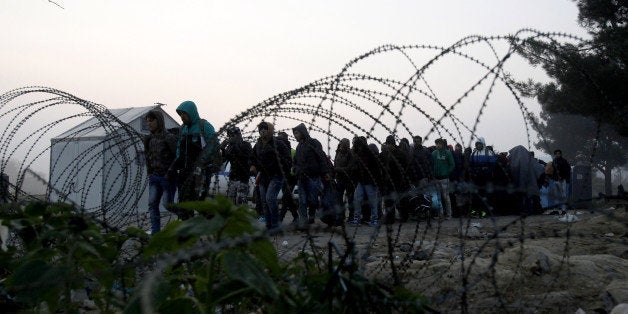 Almost one week ago, I sat in a panel discussion about the global refugee crisis, focusing the conversation around Syrian refugees in Turkey and Europe. One of the most poignant things that was said that day was this: most refugees want the war to end so they can go home.
Today, as I read the tweets and conversations around the tragedy in Paris, what stood out sadly to me was how the blame was being placed on the refugee population in Europe. A population that has already suffered at the hands of terrorists in their home countries.
As we stand mourning the loss of life in Paris, Beirut, and others we also should be mourning our lack of humanity. Because we seem to forget that while we in the Western world experience violence as an anomaly, these refugees face that violence daily. They leave their homes not for "the American dream" or "Western comforts." They leave as a last resort, to save the lives of their children, to feel safe. And to blame these individuals for actions of those they running away from, well - that's called victim blaming.
Victim blaming is a tool of the powerful, of those who haven't experienced loss or pain from violence. It's done by people that let their uninformed biases cloud their judgement. And it is never constructive; mostly, it breeds hate and fear where there is need for understanding.
In the technology world, we talk a lot about how tech has connected people globally so they can begin to see each other in a view unadulterated by political biases. In the panel about the Syrian refugee crisis last week, we talked about the need to continuously humanize the refugee crisis through all mediums -- with technology being a powerful one because it brings their stories to life in a personal way. That tech was a powerful tool during the Arab Spring, allowing global millennials to demand action from media players and governments. They connected with their global counterparts on a human level that lead to an outpouring of support. In the same way we were able to humanize each other then, we need to do that now.
Today, and in the days to come, that same level of humanization is needed. Blaming refugees who are fleeing from the likes of ISIS isn't the answer, neither is blanket blaming an entire religion. The first step forward is educating yourself on the individuals affected in the Syrian refugee crisis (Refinery29 does a great job of it here) and peeling off layers of political ignorance on what it means to escape a country that is riddled with unspeakable political violence.
And maybe, just maybe, we can start to humanize the plight of those affected by violence on a daily basis. Perhaps that humanization will move the conversation beyond victim blaming, towards a unified front against senseless violence.
REAL LIFE. REAL NEWS. REAL VOICES.
Help us tell more of the stories that matter from voices that too often remain unheard.