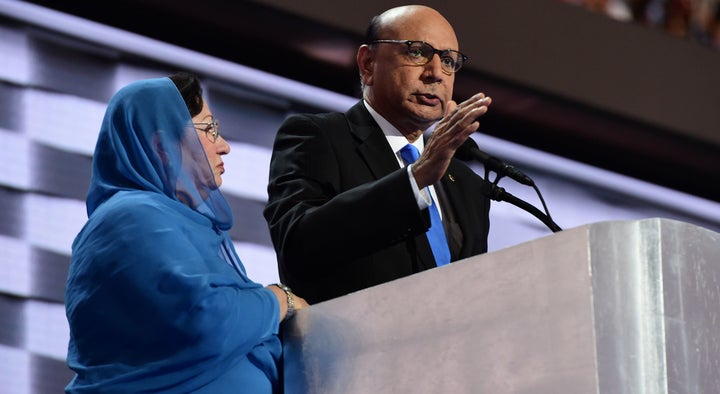 Soldiers who served with the Army captain whose parents Donald Trump attacked after they condemned his Islamophobia at the Democratic National Convention say the war hero was a selfless patriot.
Capt. Humayun S.M. Khan, who was Muslim, was killed in Iraq in 2004, saving several other soldiers' lives in the process. His father, Khizr Khan, highlighted that sacrifice in his DNC speech and rebuked Trump's proposal to ban Muslims from immigrating to the U.S.
"If it was up to Donald Trump, he never would have been in America," Khan said last Thursday.
The GOP nominee has spent the ensuing days attacking Khizr Khan and his wife, Ghazala, drawing criticism from many politicians on both sides of the aisle as well as the families of fallen soldiers. 
"When you question a mother's pain, by implying that her religion, not her grief, kept her from addressing an arena of people, you are attacking us," read a letter that 17 families of service members killed in combat signed.
Some of Khan's former army comrades have echoed that sentiment in interviews this past week and reflected on how the captain always put others before himself.
I hate that they are making it about religion or beliefs ... He was a hero — so many more people could have died that day.
Retired Gen. Dana Pittard, who was Khan's brigade commander, told the Daily Beast that the captain was an "American patriot." Trump's remarks show he doesn't understand the camaraderie between military families, he said.
"The Khan family is our family," Pittard added. 
Former Army Pfc. Vanessa Brenes-Ramirez described the captain to the Daily Beast as her "protector," in the article published Tuesday.
"I didn't even know he was a Muslim," she said. "He was American. That's what he was. All the colors we saw were green."
Brenes-Ramirez told the Boston Herald Monday that she was uncomfortable with Khan's death becoming a focal point in the presidential campaign.
"I hate that they are making it about religion or beliefs," she said. "He believed in the military, that's what his dad was saying. He was a hero — so many more people could have died that day. He represented the United States. He didn't think twice about doing what he needed to do to save people."
Several soldiers who served with Khan also spoke to The Washington Post in a tribute article published Tuesday. While those service members would not comment on Trump's remarks nor the ensuing backlash, they did praise the captain's leadership. 
"He never put his rank above his care for his soldiers and his comrades," said former Sgt. Laci Walker, who served with Khan. "He was the most amazing officer I ever worked for."
Calling all HuffPost superfans!
Sign up for membership to become a founding member and help shape HuffPost's next chapter
BEFORE YOU GO
PHOTO GALLERY
Best Photos From The Democratic National Convention