 CARACAS, Jan 10 (Reuters) - A flamboyant look-a-like of Latin American revolutionary Ernesto "Che" Guevara has for years been a familiar sight on the streets of Venezuela whipping up support for his other socialist hero, President Hugo Chavez.
Yet 54-year-old Humberto Lopez cuts a more subdued figure these days as he waits and prays for better news from Cuba where Chavez is battling to recover from cancer surgery.
"Every day after I wake up, I light a candle for him," the bearded Lopez says, puffing a cigar and adjusting a Che-style beret as he stands in front of a shrine to Chavez in his home.
"I love Chave. It's that simple. He's not just a man or leader, he's the hope of the world's poor and dispossessed, the heart of the fatherland. When the heart is bleeding, how can I be happy?"

Though viewed by many as something of a cartoon figure when parading in the streets, Lopez is a militant activist who admits participating in various acts of violence during the turbulent 14 years of Chavez's rule.
He carries a knife strapped to his ankle, shows off a bullet-wound and other injuries and reels off details of his involvement in some of the most dramatic events in Venezuela's recent past - roughing up opposition media, infiltrating protests, defending Chavez during a brief 2002 coup.
His depression over Chavez's fragile health mirrors the feelings of millions of the president's fanatical supporters among Venezuela's poor, who have seen him as a virtual messiah and struggle to contemplate an end to his rule.
His views on the future reflect those of a radical hard core who believe the 'Comandante' is simply irreplaceable.
"A man like him comes along every 100 years," Lopez reflects on the rooftop terrace of his two-storey house in a scruffy neighborhood on a hillside outside Caracas.
"I believe he will recover. But if he doesn't, let's be clear: there is no Chavismo without Chavez. The rest are a bunch of worthless sycophants. The people do not deserve Chavez."
Unlike many rank-and-file supporters, who are vowing loyalty to Vice President Nicolas Maduro in line with Chavez's nomination of him as a preferred successor should he not recover, Lopez mocks the government's No. 2 as a lightweight.
Should Maduro take over and fail to honor Chavez's legacy, or were Venezuela's opposition to win power, Lopez says several thousand armed militants would be ready for "resistance."

With his strong features and wavy black hair - plus the revolutionary garb - Lopez does bear a striking resemblance to the Argentine doctor who joined Fidel Castro's 1959 revolution in Cuba and became an icon for millions worldwide.
He normally drives a 60-year-old jeep reminiscent of the vehicles Guevara and Castro rode on their triumphant drive into Havana after toppling Fulgencio Batista's government.
Around Caracas, people hail him simply as "Che".
But since Chavez's latest cancer crisis, Lopez has left his jeep at home and instead uses a motor bike. He often visits the interior ministry, which recently hired him as an adviser, and he also helps communities organize pro-government events.
"I can't go around in my jeep with my music on, as if nothing has happened. All is not well. The phoenix is hurt."
Born in the poor and violent 23 de Enero (January 23) slum in the center of Caracas, Lopez was politicized at an early age by witnessing police raids against gangs and radical left-wing groups that operated there in the past.
He resented the influence of U.S. culture, and remembers vividly a local boy who died after dressing up as Superman and jumping off a building, fantasizing that the costume would give him the same powers as the fictional character.
So at 12 years old, he decided to take on an "alternative" dress and took part in a local carnival parade as Guevara.
Later, he adopted the persona full-time. "I even have five children, just like 'Che'," he laughs, as one of his boys walked into a room crammed with photos and other memorabilia of both the Argentine revolutionary and Chavez.
Lopez is anxious to avoid being caricatured.
"I don't imitate 'Che'. I simply follow what Fidel said - 'let's be like Che' - but I have my own personality," he says, lacing his discourse with profanities while professing to lead an austere life supported by odd jobs as a mechanic.
"I have been invited to Cuba lots of times. But I don't want to be anybody's poster or clown."
For now, though, his sole focus is Chavez, who was supposed to swear in on Thursday for a new, six-year term but was unable to leave hospital in Havana.
Though it may seem wacky to outsiders, Lopez and some other Venezuelans share various conspiracy theories over Chavez's cancer. One is that Chavez's exhumation of the remains of independence hero Simon Bolivar in 2010 unleashed a curse.
"And we all know the CIA and NASA are capable of creating diseases like cancer, so who can guarantee that the U.S. government did not somehow infect him?" adds Lopez, repeating a theory first mentioned by Chavez himself.

Related
Before You Go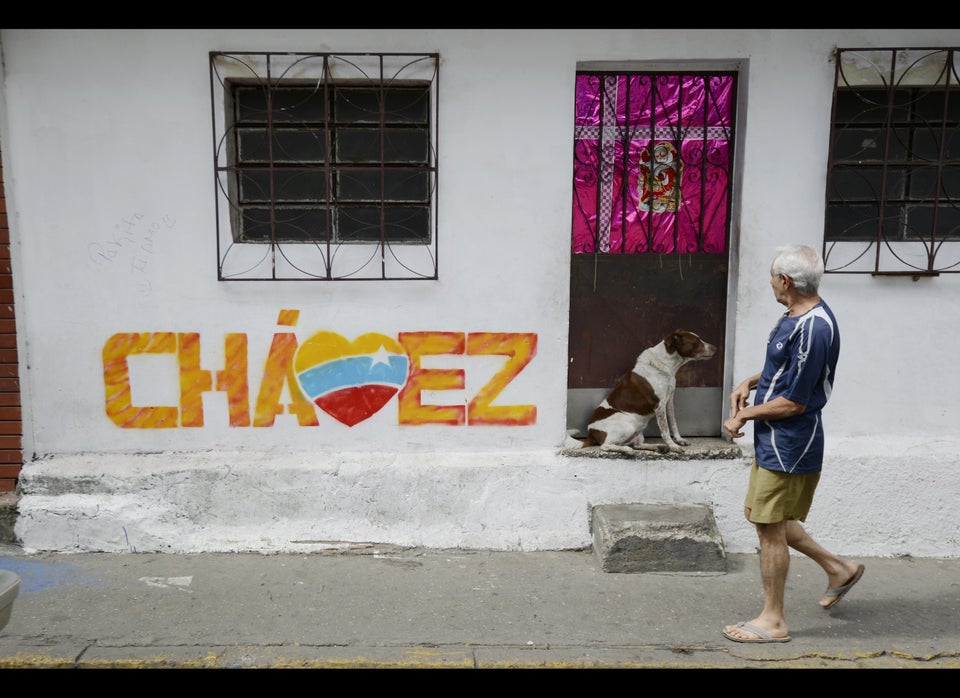 Venezuelans Rally In Support Of Chavez
Popular in the Community