We went for the gorillas. We left with so much more.
For 7 years we have taken what we hoped would be enriching trips with our best friends. This December the two families chose Rwanda partly because our most memorable vacation to date was a safari in Botswana. In Rwanda we would find gorillas! And not viewed from the safety of a jeep either. They're called mountain gorillas for a reason... we would have to earn their company by trekking through the Volcanoes National Park. Think Sigourney Weaver without the mist.
But there's another big movie about Rwanda we weren't fantasizing about... you know the one that takes place in a certain hotel. "94" is how these gentle people refer to the genocide that claimed 800,000 souls in 100 days. There's a museum and mass grave in the capital city of Kigali. There are other memorials scattered across the breathtaking countryside. There's one week set aside every April to officially mourn the dead. But there is a sizable group of living victims that is nearly forgotten. 20,000 children were born as a result of sexual crimes during the genocide.
Rape was (and still is in other parts of the world) a weapon of war. When the Tutsi women were impregnated by Hutu men their offspring were not officially categorized as victims of the genocide because they were born after the conflict ended. The mothers continue to be shunned by society for "having a child of a militia."
Foundation Rwanda has identified this glaring injustice and is helping these women deal with the ostracism by paying for the education of their children. The organization focuses on the kids so their mothers can focus on getting back on their feet financially as well as emotionally.
Our visit to Rwanda began with two pre-arranged meetings with two very different survivors. Their stories may have begun half a lifetime ago, but the wounds are fresh.
Phadacia lost her entire family in the first few days of the killings. Her captor promised to keep her alive, which he did. He also raped her repeatedly. When the war ended he fled. She had his baby. Phadacia married a few years later on the condition that she gives up her child. Her now 16-year-old son lives in a different village and she has little ones. She belongs to a support group that consists of other rape victims with children of the genocide. Every two months they meet and put money in a basket. Whoever needs the cash most takes it. Phadacia dipped into the fund to start a vegetable stand which is now a store worth hundreds of dollars.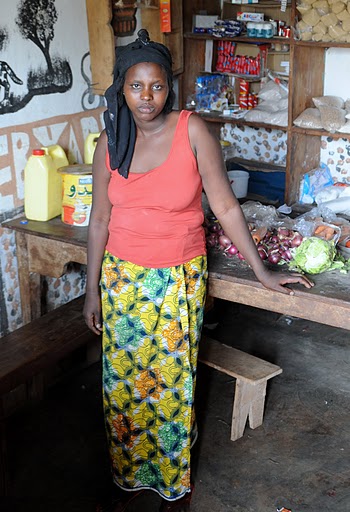 In Rwanda this is success. She doesn't act like a victim and knows she is not alone. Her son's best friend has a similar history to his, and all the children of the genocide meet at least once a year to acknowledge their shared legacy.
Minutes down the road we visited Umatesi Nadine, 15 when her country lost its way. She happened to be away from her village during the slaughter and returned to find her family had fled towards the Congo. Umatesi tried to follow but was taken by a soldier manning a roadblock and was also promised safe haven. Instead she was raped by several men. She managed to escape as the genocide was winding down and returned to her home to learn her entire family had perished. She was taken in by relatives and gave birth a few months later. That baby is not a statistic. She is 16-year-old Gatesi Claudine. Very proud of her mom, she still can't comprehend what her mother endured at the same age. She told us she is grateful to have heard her history from her mother instead of from villagers. She studies hard to one day support her family. Umatesi was not forced to choose between her daughter and a potential husband. But if she were, she made it clear she would've chosen Gatesi.
Her husband (and father to their young sons) told us he loves both "girls." Bizimana is a watchman at a local clinic by day and watches over his beautiful family by night.
We left this house full of love to visit the Genocide Memorial and Museum... the contrast couldn't have been greater. Between our two families it's hard to get a word in edgewise. This time, there was nothing to say. The site is as somber as a cemetery. The day ended in silence with a 2-hour car ride up to the volcano.
The next morning we tracked the last mountain gorillas. We found a family named Kwitonda, which is Swahili for "humble." The guide who led us there is named Innocent. He called me Mama and held my hand the whole way.
The gorillas made a lasting impression. Lumbering Silverbacks and babies swinging from vines. Just like the movies.
But the people of Rwanda are not actors and their reality leaves us unable to comprehend what happened here 16 years ago.