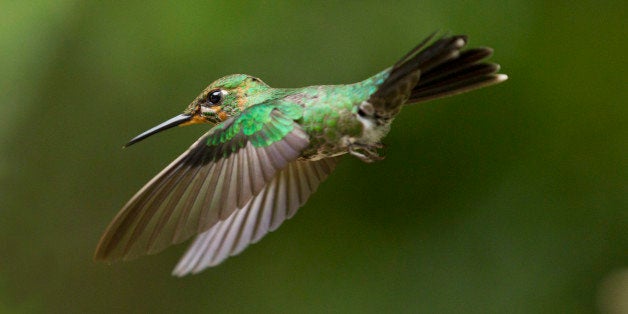 At the Sonora Desert Museum, our pale Midwestern skin slathered with sunblock, we make our way past ancient Saguaro cacti; search for Coati; and enjoy the prairie dogs, who munch carrots and then dive, satisfied, into tunnels, emerging seconds later. In a shady glade, otters cavort, dashing through a log, spinning and flipping gracefully. We remember Ring of Bright Water, how much we loved it, how sad it was. These otters seem without bones; they twist their bodies into circles.
"Do you remember A Lot of Otters?" I ask my young son and college-age daughter.
It is a favorite picture book, with illustrations by author Barbara Helen Berger. I read it over and over to both my grown-up daughters when they were small and more recently to Atticus, now 9.
"Yes, Mother," Cordelia, 19, answers patiently. "A lot of otters, safe in a sea of stars."
Because that's the part I loved most; the Mother Moon worries her Moon-child has tumbled out of the sky, but finds the moonlet floating among otters in a cardboard box, safe in a sea of stars.
Before lunch, we visit the Hummingbird sanctuary. It reminds me of a sacred space -- predator-free. Hummingbird nests are made of spider web, lichen, fur, leaves -- they look like dark cottonballs perched in the crook of a branch. Without the docent's help, even at eye level, I would have missed the miniature baskets. There is a Mama feeding two babies, their infinitesimal beaks poking up above the rim of the nest -- she hovers in mid-air, her needle beak touching theirs. One sits on a branch for a long time -- the hummingbirds, who visit our porch at home never linger, and they are giant compared to these diminutive relations.
The birds' shadows flit across the flagstones, each silhouette much bigger than the size of each bird. Cheep. Vibrations fill the space. Cheep, cheep, cheep. It's like a hummingbird om. How can such small creatures make such distinct noise? Water trickles. Peeking through some shrubs, I spy a small fountain. Atticus declares it the hummingbird spa. Tiny red feeders suspended, like unlit votive candles, draw the iridescent birds. Up close, their feathers glow, like enamel or glass -- more like art than nature. Glistening green bodies, glossy red throats, burnished blue stripes. When I was little, my older brother had fancy metallic paints for his model cars. These birds remind me of those small paint bottles -- both in size and color -- delicate, expensive, not for little fingers.
"Don't hummingbirds remind you of your mom?" Atticus asks solemnly, sitting quietly next to me on a stone bench nearby the spa he has spotted.
"They do." She loved hummingbirds, always had a red feeder stocked with special sugar juice to draw them to our front porch.
"Doesn't that make you sad?" he continues.
"No. She would love it here." Suddenly, I am 6 again, holding her hand at The Philadelphia Flower Show, walking through gardens created with live plants, but lasting only a week -- exquisite gardens, tiny landscapes. I can smell damp earth, ferns, mulch. The scent of forced blossoms that never grew in Philadelphia in March hangs in the air, heavy perfume. There are orchids and tiny green worlds in a collection of terrariums. It's paradise. I want to stay after closing and be the only person there, pretending -- my own horticultural version of From the Mixed-Up Files of Mrs. Basil E. Frankweiler.
But home we would always go. In our chilly playroom, Mother tended gardenias, growing them patiently under lights, loving the challenge, teaching me that if you touch the petals, the cream color turns to brown. On spring vacations to Florida, Antigua, Charleston, she appreciated plate-sized hibiscus, vivid camellias, bright bougainvillea. She loved flowers and birds. She paid attention, noticed the beautiful. And in this moment, at the Sonora Desert Museum, past and present blur. I am the grown-up, exploring with my own son, savoring what my mother taught me so long ago to see. And love.
Atticus, still sitting next to me in my reverie, announces, "If I had to be a kind of bird, I'd be a hummingbird, Mom. How about you?"
"And I'd stay right here with you. Safe."
Safe in a sea of stars. Safe in a sanctuary. The hummingbirds are confined, but their prison is enormous, given their scale. We hope all long, don't we, to keep those we love safe? An impossible task, but one to which we give our whole selves.
My family calls me, and I rise, reluctantly, from hummingbird meditation. A bird sits in her nest. Another feeds her own babies. A third swoops, bringing material for constructing a nest in progress. I read a display. Some hummingbirds weigh less than a penny: some flutter their wings 80 beats per second. Another has 1,260 heartbeats per minute. The numbers stagger.
Dart, swoop, zoom. Hover, flutter, pause. Here, there is industry, purpose, the busy-ness of tiny lives lived. Noisy. Alive.
This enclosure feels enchanted, as if, were I to stay, I would uncover secrets. We would all remain quite safe. Hovering.
But out we go, to the restaurant, with kale salad and prickly pear lemonade. And then, some days later we drive to Sedona. On the Pink Jeep tour, atop Submarine Rock, the cliffs look as if they have been combed with a plastic cake-decorating implement that I recall being sold on TV in the '70s. We feel on top of the world, but the world soars up even higher beyond us. The rocks are really white; the red rust coating like the skin of an apple -- rubbing off in the rain. Green and terracotta, such a different landscape from Ohio. "Rain, freeze, thaw, repeat," explains our guide. Different layers equal different eras. He shows us evidence of a tectonic plate shift -- five inches over millennia -- such hugeness counterpointed against my precious hummingbirds.
Two days later, in the sun at Bright Angel, the Grand Canyon floats, too vast to take in. I have the sense that it is a backdrop, a stage set.
And safety, once again, is on my mind. Our daughter urges us to the far side of the path, away from the canyon's rim. She and her little brother and I are all tense. It is a steep drop. Looking out induces a kind of vertigo. Only my husband is immune, relaxed. Were we really here a dozen years ago, with both daughters? I recall this tall younger daughter, then a daredevil in purple clogs, on the same fossil walk we take, crouching to discover the imprint of tiny cheerios in the rock. Trailing behind the Ranger on this fossil walk, we learn from other tourists that there have been two deaths this week -- a middle-aged man plunging off of El Tovar in quest of a photo and a young man, drowned in the Colorado River far below. The news taints our wonder.
At Hermit's Rest, I rest for a bit, admiring the ravens. I imagine the space without tourists, remote and gorgeous, a haven for a working mother writer. The enormous fireplace, so inviting -- in my fantasy, some one else copes with the logs; I indulge briefly in the dream of what it would be like to sit beside it, sans obligations, watching the sky change colors. Here, the past feels accessible, as if the ancient is immediate. Our last stop is the Watchtower, built in the '30s, soaring up, up, up. Again, I wonder what it would be like to write from such a perch. Atticus says, "You would get too lonely, Mom. You like us too much." Indeed.
The sun slips down; the canyon disappears into the dark, beyond the windows at El Tovar. It is mysteriously gone. And I feel glad. It's too much to take it all in. On our way out of the park, the sky is full of stars. Tiny sparkles, hummingbird size. Sometimes, we need a break from majesty; we can take in only so much. Lying in bed that night, reading to Atticus, I feel his heartbeat, steady, bigger than a hummingbird's, smaller than the Grand Canyon. Just right.