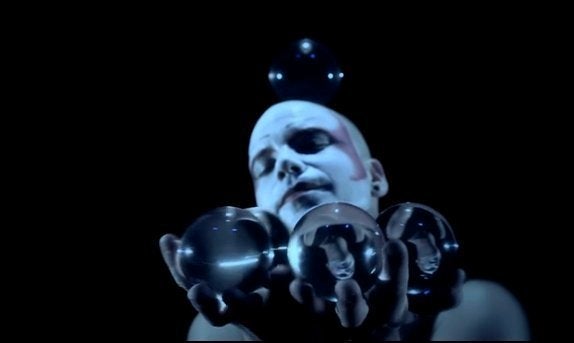 Lorenzo Pisoni was only 2 years old when he started making audiences laugh, doing spontaneous walk-ons during intermissions of San Francisco's tiny but audacious Pickle Family Circus. Thirty-three years later he's still bringing down packed houses with Pickle Family routines, but also doing much more.
In Humor Abuse, which opened recently at American Conservatory Theater, he walks us through the early years in the life of a boy born to entertain. The story isn't always pretty, but it's never caustic or maudlin. It's a clown's story, where tears predictably mix with the greasepaint.
As presented in Humor Abuse, there's also laugh after laugh after laugh, sparked by sight gags drawn from the Pickles' huge bag of tricks as well as some created by Pisoni himself.
Pisoni may have been a natural ham, but his route from enchanting toddler to first-rate professional demanded much more than an exhibitionistic nature. It took craftsmanship, learned from a perfectionist.
His parents are Pickle Family founders Larry Pisoni and Peggy Snider, but Larry evidently took the lead in training their son. The process wasn't always easy for Lorenzo, and Humor Abuse makes clear that it wasn't always fun.
Despite reminiscences of domestic strains and conflicts, which included his parents' divorce and Larry's departure from the troupe, Lorenzo's narrative flows lightly, displaying much more merriment than angst. He's a showman -- a successful actor as well as a clown -- and he clearly intended to put the stress of Humor Abuse on humor, not on anything that might be perceived as abuse.
The play was created by Pisoni and colleague Erica Schmidt, who is credited with writing much of the text and integrating old black-and-white photos that give visible and poignant life to the past. She also directed the one-man show, which won raves in New York and Seattle before reaching San Francisco.
The photos are projected on a rumpled canvas backdrop that suggests a low-budget traveling circus. Reinforcing that aura are a few battered trunks and suitcases, which comprise the rest of the set. It's pure Pickle.
What the Pickles lacked in theatrical opulence, they replaced with inventiveness. Pisoni and Snider redefined "circus," trading the traditional three rings and animals for a single ring and talented people, including Bill Irwin and Geoff Hoyle. And they connected with viewers on a personal level that big shows couldn't match.
Lorenzo Pisoni re-creates that connection as well as ACT's wide stage and large auditorium allow.
He opens by declaring that he's not funny -- a claim inspired by his role as straight man to his father -- then quickly proves that he's stretching the truth. Some of his gags are ridiculously simple, like his method of locking a wandering spotlight into place; some are conventional, like juggling or balancing a hat on his red-ball nose; some are athletic, like falling down a flight of stairs at least a half-dozen ways; some are phenomenally intricate, like tumbling from the top of a ladder into a small water bucket while wearing huge swim fins and goggles; and some are simply scary, like standing still and talking, in about 15 spots on stage, while heavy sandbags fall from overhead and miss him by inches.
Together, they are grand triumphs of the clown's art and craft, fused exquisitely to a narrative that is personal and poignant without the slightest trace of bitterness or slush. The show runs barely 90 minutes; 90 minutes rarely pass so quickly.
"Humor Abuse" runs through Feb. 5 at American Conservatory Theater, 450 Geary St., San Francisco. Tickets are $10-$85, from 415-749-2228 or www.act-sf.org.

Related
Popular in the Community