It's been another rough season for televised political satire, with those pesky real-life candidates routinely going to greater extremes than satirists would dare imagine.
So it's heartening that Epix's new comic drama Graves seems to have found an unexplored path in this treacherous jungle.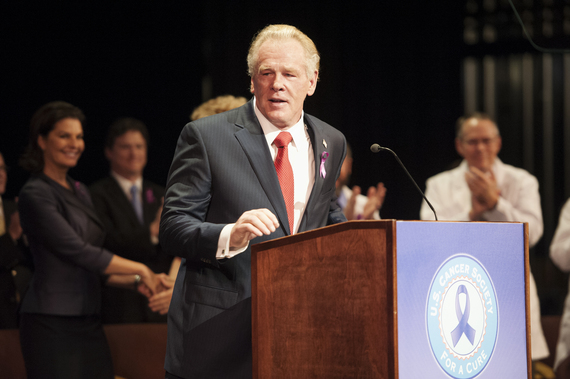 Imagine a former president who now sees things he screwed up and is working, loudly, to rectify them.
"It's a story about someone looking back on his life," says creator/writer Joshua Michael Stern, "and he happens to be an ex-president."
As political satire, Graves wields the same kind of sharp knife as HBO's Veep, though it's a very different show. In the end, Stern says, it's as much extreme family dramedy as political commentary.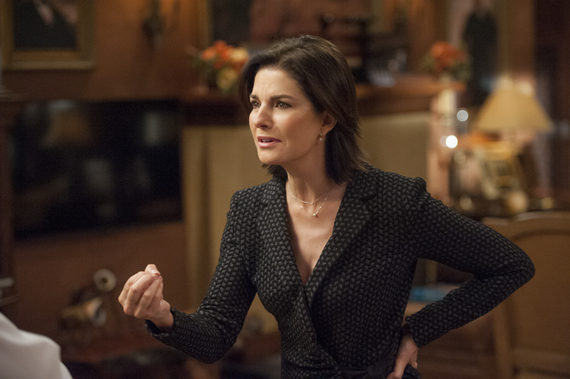 Nick Nolte plays bored ex-President Richard Graves, who left office a quarter century ago. His wife Margaret, played by Sela Ward (above), is just launching her own political career by running for the U.S. Senate.
They have two children, both adults. Olivia (Helena Yorke) was America's sweetheart as the First Daughter, but now she's separated from her cheating congressman husband and gone adrift. Jeremy (Chris Lowell), who always felt he got overshadowed, has returned from the war in Afghanistan to figure out what's next.
Their extended family includes Ramona Alvarez (Angelica Maria), their long-time housekeeper; Jacob Mann (Ernie Hudson), their protective bodyguard; Isaiah Miller (Skylar Astin), a naïve and nerdy wonk who signs on as the president's assistant; the intense Annie Novak (Nia Vardalos), who is running Margaret's Senate campaign; and Samantha (Caille Hernandez), a counterculture waitress that Richard Graves impulsively recruits for his redemption team.

It gets pretty dysfunctional at times, which is just how Stern likes it.
On the family side, we see characters pursue their own lives while trying to protect others, including Richard and Olivia, from their excesses.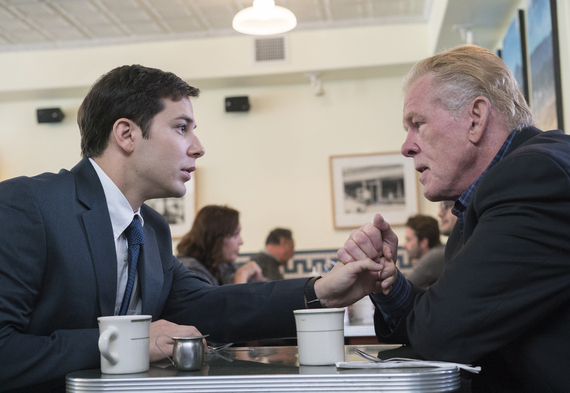 On the political side, Richard Graves (above with Miller) might break into a profane denunciation of his own misguided policies during what was conceived as a bland and harmless TV interview.
"The audience will give you a chance to go big and crazy," Stern says. "But it's also a huge challenge because people don't want to see something totally un-presidential. They have to believe that Richard was the president once.
"So we try to have both sides. Each episode is like a little morality play."
Stern says he brought the idea for Graves to his producing partner Greg Shapiro more than two years ago, way before the real-life 2016 lineup was in place.
"For about a year, Greg kept encouraging me to flesh the idea out," says Stern. "If Richard was going to be a train wreck, then Margaret and the children needed to be more in the world."
While flashbacks to Graves's presidency include unmistakable allusions to Ronald Reagan, Stern says he's "not a Republican or a Democrat. He's a little of Reagan, a little of LBJ, a little of Bill Clinton. He's an amalgamation of a lot of presidents.
"Just as Margaret is a little Jackie Kennedy, a little Nancy Reagan, a little Laura Bush.
"What makes this interesting to me is how Richard goes off into a situation you never saw coming. He lets things play out to the extreme."
It's probably no surprise that the 55-year-old Stern says he loves the 1970s cult film Harold & Maude, which swung between somber and wildly hilarious, with more than a hint of the bizarre along the way.
"People try to put films in a box," says Stern. "But great '70s films like The Godfather were both funny and heartbreaking."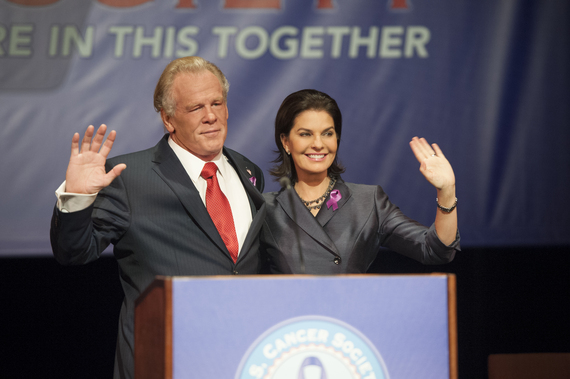 He has the same attraction to modern TV shows "that do something a little different, like Veep or Mozart in the Jungle. They also make it a little easier for a show like ours."
He says it wouldn't be impossible for a form of Graves to run on a broadcast network.
"Pitch it with William Shatner," he says, "and I could see it on ABC."
But he likes right where it is on Epix, he says, and not just because the language can be a little rougher.
"Epix is great," he says, "because they let the show be what we wanted. Both Greg and I wanted to position it as a family show with a political underpinning. We've seen a lot of political shows and we didn't want it to be just that."
His next hope is that Graves will run even longer than the current election season and that the initial 10 episodes will get better reviews.
"Season one is almost like an origin story," he says. "We start arcs for all the characters, because if you don't do that, you don't keep them interesting."
Becoming uninteresting will not be a problem, in any case, for Richard, Isaiah and Sammi the waitress.
Calling all HuffPost superfans!
Sign up for membership to become a founding member and help shape HuffPost's next chapter