We've all been there, all experienced it, all had our fair share of despair and disruption during the middle of the week when we are faced with a daunting three more days of WORK!
Wednesday signals the mid-point of the average workweek.
Two days completed; two more days to finish the week, as long as you don't count Wednesday.
Some people refer to Hump Day as Slump Day - the down day, the day nothing gets accomplished or, as Urban Dictionary defines it, "climbing the proverbial hill to get through a tough week."
If you are on the glass half-empty side of Hump Day, you may be suffering from low energy, wasting your Wednesday away and sinking further into the depths of yet another fruitless work-week. However, if you're in the glass-half-full mindset, Hump Day is a day to re-organize, re-convene and restructure, heading full steam ahead towards the weekend fueled by fresh inspiration and creativity!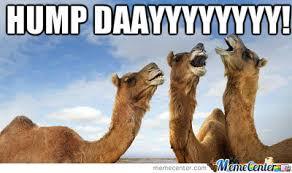 If you want to keep positive momentum in the workplace, use Hump Day as a tool to stay on track and excel! Wednesday is the ideal day to assess your work situation and leave the "But, I don't feel like it" syndrome," behind.
Here are 5 ways to turn Hump Day into a get up and jump day:
1. Prepare For Hump Day On Tuesday
A new US report shows Tuesday is the most productive day of the week. "Many workers spend Monday catching up from the previous week and planning the one ahead," said Max Messmer, chairman of Accountemps. "On Tuesday, employees begin to focus on individual tasks and become more productive. The goal [is] to maintain the positive momentum established on Tuesday throughout the week." So, make sure you clean off your desk before you go home on Tuesday, which will ensure a positive start to your Wednesday.
2. Hump Day Means Getting To The Office Earlier
Make Hump Day a special day. Put more mental and physical effort into making your Wednesday productive. Arriving at your office earlier than your co-workers gives you a head start on generating more energy at the top of the day. In the blog Careerealism, Ariella Combs noted she is generally more relaxed and productive when she enters a quiet office. Not to mention, all the successful people do it." http://www.careerealism.com/quick-tips-better-productivity-hump-day/
3. Hump Day Begins With Silence And A 5-10 Minute Meditation
Wednesdays define the tone and style of your work-week. Take Wednesday seriously by honoring the day as you walk into your office. Enjoy the silence of your work space. Sit behind your immaculate desk and meditate for at least 5 to 10 minutes. As thoughts come into your mind, let them go. Your meditation will work to clear the mind as it removes emotional and intellectual barriers to productivity. Remember to breathe deeply to increase your energy.
4. Hump Day Begins With Creative Ideas
Changing your mindset on Hump Day will enhance your overall performance for the duration of the week. Just think: Hump Day can set you up for three more productive days. Again, according to Max Messmer, chairman of Accountemps, "Thursday and Friday are the least productive days of the week, so a positive attitude mid-week sets you up for increased output and enhanced creativity as your week comes to a close." Be sure to keep a Hump Day journal to incentivize your Wednesday. Write down your overall intention for the day and set individual intentions for the rest of the week. Keep a list of creative ideas, emails to write and calls to return.
5. Hump Day Includes A Break
Some days seem longer than others. Some foods taste better than others. Treat yourself to a few little gifts on Hump Day: be sure to take a walk at lunch; eat tasty and energizing foods (i.e., fruits) once or twice during the day; and stretch at your desk when your spirit moves you. There is no better way to recharge your neurotransmitters than to hang upside down, either from your chair or in a corner of your office. Sitting at your desk for 8 hours a day without moving is a recipe for physical and mental disaster. Click on this link from Forbes and check out the best exercises to do at your desk. They are amazing and will make Hump Day and everyday at work a joy.
http://www.forbes.com/sites/jacquelynsmith/2013/02/06/the-10-best-exercises-to-do-at-your-desk/
It's an easy call to make Hump Day the best day of your week. Apply these 5 Hump Day tips mid-week and change your Wednesday mindset and start to see the glass half-full.
Joan Moran is a keynote speaker, commanding the stage with her delightful humor, raw energy, and wealth of life experiences. She is an expert on wellness and is passionate about addressing the problems of mental inertia. A yoga instructor and an Argentine tango dancer, Joan is the author of 60, Sex, & Tango, Confessions of a Beatnik Boomer. Her new book, I'm The Boss of Me! Stay Sexy, Strong & Smart at Any Age, is now on Amazon.
Visit her website: www.joanfrancesmoran.com
Follow Joan Moran on Twitter: www.twitter.com/joanfmoran
Support HuffPost
The Stakes Have Never Been Higher
Related
Popular in the Community