Scientists have launched an investigation into the unexplained deaths of 41 humpback whales along the Atlantic coast of the United States, the National Oceanic and Atmospheric Administration announced Thursday.
Researchers declared the ongoing phenomenon that's affected whale populations stretching from Maine to North Carolina since the start of 2016 an "unusual mortality event." About 14 whales usually die in the region annually ― but they documented 26 deaths in 2016 and nine this year.
NOAA said it doesn't yet have a concrete reason why all of the animals have died. The agency conducted necropsies on 20 whales, and 10 appeared to have been struck and killed by ships.
Deborah Fauquier, NOAA Fisheries veterinary medical officer, said the dead marine mammals had sustained "blunt force trauma" or "large propellor cuts" (NOAA released a graphic photo of such injuries).
There are usually fewer than two such deaths per year, and while trends have increased, scientists said there was no apparent cause of mortality linking all of the whales together.
"The answer is really unknown," said Greg Silber, NOAA Fisheries' large whale recovery coordinator, in a news briefing. "There's probably no spike in vessel traffic in these areas. It's probably linked to prey sources. Humpback whales follow where prey is, and there may be aggregation where there are shipping routes."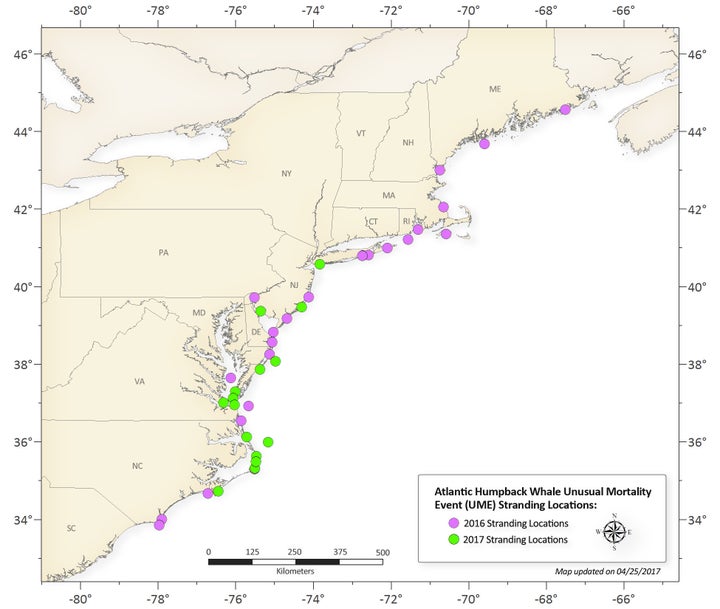 Mendy Garron, the stranding coordinator for the greater Atlantic region of NOAA Fisheries, said there was no indication that a disease had killed any whales and there was no unusual level of exposure to biotoxins. However, the agency said it would begin a formal investigation into the mortality event and conduct further necropsies, so those conclusions could change.
There are about 10,400 humpbacks in the Atlantic region, and federal authorities delisted the species from the U.S. Endangered Species Act in September (they still fall under the Marine Mammal Protection Act, however). NOAA has issued three unusual mortality event investigations involving humpbacks before, in 2003, 2005 and 2006. In each instance, the agency was unable to determine the cause of death.
NOAA said there are rules in effect meant to protect whales, including ship speed reduction provisions and others that mandate recreational boats stay at least 100 feet away from the animals. The agency said "the most important step members of the public can take" if they spot a distressed or dead whale is to call the local Marine Mammal Stranding Hotline and avoid approaching the animals.
Related
Before You Go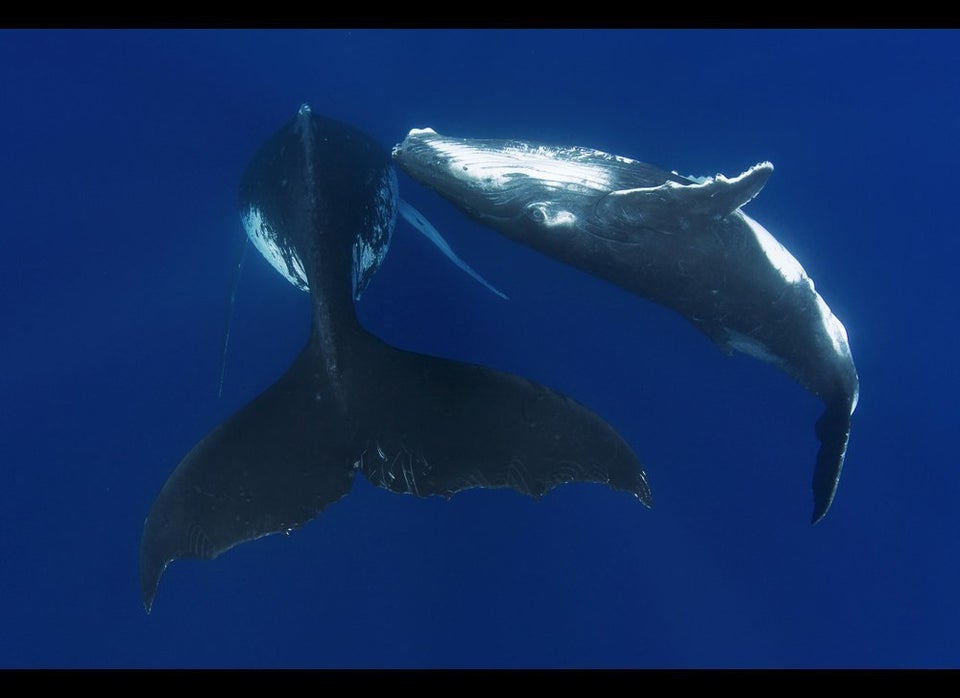 Whales
Popular in the Community