Humpback whales have made an epic return after being hunted to the brink of extinction in several areas.
Most of world's humpback populations have finally been removed from the endangered species list, the National Oceanic and Atmospheric Administration announced Tuesday.
NOAA Fisheries said of the 14 different population segments, nine have returned to healthy numbers. These include whales that breed in Hawaiian waters and whose population numbers have expanded to some 11,000 individuals, the agency said.
The delisting follows more than 40 years of federal protection under the Endangered Species Act and an international ban on commercial whaling that has been in place since 1982.
Angela Somma, chief of NOAA Fisheries' endangered species division, said "very little will actually change" in efforts to protect whales.
"Many of the day-to-day protections and activities will continue to occur," Somma said in a call to reporters Tuesday. "We will continue to work and maintain their conservation."
The four humpback populations that remain listed as endangered include those that frequent waters in the Pacific Northwest, Central America, the Arabian Sea and northwest Africa. Authorities downgraded one population segment in Mexico to threatened, meaning it will continue to receive Endangered Species Act protections.
Ongoing threats to whale populations include collisions with vessels, commercial whaling and fishing gear entanglement, Somma said.
Humpback whales were listed as a single species under the Endangered Species Act until Tuesday's announcement. Whales are more susceptible to certain threats depending on their location, which is one reason NOAA divided the entire species into 14 distinct population segments.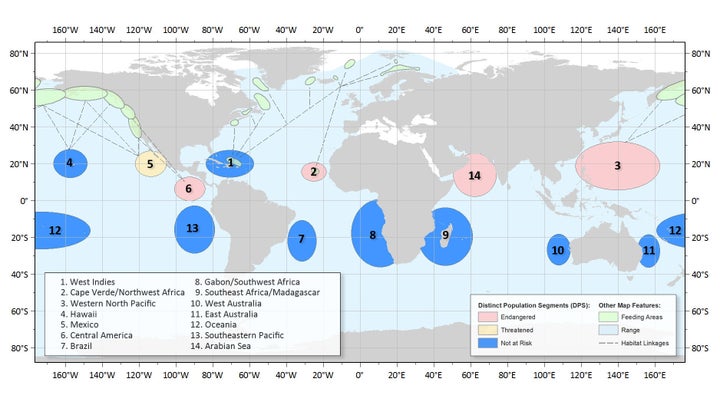 "Whales, including the humpback, serve as an important role in our marine environment," Sobeck said in a statement. "Separately managing humpback whale populations that are largely independent of each other allows us to tailor conservation approaches for each population."
NOAA Fisheries also filed on Tuesday two regulations for whales in Hawaiian and Alaskan waters, enforcing the distance rule requiring vessels keep at least 100 yards from whales at sea. This guarantees "regulations dealing with approaching [whales] by vessels continue to stay in place under the authority of the Marine Mammal Protection Act, so we can ensure the continued conservation and recovery of those animals," Somma said.
The International Whaling Commission placed a moratorium on commercial whaling in 1982, after several whale species, including humpbacks, were in danger of becoming extinct due to over-harvesting in the international whaling community.
Tuesday's delisting of nine populations means that "federal agencies will not be required to consult with [NOAA] when they undertake an activity that might affect those populations," Somma said.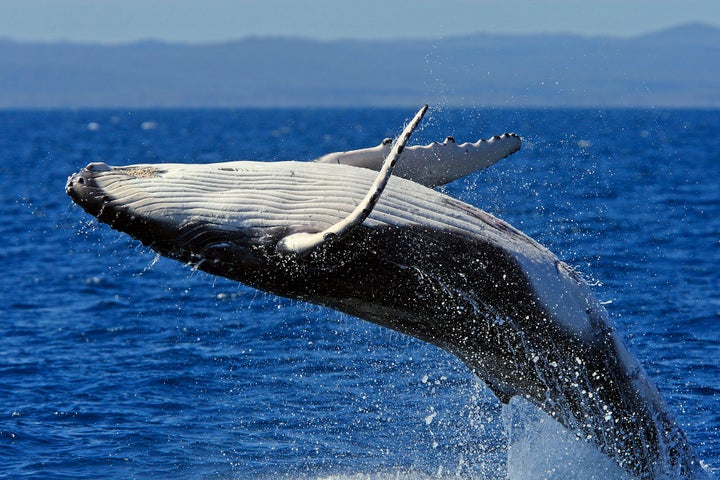 Support HuffPost
The Stakes Have Never Been Higher
Related
Before You Go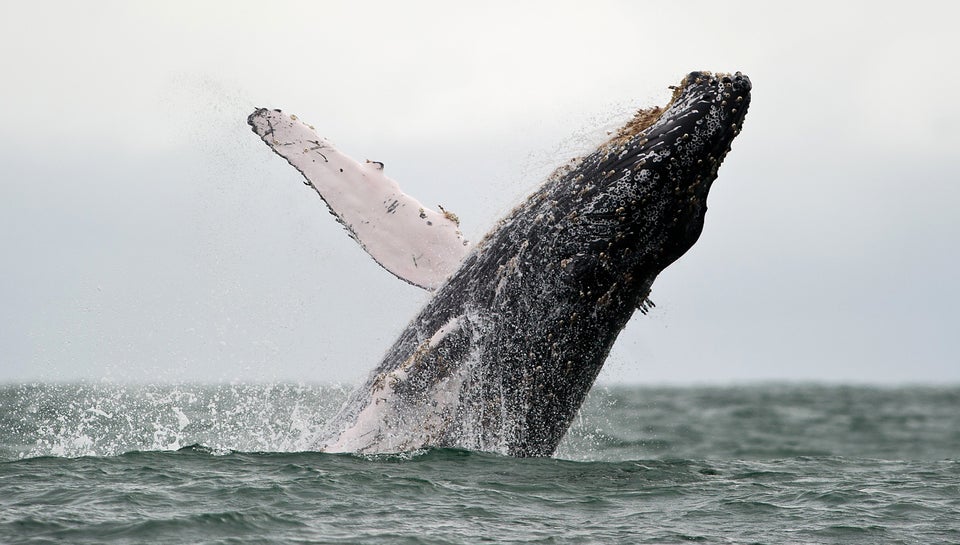 Whales In Action
Popular in the Community