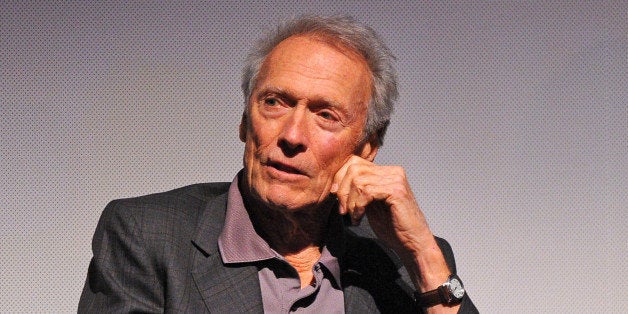 There are stars. And there are icons.
Clint Eastwood, whose film American Sniper has polarized the nation while gaining Oscar nominations and filling the coffers of Warner Brothers, falls into the latter category, a rarefied realm.
Today, Oscar day, is a rainy one in Southern California, the kind of murky day Humphrey Bogart, another icon, encountered in many of his films, so I decided to stay home and ruminate on the movies, as I used to do as a boy.
Around the time I turned six, in the fall of 1971, we bought our first color television set, a Sony, which was on sale at Caldor's. Not long after that, my father, sensing correctly that I was depressed and suffering from the early stages of what is known as anhedonia, introduced me to the old Warner Brothers movies.
They were being shown on Channel 5 in New York, then an independent station, now the Fox flagship.
Channel 5 had a deal with the owners of the pre-1950 Warner film library, whereby it showed those classic films every weekend and sometimes during the week.
Before I knew it, I entered and became captivated with the imaginative universe of James Cagney, Humphrey Bogart, Errol Flynn, John Garfield and Edward G. Robinson, the Warner stars of the 1930s and '40s.
I was likely the only kid my age who was watching the old Warner films week after week. And those stars as well as supporting players like Frank McHugh, Alan Hale, Guinn "Big Boy" Williams and actresses like Olivia De Havilland, Ann Sheridan and Alexis Smith became my friends, characters I relied on each week, people who cracked good-natured jokes and spoke in a wisecracking manner, so evocative, for the most part, of the streets of the Lower East Side.
When I first started watching those films, I was not such a fan of Bogart. In the 1930s, all the way up until High Sierra in 1941, he played supporting roles, often as a cowardly villain, in so many movies: The Roaring Twenties, Angels with Dirty Faces, Bullets or Ballots, Kid Galahad, Invisible Stripes, The Amazing Dr. Clitterhouse and others.
In those days, early in his career, Bogart almost always portrayed characters who were less honorable than the gangsters played by his fellow actors, Cagney, Robinson and George Raft. Bogart even played second fiddle to Flynn in Virginia City, a Western, where he looked somewhat comical as a mustachioed outlaw, not unlike his equally awkward and comical turn as an outlaw in another Western, The Oklahoma Kid, where Cagney played the lead. For the record, Cagney too was better suited for gangster pictures than Westerns.
In the end, though, it was Bogey who became the biggest star of all, an icon, perhaps the greatest icon of the cinema. This was true not only because he starred in some of the best films of the 1940s, like Casablanca, The Maltese Falcon and the Bogey-Bacall pictures, such as To Have and Have Not and The Big Sleep.
It was also because he played nuanced characters, equal parts coward and hero, as likely to evidence weakness as strength, as likely to get punched out as to deliver a punch, and as likely to be somewhat villainous and embittered as to be an optimistic good guy, like Cagney and Flynn in so many of their pictures.
Unlike Cagney, Flynn and of course John Wayne, who was not based at Warners, Bogey portrayed characters who were not always so optimistic. Maybe that is why I, a depressed child, related to him and to Garfield, who even more than Bogey played haunted, morally ambiguous roles.
While I was living in the parallel universe of the 1930s and '40s films, the early 1970s was taking place, and some outstanding films were being made then. One thinks of Jack Nicholson, who would gain comparisons to Bogey in Chinatown, and who depicted antiheroes in so many of his roles, Five Easy Pieces, The Last Detail and One Flew over the Cuckoo's Nest, where he won his first Oscar for playing a psych ward patient.
It was also during that period, in the 1970s, that Clint Eastwood began directing pictures, beginning with Play Misty for Me, where he essayed the role of a disc jockey, who is stalked by a fan.
Eastwood was already a huge star from the spaghetti Westerns, where he played the Man with No Name, a much more nuanced character than the roles played by John Wayne, to whom he is often compared.
In the early 1970s, Eastwood also began playing a cop, Dirty Harry Callahan, whom he would portray in several films.
It is worth pointing out to those, who remain mad at Eastwood for his speech to an empty chair at the 2012 Republican Convention, that Eastwood often had a woman or a minority as his partner in those Dirty Harry films.
Nor has his progressive cantankerousness been limited to his early films.
For example, in playing a crusty film director modeled after John Huston in 1990's White Hunter, Black Heart, Eastwood has a scene where he challenges a racist hotel manager to a fight and...allows himself to lose.
How many leading men have allowed that to happen, particularly in recent years!
Again, Bogart comes to mind. He allowed himself to be strong-armed and sucker-punched by Ward Bond and Barton MacLane in The Maltese Falcon, which was John Huston's directorial debut, as it turns out.
In White Hunter, which depicts the filming of a fictional movie modeled after The African Queen, the film in which Bogart won his only Oscar, there is also a scene where a younger woman makes a play for Eastwood's character. At the same time, she utters bigoted remarks about Jews. Eastwood's Huston-like director, who has no doubt been yearning to have sex with her, denies himself a romp in bed and tells her how disgusted he is with her ugliness.
I point all this out because ever since Eastwood engaged in his soliloquy with the empty chair, a supposed stand-in for President Obama, many people have become convinced that Eastwood is a right-wing zealot.
It is true that he supported Mitt Romney, never my favorite politician, and it is true that Eastwood said at the 2012 convention that he is a conservative.
But his body of work tells us otherwise.
Yes, he ran as a Republican, as I recall, when he was Mayor of Carmel, and yes he supported Romney.
But Eastwood, like Bogart, has always played much more modulated, contradictory and moderate characters than many realize.
Besides all of his spaghetti Westerns and Dirty Harry pictures, consider Gran Torino, where his codger shows his true love for a Hmong family by sacrificing himself to the criminals in the neighborhood. Or consider Invictus, his South African rugby picture, in which Morgan Freeman, Eastwood's friend and a regular collaborator, plays a heroic yet flawed Nelson Mandela, who comes up with the idea for the country's rugby team, primarily a bunch of white men, to rally the nation, which has only just shed its apartheid past.
Yes, Eastwood, like Bogart, is cantankerous. Yes, he may even be somewhat right-wing. And yes he may relish shoot 'em ups, layered with violence. It may be no surprise that, like Bogart and Chris Kyle, the deceased American sniper, Eastwood is a former serviceman himself.
But Eastwood is also one of those rarities in Hollywood; he is a consummate artist, who reportedly taught himself the piano, who has scored some of his own films, who has designed properties near his home, and who of course has acted and directed in countless classics for Warner Brothers.
Because of his war pictures and Westerns, he will always be perceived by some as the heir to John Wayne, but, whatever one thinks of American Sniper, Eastwood is much more subtle than some jingoistic zealot. Overall, his crotchety and textured performances and directorial efforts make Eastwood more accurately the heir to Bogart, a true icon, and we may not see the likes of him again.
REAL LIFE. REAL NEWS. REAL VOICES.
Help us tell more of the stories that matter from voices that too often remain unheard.