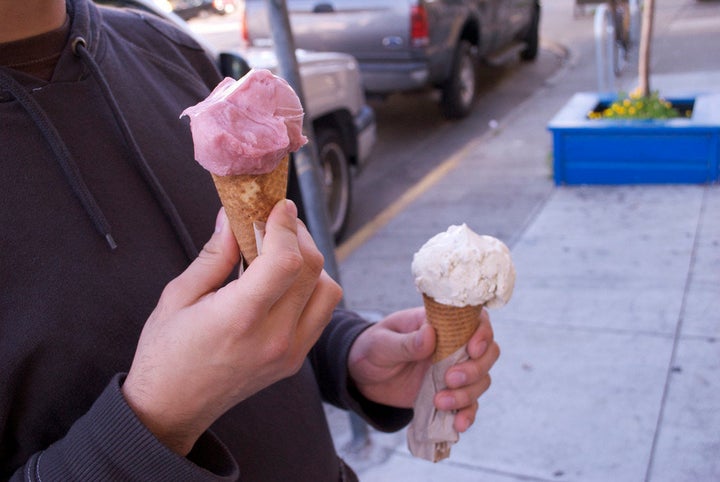 2012 is officially the year of the cookbook.
On April 25, Humphry Slocombe owners Sean Vahey and Jake Godby, together with writer Paolo Lucchesi, will release the "Humphry Slocombe Ice Cream Book" -- a cookbook loaded with 40 of the shop's secret recipes.
While the flavor selection is still under wraps, Slocombe-lovers will allegedly be able to whip up flavors like Harvey Milk and Honey, Foie Gras (still legal) or Cucumber Ice Milk whenever their hearts desire. But according to Wired, one flavor recipe will most definitely be included: Secret Breakfast -- the shop's Holy Grail.
The incredibly delicious bourbon and cornflake flavored Secret Breakfast (the company's most popular flavor) has long eluded fans. "There's really one secret ingredient," said Vahey to Wired. Is it bacon? A pineapple back? Your dignity? Only time shall tell.
"My approach to making ice cream is to be totally open to whatever is available no matter what it is -- even if it's not usually part of the pastry repertoire," said Godby in a video preview about the book. And he's not joking.
So why the book? "A lot of people can't get to our place and this is a way to share it," said Vahey in the video.
"And it's a thank you at the same time for everyone whose helped us out along the way," said Godby. "Plus," he added, "it has lots of nudity."
Check out a preview of the upcoming book, "Humphry Slocombe Ice Cream Book" in the video below: