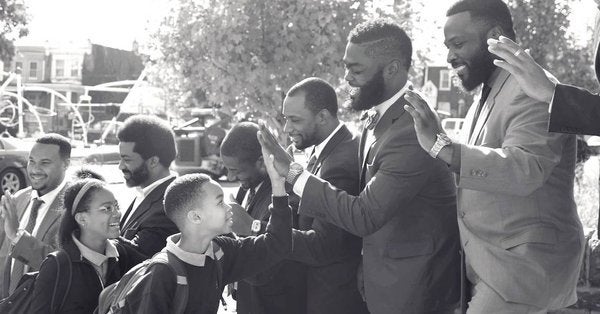 According to the U.S. Department of Education, Black men only represent two percent of teachers nationwide. The Fellowship has a goal of changing that by the year 2025, mobilizing more than 300 educators and supporters of education in Philadelphia this weekend for the inaugural National Black Male Educators Convening.
"The Fellowship is excited to invite our peers and allies to Philadelphia for our inaugural national convening. We are confident our program will be noted as a historical gathering of great minds that lead to even greater action," said Fellowship CEO and co-founder, Vincent Cobb II.
America's teachers are disproportionally female (75%) and white (83%), according to recent federal data. Black men make up less than two percent of teachers, though minorities now make up a majority of students in public schools.
"A diverse teacher workforce isn't just a nicety—it's a real contributor to better outcomes in our schools, workplaces, and communities," Former Secretary of Education John B. King Jr. said last year.
One of the many dynamic speakers featured over the three days, King said "It's important for students of color to have role models who look like them and share common experiences. It's just as important for all students to see teachers of color in leadership roles in their classrooms and communities."
"We must work together to support states and districts as they work to prepare, hire, support, and retain a more diverse teacher workforce," said King, currently president and CEO of The Education Trust, a national nonprofit organization that seeks to identify and close opportunity and achievement gaps, from preschool through college.
Founded in 2014 by Cobb and Sharif El-Mekki — Principal of Mastery Charter School-Shoemaker Campus, the Fellowship was born out of a desire to inspire new generations of Black men to work for social justice through teaching and leading in schools and in classrooms.
In three years the Fellowship has grown to include an ever-expanding network of more than 500 members who serve as teachers, administrators, legislators, clergy members and business leaders in Greater Philadelphia and beyond. Fellowship leadership is comprised of seasoned Black male educators, including school principals, deans and teachers.
According to New York University professors Hua-Yu Sebastian Cherng and Peter Halpin, who analyzed data from the Measure of Effective Teaching study sponsored by the Bill & Melinda Gates Foundation, students of all races — white, black, Latino, and Asian — have more positive perceptions of their black and Latino teachers than they do of their white teachers.
Earlier this year five historically black colleges and universities — Southern University, Tuskegee University, the University of Arkansas at Pine Bluff, Alcorn State University and Claflin University — announced a three-year, $1.5 million grant awarded by the W.K. Kellogg Foundation, Project Pipeline Repair: Restoring Minority Male Participation and Persistence in Educator Preparation Programs (Project PR).
Supporting academic development, mentoring, and skill training for black males beginning in their junior year of high school, to foster interest and talent in secondary teaching career paths, Project PR aims to eliminate social and economic barriers that often limit college entry and completion.
"People hear about the challenges of teaching, but there are so many other parts," El-Mekki told the phillynews.com. "We want to promote positive images, the joys of leading classrooms, the joys of being administrators."
Donating their services to the cause of enhancing the educational tool boxes of the gathering's attendees, some on the impressive list of speakers and workshop presenters include Kaya Henderson, Aspen Institute Trustee and Former Chancellor, D.C. Public Schools; David Johns, Former Executive Director, White House Initiative on Educational Excellence for African Americans​; Deray McKesson, Civil rights Activist and Former School Administrator, Baltimore County Public Schools; Mayor Jim Kenney, City of Philadelphia; Dr. Camika Royal, Assistant Professor of Urban Education & Co-Director, Center for Innovation in Urban Education, Loyola University; Pedro Rivera, State Superintendent of Pennsylvania; Shavar Jeffries, President, Democrats for Education Reform and Former Assistant Attorney General of New Jersey; and Brittany Packnett, Vice President of National Community Alliances, Teach for America.
Popular in the Community