Hundreds of students from historically black colleges and universities in Florida and North Carolina are stressing the importance of voting.
On Tuesday, civil rights leader and Congressman John Lewis walked with about 500 students from Bethune-Cookman University in Daytona Beach across City Island Bridge to an early polling location. Students from North Carolina Central University in Durham also marched.
"There's not anything more powerful, as Dr. Martin Luther King Jr. would say, than the marching feet of a determined people. I know something about marching," Lewis told News 13. The congressman marched with the students to show solidarity.
Actress Aja Naomi King, Florida Congressman Patrick Murphy and Mayor Derrick Henry also joined the students.
A few weeks prior, North Carolina NAACP President William Barber spoke to NCCU students before leading them from campus to polling sites downtown on the day early voting opened (October 20), according to ABC11.
Barber told the students that their vote was critical, reminding them how important it was that the state's voter ID law was repealed earlier this year.
"Every Eagle, because we have excellence without excuse, needs to make your way to the polls and vote and vote like never before," he said in a video for the school-wide "Soar to the Polls" voting initiative.
The marches come after reports that black people aren't turning out for early voting as much as they did in 2012, notably in North Carolina. With these two marches taking place in battleground states, the enthusiasm they bring may urge more people to vote.
Before You Go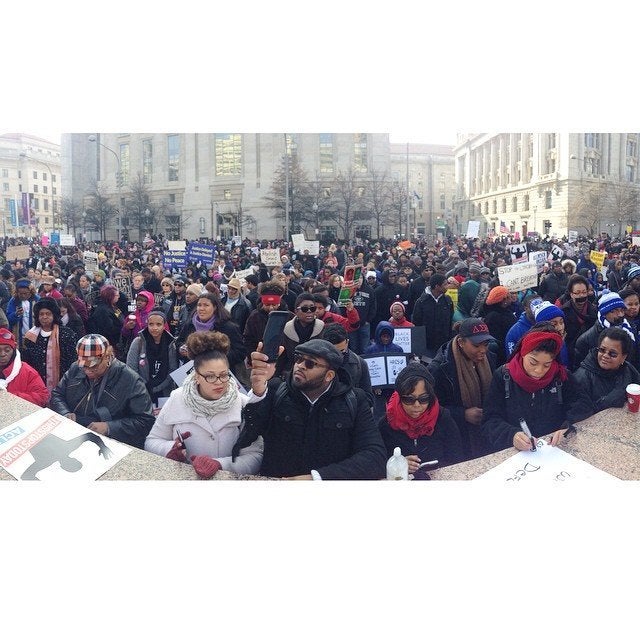 Powerful Black Lives Matter March In Washington
Popular in the Community