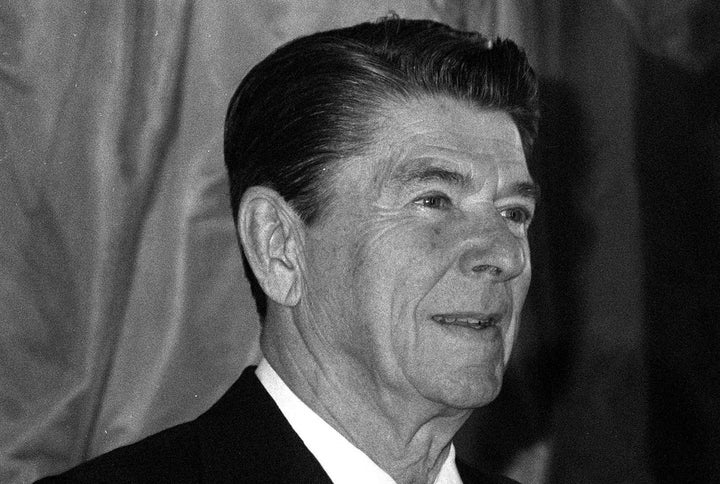 WASHINGTON ― More than 200 labor lawyers sent a withering letter to President Donald Trump's Labor Department secretary on Friday condemning the looming induction of Ronald Reagan into the agency's "Hall of Honor."
The group of attorneys who've represented unions argued that the former president ― who famously crushed the air traffic controllers' strike of 1981 ― deserved no place alongside such labor luminaries as Samuel Gompers, Frances Perkins, Walter Reuther and Mother Jones.
In their letter addressed to Labor Secretary Alexander Acosta, the signatories noted that the hall of fame's mission is to honor those who have helped "elevate working conditions, wages, and over-all quality of life of America's working families."
"President Reagan's tenure in office, and the legacy of that tenure, have done precisely the opposite," they wrote. "To place him next to the brave men and women the department has honored in the past is the height of hypocrisy and an affront to this country's working people."
The Trump administration rankled the labor movement last week when it announced that Acosta intends to commemorate Reagan with the induction. Before he became president, Reagan served seven terms as head of the Screen Actors Guild in the 1940s and 1950s, helming the union during three labor strikes while he was an actor in Hollywood.
But in labor circles Reagan is far more famous ― infamous, rather ― for firing thousands of strikers as president during a work stoppage by the Professional Air Traffic Controllers' Organization, or PATCO.
While there are many reasons why union membership in the U.S. is now hovering near a historic low, Reagan's breaking of the PATCO strike is considered a defining moment in the decline of organized labor's power. As labor historian Joseph McCartin has chronicled, Reagan's impact was lasting because he weakened strikes as the ultimate form of leverage for workers, and he emboldened private-sector employers to take a stronger stance against the unions representing their employees.
Victoria L. Bor, a union-side attorney who spearheaded the letter to Acosta, told HuffPost that Reagan symbolized a loss of bargaining power for regular workers in the U.S.
"He really signaled a change, and unleashed a change in the attitudes toward collective bargaining in this country," Bor said. "People can argue over the facts, but that's really what his tenure represents…. To put him in the labor hall of fame is an insult."
Bor said they sent the letter to Acosta on Friday to make sure he received it before Labor Day. A Labor Department spokesperson did not immediately respond to a request for comment.
REAL LIFE. REAL NEWS. REAL VOICES.
Help us tell more of the stories that matter from voices that too often remain unheard.
BEFORE YOU GO
PHOTO GALLERY
10 Cities To Avoid This Labor Day Weekend