Spanning across 212 cities, 46 U.S. states, and seven countries, this year's sixth annual National Drive Electric Week yielded the largest number of events to date -- 235 electric vehicle promotion events all happening the same week. With approximately 120,000 people in attendance and more than 400 TV, radio, print, and web articles to date posted about this year's effort, the initiative was the largest and most publicized U.S. clean energy mass mobilization of the year so far. Hundreds of passionate volunteers, many of whom might describe themselves as EVangelical, organized these events in their local communities.
Mike Kamm, from the Albany/Capital District EV Drivers Group and the event organizer from the Delmar/Albany, New York event where U.S. Congressman Paul Tonko and Sierra Club national board president Aaron Mair were among the speakers. Mike Kamm excitedly shared with us that one of the Kia Soul EVs featured at his event was sold to one of their attendees later that day. Jeff Shaw, who works for the Sierra Club's Beyond Coal campaign, attended the Raleigh, North Carolina event, and the next day he purchased a Nissan LEAF. As one of the hundreds of thousands of people who had been duped by Volkswagen into buying a so-called "clean diesel" car that turned out to be highly polluting, Jeff was eager to turn over a new...well, leaf.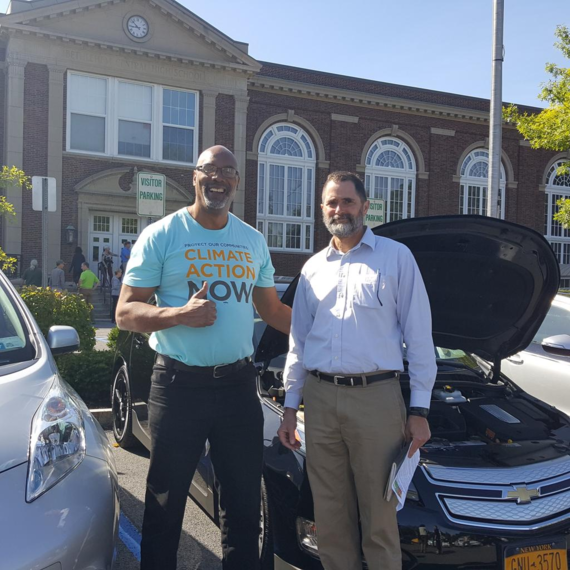 Sierra Club national board president Aaron Mair (left) attended the 2016 National Drive Electric Week event near Albany, NY. Photo courtesy of Kat Fisher.

Public officials came out in droves to their local events to make appearances and many even issued proclamations, including the governor of Hawaii, the Chair of the California Air Resources Board, U.S. Congressman Paul Tonko (NY), and dozens of city councillors, state representatives, and many mayors from cities ranging from Cupertino, California to Boise, Idaho and New Orleans, Louisiana. The President of the University of Utah and the Mayor of Salt Lake City announced at their event a new round of funding for EV rebates and reduced costs of EVs for area residents through a joint purchasing program.
Electric transit buses were featured at events in Juneau, Alaska, Richmond, California, and Concord, New Hampshire (at the New Hampshire State House where Proterra offered free rides in its electric bus). U.S. service members swarmed the EVs on display at the event at their Groton, Connecticut Naval base. Event organizers in the Watts neighborhood of Los Angeles featured EV rebates geared specifically toward low-income residents and announced new EV charging stations in Watts.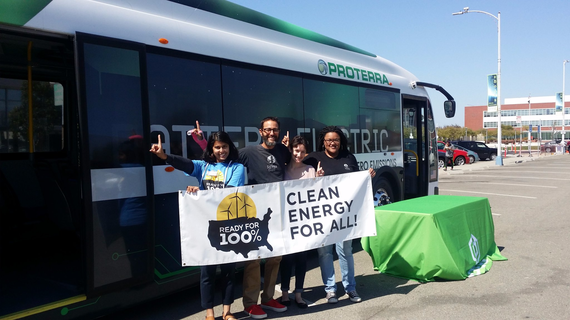 Sierra Club chief of staff Jesse Simons (second from left) and Sierra Club volunteers at the Richmond, California National Drive Electric Week event. Photo courtesy of Jesse Simons.
The White House Council on Environmental Quality and the U.S. Department of Energy amplified the week's events on social media. Event organizers in Knoxville, Tennessee were smart to host their event, an EV tailgate party, at the University of Tennessee Neyland Stadium, with a capacity of over 100,000 people, right before the UT versus Ohio State football game -- talk about a large crowd!
National Drive Electric Week, organized nationally by the Sierra Club, Plug In America, and the Electric Auto Association - in partnership with dozens of local groups and hundreds of volunteers - is founded on the idea that drivers of gasoline-powered cars are more likely to convert to driving clean electric vehicles if they are able to talk to real-life EV drivers and test drive the vehicles for themselves. It's the best way to learn about the increasing fun, availability, affordability, reliability, convenience, and lower emissions of electric cars. The San Diego event organizer, Josh Erwin, reported there were nearly 800 EV test rides at that event alone. We're confident many of these folks will soon switch gears and drive electric.
This post was co-authored by Mary Lunetta, the Sierra Club's Electric Vehicles Initiative campaign representative.
Sierra Club interns Sari Klein and Alysha Cross contributed to this article.

Popular in the Community