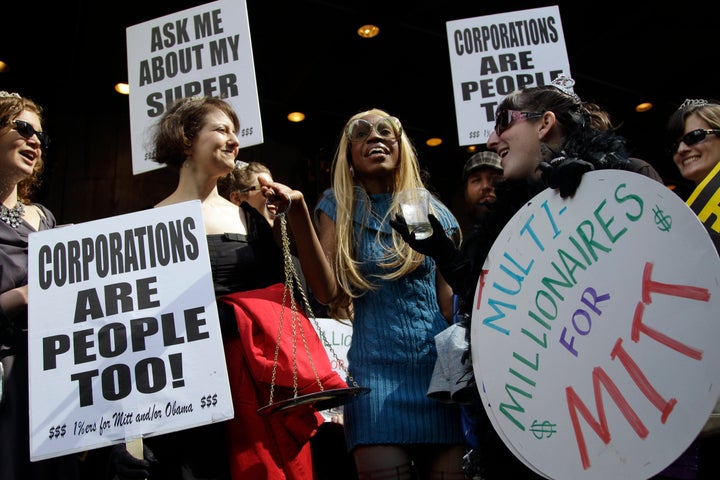 On Tuesday night, Mitt Romney didn't talk to his supporters after finishing third in the Alabama and Mississippi primaries.

His staff explained that he was "in transit," but didn't elaborate. In fact, he was headed to New York City for a $2,500 per person fundraiser.

On Wednesday afternoon, GOP presidential frontrunner Mitt Romney snuck into the parking garage of the Waldorf-Astoria at about 12 p.m. while approximately 250 people marched around the hotel protesting the influence of money in the American political system and Romney's background as "Mr. 1%."

"I want to feel what it's like to have a $2,500 lunch and write it off my taxes," a woman repeatedly shouted as she marched along Park Avenue between 49th and 50th streets.

The protest was organized by Occupy Wall Street as well as several liberal political groups, including MoveOn.org, labor unions and Latino groups concerned about Romney's position on immigration. The protesters carried dozens of signs and shouted "Romney Is The 1%" while several Romney supporters tried to walk into the hotel's front entrance. While he was walking into the hotel, former New York senator Al D' Amato told this reporter that he was going to endorse Romney later in the day.

"I am endorsing Romney because we need to win," said D' Amato, a senator from 1981 to 1999, referring to the Republican Party. "We need to get a new president."

The protesters' anti-Romney passion was significantly more enthusiastic than D' Amato's pro-Romney passion. Kevin Jones, 57, a producer of documentaries, tried to look as much like a pro-Romney business executive as possible. He wore an expensive-looking suit and purposely combed his hair like Romney while holding a sign that said "Mitt bought my vote."

"I'm protesting the abuse of our electoral system," said Jones, 57. "Romney is a prime example of corporate financing in politics."

Jones said his first interest was repealing the U.S. Supreme Court's 2010 Citizens United vs. Federal Election Commission decision that said that people can donate as much money as they want to political campaigns because spending money is a form of speech. He also wanted to restrict the lobbying of public officials.

Other protesters were passionate about Romney's opposition to the Dream Act, which provides a way for people who are in the United States illegally to eventually become American citizens. The act targets people who arrived in the U.S. as children, live in the U.S. continuously, graduate an American high school and later go to a American college or serve in the U.S. military. They also have to have good moral character.

Several people at the protest carried signs that said "Veto Romney, Not The Dream Act."

"We're basically sending a message that if he wants to gain votes from Latinos he needs to get in touch with our community," said Erika Andiola, 24, who has been an undocumented alien since she immigrated to Arizona when she was 11. "If he wants to win, he has to change his anti-immigration rhetoric."

At times, there seemed to be more signs than people at the rally. The signs included "You Can't Spell Romney Without Money," "Job Cremator," "Taxes Aren't For Everyone," "Romney 100% Out Of Touch," and "Will Work For Caviar." Many people wore Romney facemasks and several people parodied Romney's support for rich people by dressing up as rich people and pretending to support him.

However, several Romney donors elaborated on why they supported the former Massachusetts governor while they were surrounded by protesters who mocked wealthy people.

Woody Johnson, the owner of the New York Jets football team, said the U.S. needs a business executive who will implement pro-business policies. "Letting small- and medium-sized businesses have aspirations to start those businesses is what made America great," he said.

Todd Shapiro, the president of the New York City-based public relations company, Todd S. Shapiro Associates, Inc., ripped President Barack Obama for being more concerned about speeches than solving problems and for wasting time doing things like picking the winners of NCAA basketball tournament games.

"We need a businessman who will solve the economy ['s problems] and put people back to work," he said.

None of Romney's supporters expressed concern about Romney's losses in Alabama and Mississippi. "We got one-third of the delegates last night," said Johnson, who said he expects Romney will win the nomination.
See a video clip of the protest taken by contributor Gail Zawacki:
Popular in the Community