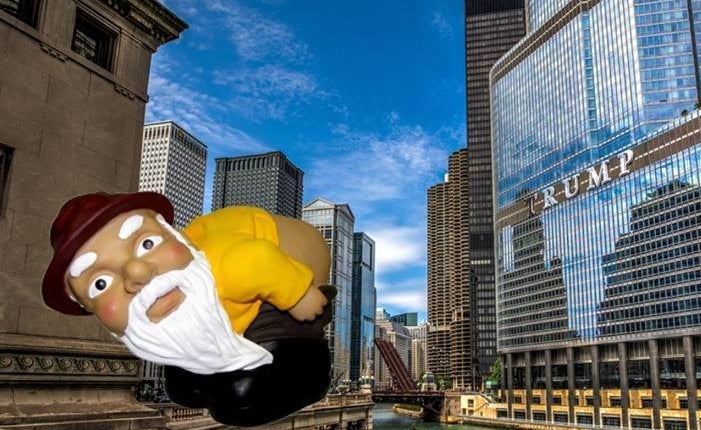 Activists from the heartland want a crack at protesting Donald Trump's presidency and his refusal to release his tax returns. So hundreds of sturdy Chicago residents are gearing up to face the cold and drop trou to moon Trump International Hotel & Tower en masse.
The event — "Chicago Moons the Trump Tower" — is being organized by the comedy TV news program "S#!tshow" via Facebook. As of Thursday night more than 275 had signed up with 1,200 marked as "interested." "S#!tshow" plans to film the event planned for Feb. 12.
The prank is being organized to bring attention to Trump's still (never?) to-be-released tax returns. The battle cry for #RumpagainstTrump? "Kiss our asses, release your taxes."
Trump "doesn't think the American people want to see his tax returns, so let's show him that we do in the classiest way possible!" urges the Facebook posting for the event. "At the crack of 4 p.m. (pun intended), we'll pull down our pants for a whole 10 seconds and send a powerful message to the Washington elites."
The Facebook posting for the event cites a Maryland judge's ruling in 2006 that mooning is a form of free speech protected by the First Amendment. But the local CBS-TV station notes that "cheeky" protesters might break the city's indecent exposure law if butts are "exposed to public view" or not hidden by an "opaque covering." Lawbreakers could face a fine of up to $500.
Organizer Bailey Davis, 20, hopes the stunt will be a dramatic attention-grabber. "If 500 people go up to that tower and pull their pants down it's not going to go unnoticed, and that's the goal," he told DNAInfo Chicago.
Davis is hoping the unusual protest will also drive Trump bonkers.
Things can be a bit frosty in the city in February. Fortunately this year forecasters predict the temperatures will be relatively balmy, ranging from 37 to 46 degrees.
A downtown Chicago march is also being planned for April 9 to pressure Trump to release his tax information.
Trump promised throughout his campaign that he would release his tax returns, as candidates traditionally do, as soon as a routine IRS audit was completed — though there's nothing about an audit that precluded him from revealing the information. But his pledge died with his election.
Popular in the Community