BUDAPEST, Hungary ― The leaflets, supposedly from ISIS militants looking for apartments to rent in the capital, appeared in Hungarians' mailboxes last week.
"We are looking for an apartment for Mohamed Hassan and his family! Motto: Allah Akbar!" read the text beneath a photo of a bearded man with assault weapons and three children in military fatigues.
The letters were fake, of course, and just the latest anti-immigrant incitement in a strange and bitterly fought election that will be decided on Sunday. But it is unclear who sent them. Despite a law that requires clear labeling of campaign material, there was no information about who printed or distributed the leaflets.
"This is clearly a political campaign propaganda tool," said Marta Pardavi, co-chair of the Hungarian Helsinki Committee, a human rights group. Pardavi says the leaflets echo the government's anti-migrant messages and warnings of terrorists waiting at the gates to get in.
"It's ridiculous in a way," Pardavi added. "Unless you've already been fooled into thinking that this is real; that there are migrant hordes invading Hungary."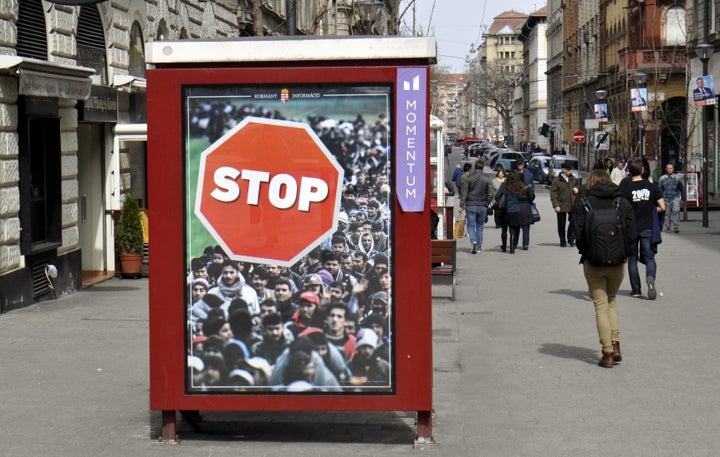 "The language used is like there's some kind of war going on in Hungary," said Pardavi.
Orbán's leadership can seem like a far-right fever dream in which identity politics and fear of outsiders trumps everything else.
Not only Muslims are targeted. Orbán's chief of staff recently pounced on the country's Roma minority, saying "we have been living with the Gypsies for 600 years, and to this day, we still haven't been able to integrate them." And at a campaign rally last month, Orbán warned against an "international" enemy that "speculates with money" in what critics read as an anti-Semitic attack.
Last year, the government also began a billboard campaign that targeted the 86-year-old American billionaire George Soros, whose Open Society Foundations fund a range of liberal-minded projects and organizations in Eastern Europe.
Soros, a Hungarian Jew, emigrated to the United States after World War II. A leading Jewish organization in Hungary asked Orbán to halt the campaign, saying it was a proxy for anti-Semitism ― something that the government denies.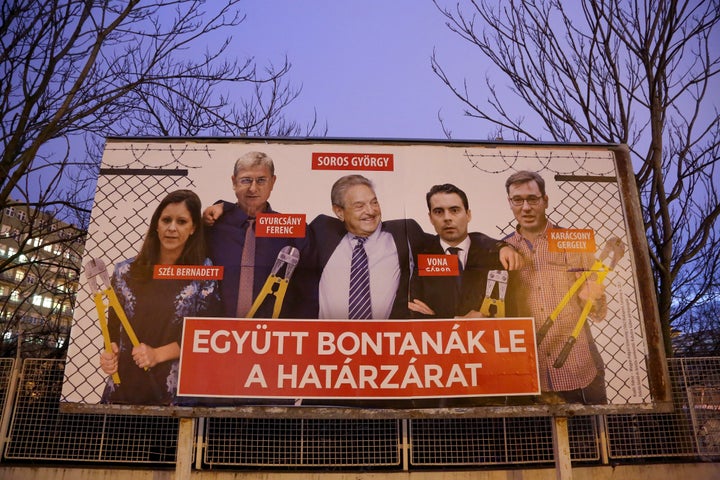 In an interview with HuffPost in Budapest, the government's spokesman, Zoltán Kovács, said that the charge of anti-Semitism "is always the last resort of the liberal field." He added: "We don't care about Mr. Soros' descent. We care about what his designs are."
Kovács, like Orbán, studied at Oxford University on a scholarship paid for by Soros, and Kovács spent years pursuing a Ph.D. at the same Soros-funded Central European University that the government now opposes. But the two men clearly harbor no warm feelings toward their former benefactor.
During a radio program last month, Orbán described Soros-funded organizations as the biggest enemies of Hungary and followed up last week by claiming that the billionaire has 2,000 agents working to overthrow the Hungarian government and install pro-migration politicians. Soros, meanwhile, has rebutted Orbán's personal attacks and denounced his crackdown on nongovernmental organizations in Hungary, calling the prime minister "the leader of a mafia state."
Orbán has also long provoked fellow members of the European Union with anti-Muslim speeches and anti-immigration policies, which included resisting an EU-mandated refugee quota and spending millions on a border fence.
In so doing, he's become an idol for far-right figures such as France's Marine Le Pen and former White House chief strategist Steve Bannon, who called Orbán a "hero" and recently visited Hungary. Across Europe and the United States, nationalists and populists in the far right now look to Orbán for lessons on how to win elections and stay in power.
Poland's nationalist government has followed Hungary's example and challenged EU rules and norms on migration, while also imitating Orbán's threats to the rule of law.
"It's not only a Hungary issue or a concern to Hungarian civil society, but far more important because of its export value," Pardavi says. "What is going to stop this from spreading like a contagious disease to other states?"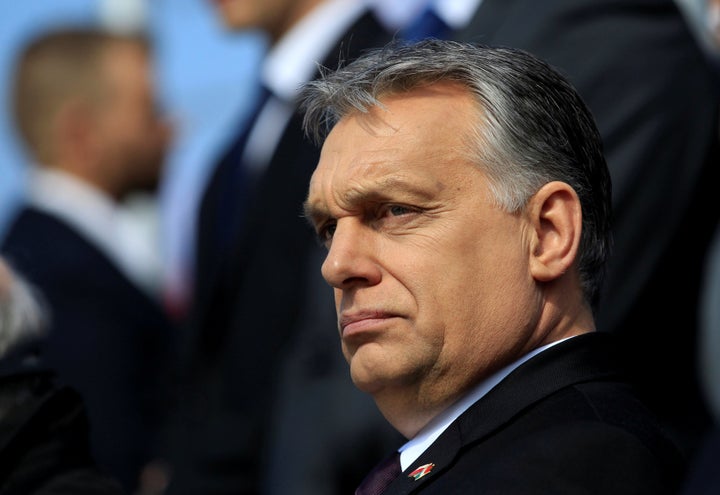 Under the guise of legal reform, Orbán has undermined Hungary's judiciary and captured all independent state institutions, said Kim-Lane Scheppele, a professor of political science at Princeton University who previously worked at Hungary's constitutional court.
He "packed them with his own people and set them loose on making sure the opposition was as small as possible and as harmless as possible," Scheppele said.
Orbán also installed loyalists at state-run television and radio while his associates bought up several private media outlets. On Saturday, a major pro-Orbán news site ran an article touting alt-right figure Lauren Southern's support of the prime minister, and earlier this week it posted an altered "The Lord of the Rings" clip depicting Orbán charging his cavalry against Soros' orc army.
Today, Orbán and his allies control much of how Hungarians get their news. When dealing with dissenting voices, Orbán and his spokesman have also aggressively gone after the media at home and abroad.
Kovács writes an official government blog that consistently criticizes negative coverage of the government, railing against reporters and outlets such as The New York Times for pushing a narrative he believes is masterminded by Orbán's political opponents and Soros.
Orbán has also gone after human rights groups, including Amnesty International and the Hungarian Helsinki Committee, targeting them with what the government calls "Stop Soros" laws that would require NGOs that receive foreign funding above 25,000 euros to describe themselves as "foreign entities," pay heavy taxes on donations and face harsh penalties for noncompliance.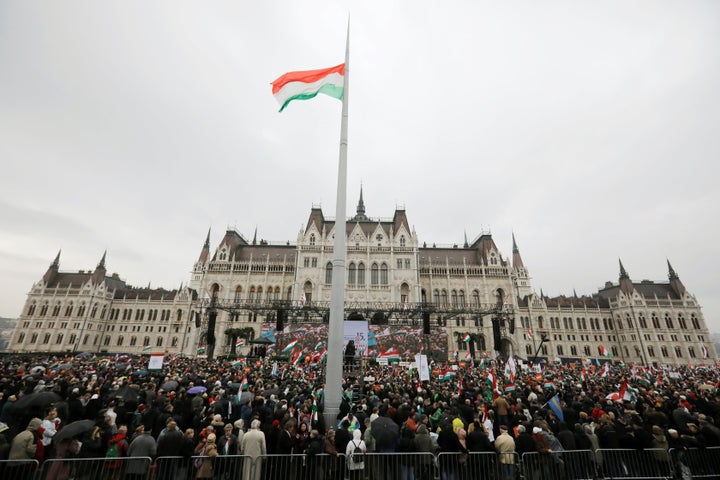 Most observers believe that Orbán will win a fourth term in office, in part because the opposition is fractured between leftist and liberal opposition parties and the far-right Jobbik party ― which has tried in recent years to rebrand itself as more moderate than Fidesz. But the election has been harder-fought than observers expected, and the uncertainty has seemingly intensified the vicious campaign.
On the streets of Budapest, there may not be many actual refugees or migrants. But their images are everywhere. Orbán's government has plastered posters all around the city showing a line of migrants at a border, with a big red "stop" sign overlayed on top ― the same photo that drew widespread condemnation when anti-EU politician Nigel Farage used it during the United Kingdom's 2016 Brexit campaign.
With the recent escalation of rhetoric, democracy advocates are worried, especially following Orbán's speech on March 15. The prime minister told a rally of thousands of supporters in Budapest that after the vote, the government would seek out its opponents and take "moral, political and legal revenge."
"One constant across his career is that he's always been a politician who had very clear enemies," said Zsolt Enyedi, a Hungarian political analyst and professor at CEU.
"For him, politics is a fight, and it's difficult to imagine him not doing that anymore ― it's like a shark not swimming."
Popular in the Community