BUDAPEST, Hungary ― Eszter Imrenyi is a 25-year-old student who has become increasingly worried about what's happening to her country.
Hungary is more divided, and public debate more polarized. The country's far-right populist leader rails against migrants, minorities and the media. Wages remain low, and much-vaunted tax breaks have come at a price. Critics say the government is raiding future benefits in a short-sighted attempt to pay for them.
"We have such a beautiful country. We have so many things we could be proud of," said Imrenyi. "But we have to leave."
She is not alone. A generation of young Hungarians has decided to move abroad as Prime Minister Viktor Orbán has consolidated power in Hungary over the last eight years, remaking the country's laws and cracking down on human rights groups.
Hungary, which has one of the world's fastest-declining populations, is facing a demographic crisis. The United Nations projects there will be at least 15 percent fewer people in the country by 2050.
But rather than counter this crisis by taking in more migrants ― as Germany, for example, has done ― Hungary has effectively shut its borders. Meanwhile, economic opportunities abroad, divisive rhetoric and the rise of ethnonationalism are driving many young people away.
Some Hungarian Jews are particularly concerned. The country, home to between 35,000 and 120,000 Jewish people, has a long history of anti-Semitism, with anti-Jewish laws and violence preceding the Nazi occupation of Hungary. During the Holocaust, more than 440,000 Hungarian Jews were rounded up in less than three months and sent to their deaths in Auschwitz and other death camps.
Against this historical backdrop, some Hungarians are especially worried by the bigoted and anti-Semitic political rhetoric.
"You don't really want to live in a country that's full of hate," said Adam Schonberger, leader of the Jewish community group Marom, which operates a hub for different minority rights organizations. "A lot of people either already left or are planning to leave. A lot."
"You don't really want to live in a country that's full of hate."
A 2017 Pew Research Center poll found around 1 in 4 Hungarians wouldn't accept Jews as members of their family and about 1 in 6 wouldn't accept a Jewish neighbor. While the official number of reported hate crimes in Hungary is low, rights groups charge that the government rarely prosecutes hate crimes as such, so it's hard to determine the exact extent of discrimination and violence against minority groups.
The Hungarian government has long demonized the Hungarian-American billionaire George Soros, alleging that the 87-year-old philanthropist has used his wealth to conspire against the government. Jewish groups say Orbán and other government officials have used classic anti-Semitic tropes in their attacks on Soros, who is Jewish.
"When he says Soros, what Hungarians on the right hear is 'Jewish banker,'" said R. Daniel Keleman, a political science professor at Rutgers University. "In Hungary, he's just a stand-in for age-old conspiracy theories."
Orbán has also praised the self-described anti-Semite Miklos Horthy, Hungary's leader from 1920 to 1944. And Orbán's government erected a controversial statue in 2014 that depicts the country as a blameless victim of Nazi aggression, with an eagle embodying the German occupation attacking an angel, representing Hungary.
"Anti-Semitism [in Hungary] is very strong and getting stronger all the time," said Maria Heller, a 65-year-old sociology professor who, along with a group of Holocaust survivors and Jewish activists, responded to the statue by building a counter-memorial where they continue to gather in protest of what they say is the government's attempt to whitewash the country's part in the Holocaust.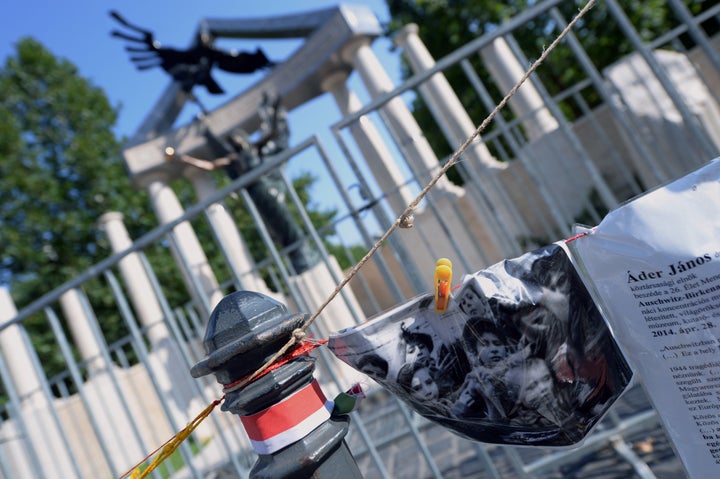 Orban's spokesman Zoltan Kovacs called allegations of anti-Semitism "the last resort" of liberals.
At a recent morning service at a Budapest synagogue, 44-year-old mathematician Pal Hegedus was one of the few in attendance. He, too, is worried that the dark rhetoric could have even darker consequences.
"It builds up hatred in people and, if the wind changes in politics, it can be turned against anyone," said Hegedus, who recently had to explain the government's campaign against Soros to his two school-age children. "It's not just Hungary. Everywhere you go, this fascist attitude is ... rising."
"Anti-Semitism [in Hungary] is very strong and getting stronger all the time."
Beyond attacks on Soros, Orbán's primary targets are refugees and migrants, whom he refers to as "Muslim invaders." During the election campaign, his party put up posters throughout the country urging Hungarians to stop migration, while Orbán called for "ethnic homogeneity" in Hungary.
Kovacs, Orbán's spokesman, told HuffPost that Islam is incompatible with Hungarian society and values.
"Islam represents a different culture – full stop," Kovacs said. "You reach a ratio of Muslim people in a country ... the rules of the game are going to change and we want to avoid that."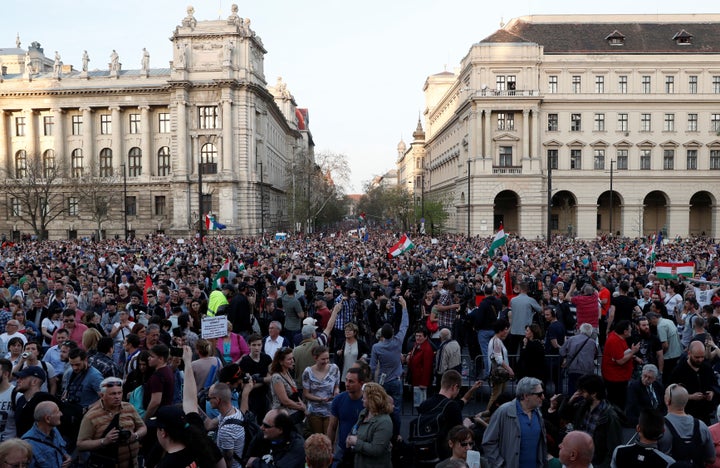 While government officials often boast of having saved the country from a fiscal abyss, critics say that the country's economic growth has partially been fueled by European Union funds and hides more structural inequalities.
And economic progress hasn't stopped emigration.
Companies say they can't find qualified workers, while Hungarians complain that social services such as health care lag behind other European countries. As many as half Hungary's family doctors are projected to emigrate or retire in the next decade.
"There's an effective brain drain in Hungary," said Csaba Toth, an analyst at the Republikon Institute, a liberal think tank. "The highest skilled and most talented people are leaving the country."
Julia Des, the director of the Haver Informal Jewish Education Foundation, has seen this firsthand.
When the 35-year-old mother of two throws a party, she has to turn on Skype to see the many friends who have already moved abroad. About half the people in her social circle have left the country, and her brother and his family intend to leave for Austria later this year.
"If I meet with one of my friends, and we drink a beer, it's a very important question: 'Will you go?'" she said.
Before You Go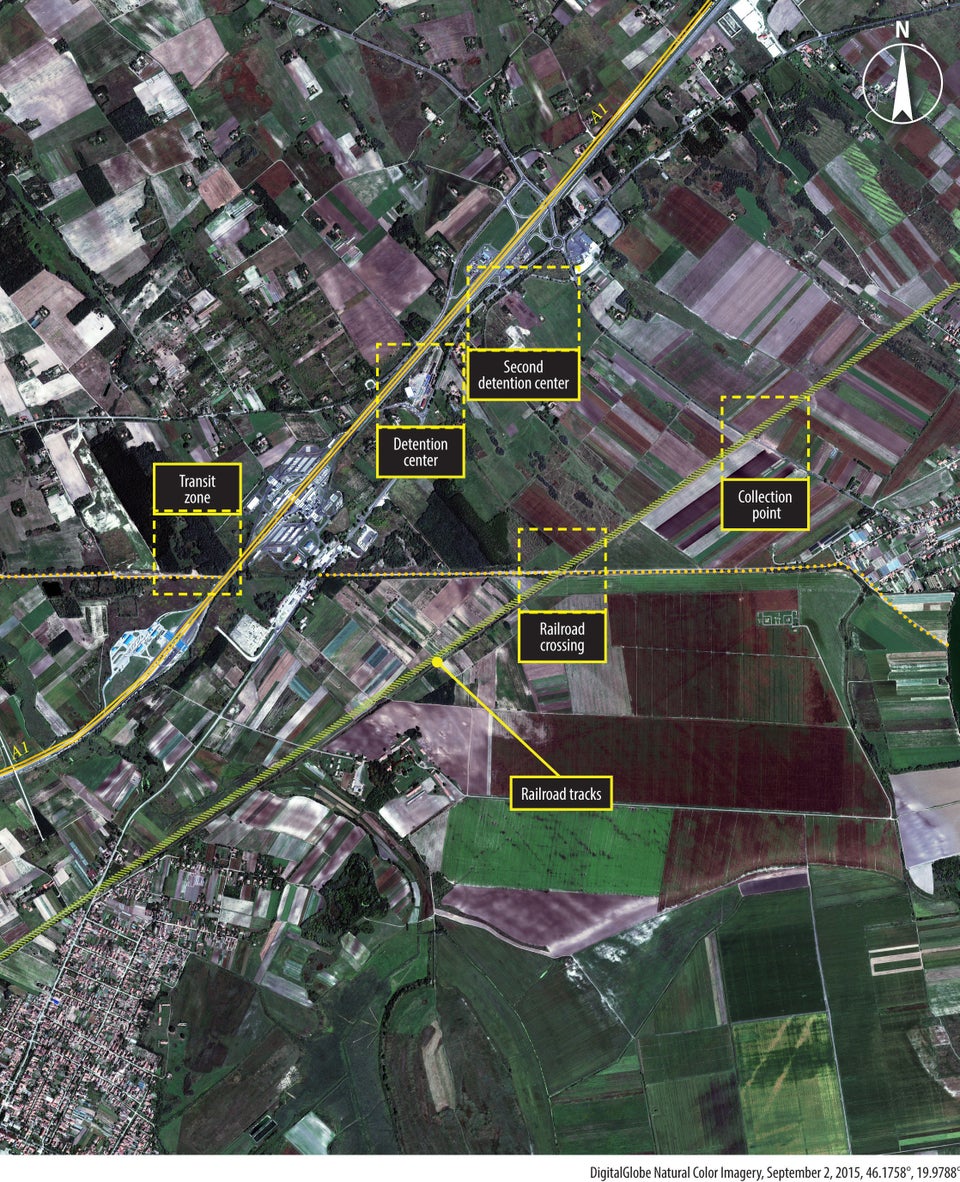 Satellite Images Of Refugees Entering Hungary
Popular in the Community