As Hungary ramps up efforts to keep out refugees by building a fence and deploying soldiers along its border with Serbia, footage from an overcrowded refugee camp appears to show just how little care is being given to the people who have already crossed over.
"It was like animals being fed in a pen, like Guantanamo in Europe," Klaus Kufner, a volunteer at the Roszke facility, told the AFP. Kufner and Michaela Spritzendorfer, who filmed the scene, had visited the camp on Wednesday. Spritzendorfer's husband, an Austrian politician, posted the video to YouTube on Thursday.
In the video, police throw food items at a large crowd of people who scramble to catch them. Children can be heard screaming in the background.
"It was inhumane and it really speaks for these people that they didn't fight over the food despite being clearly very hungry," Spritzendorfer said, according to the Telegraph.
Zoltán Kovács, a spokesman for the Hungarian government, defended the police on Friday.
"I can see policemen who have been performing their duties for months, trying to take care of 23,000 migrants arriving continuously day by day while there is no co-operation whatsoever on their part," Kovács told Reuters. "I can see they are trying to maintain order among those who are unable to line up for food."
Human Rights Watch lashed out at the "abysmal conditions" seen in the video and discovered in their independent research of the center.
"The detainees at Roszke are held in filthy, overcrowded conditions, hungry and lacking medical care," Peter Bouckaert, emergencies director at Human Rights Watch, said in a statement.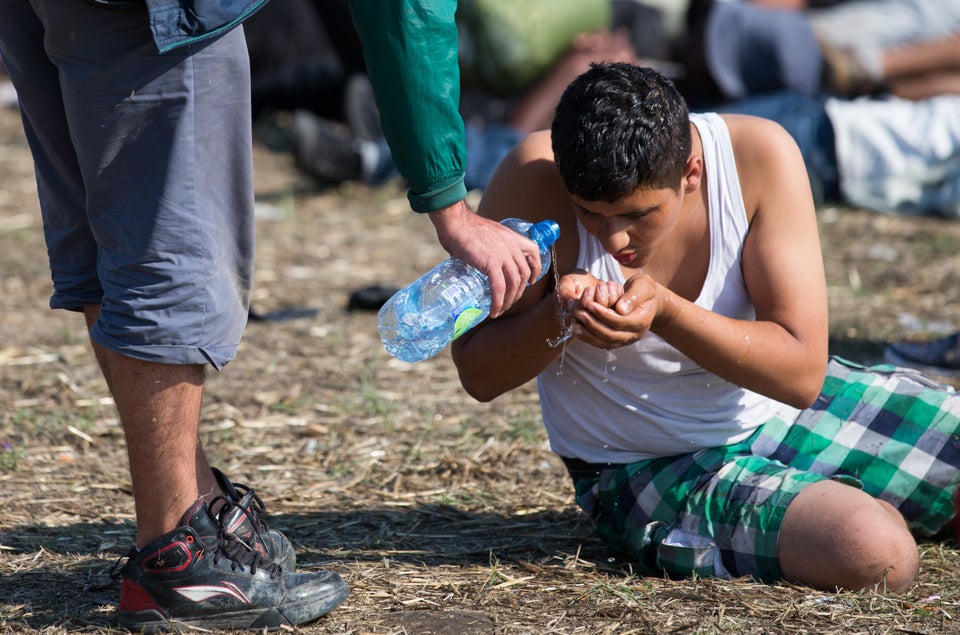 Migrants And Refugees At Hungary's Border
Related
Popular in the Community