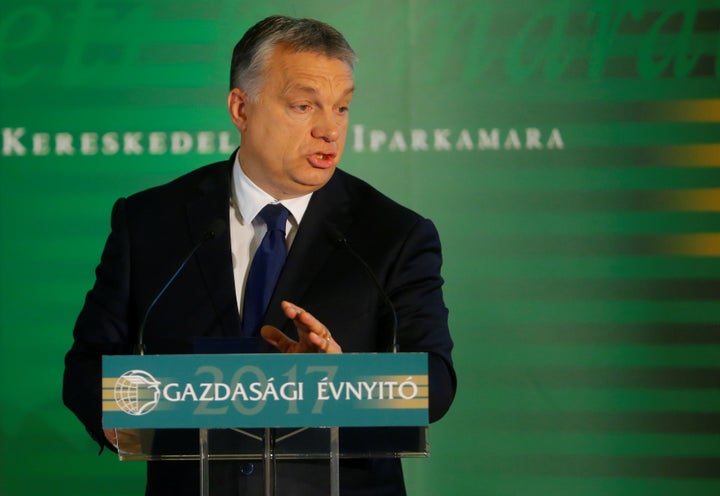 Hungary's Prime Minister Viktor Orban told a crowd in Budapest on Tuesday that "ethnic homogeneity" is key for economic success, and that "too much mixing causes problems."
The remarks were part of Orban's speech at the Hungarian Chamber of Commerce and Industry, where he promoted the nation's economic growth and reiterated the government's opposition to immigration.
Although Orban makes frequent use of ethnonationalist and anti-immigrant rhetoric, Wednesday's remarks are some of the most extreme from the prime minister. In the past, he has called migration a "poison" for Hungary and talked about the need to "keep Europe Christian" amid the region's refugee crisis.
In mid-February, Hungary began construction of a second barbed wire border fence to deter migrants along its southern border with Serbia, adding to the controversial barrier it put up in 2015.
Once a leading voice for liberalism in post-Soviet Europe, in recent years Orban has become a frequent adversary of EU policy as he's railed against taking in asylum seekers and pushed for a closer relationship between Hungary and Russia. Orban criticized European sanctions against Russia when he met with President Vladimir Putin last month to discuss energy and trade.
A week after meeting Putin, Orban gave a state of the union speech during which he attacked the media, "globalists" and EU bureaucracy, while claiming that Brexit and President Donald Trump's election prove the world does not want an open global society.
Orban is also trying to set up a meeting with Trump, who he has praised in the past. The two have much in common when it comes to playing to anti-elitist sentiments, and propelling the notion of a populist uprising against established institutions.
Part of Orban's narrative throughout his speeches is that international organizations are in decline and forces of nationalism are finally returning power to "the people." In Orban's Tuesday address, he also spoke of how norms have shifted so that his talk of "preserving ethnic homogeneity" is now acceptable.
"One can say such things now, which you would have been executed for during the past few years," he said, "as life has proven that too much mixing causes trouble."
Popular in the Community