Hungary's combative Prime Minister Viktor Orban has begun the new year in inflammatory fashion, referring to Syrian asylum seekers ― that is, people arriving in Hungary after having fled the war ravaging their home country ― as "Muslim invaders."
Orban has taken frequent aim at the European Union's refugee policies. He has fiercely protested the EU's demand that Hungary take in about 1,300 refugees in an effort to distribute asylum claims throughout the continent. He's spent millions of dollars on border fences, and called migration "a poison." But his comments Monday were especially blatant in their appeal to religious and nationalist sentiments.
"We do not consider these people to be Muslim refugees. We regard them as Muslim invaders," Orban told Germany's Bild newspaper. "For example, to arrive from Syria in Hungary, you have to cross four countries, all of which are not as rich as Germany, but stable. So they are not running for their lives there already."
"We believe that a large number of Muslims inevitably leads to parallel societies, because Christian and Muslim society will never unite," he said later in the interview. "Multiculturalism is just an illusion."
Orban's renewed attacks on migration should be seen in the context of Hungary's upcoming elections, set to take place in March.
Although Orban and his Fidesz party are expected to win at the polls, the prime minister is resorting to his customary method of appealing to the far right and stoking fears over immigration. Orban has for years exploited anti-Islam and anti-refugee sentiments in the country to stir up support from his political base and fend off challenges from parties with even more extreme nationalist views.
Hungary has higher levels of anti-refugee beliefs and more negative views of minority groups than the average EU member state, according to a 2016 Pew survey.
Although Muslims make up only 0.4 percent of Hungary's population, Orban has repeatedly characterized them as a threat to the country's Christian identity. He has paired this with populist appeals to carry out what he calls the will of the people and take on the European Union's ruling elite, particularly when it comes to immigration.
In the past month, the prime minister has ramped up his rhetoric. He recently repeated his claim that EU migration policy has failed, and argued that right-wing wins in other recent elections, such as in Austria, prove his anti-immigration policies will spread throughout the union.
"I believe 2018 will be the year of the restoration of the will of the people in Europe," Orban said earlier this month.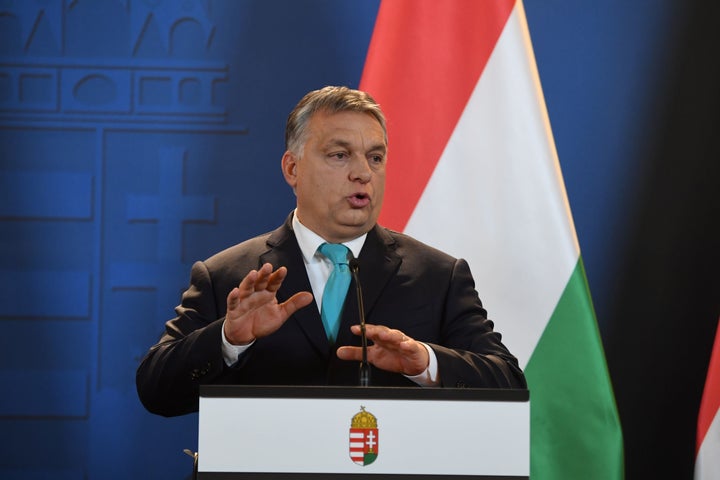 Orban's renewed calls for ethnic homogeneity serve as a reminder that European leaders in 2018 will have to grapple with how to handle increasingly belligerent governments, like Hungary and Poland, that seek to centralize power and resist the EU's humanitarian polices.
The EU is already taking legal action against Hungary for its refusal to take in refugees and its targeting of academic institutions ― the latter a result of Hungary passing a law that the EU alleges is an attempt to close down a liberal-leaning university founded by billionaire George Soros.
This year will likely see an attempt from France and Germany to revamp and modernize the EU, which has seen deep fractures emerge amid Brexit and the refugee crisis. As the German and French governments pursue a plan to increase economic integration and political cooperation in the bloc, it's likely that Orban will cast himself as a primary antagonist to officials in Brussels in order to further his support at home.
Support HuffPost
The Stakes Have Never Been Higher
Related
Popular in the Community